When choosing my first dirt bike, I remember having a list of questions longer than the list of bikes I was considering.
It was confusing! In this post, I want to help you with those common dirt bike buying questions and avoid feeling overwhelmed with so many questions but only having a few answers.
Wondering how to spot a good dirt bike? Thinking if dirt bikes are beginner-friendly?
And what's a reasonable price for an awesome dirt bike?
Whatever your question is, we'll explore them together so you can make an informed decision and ride confidently!
So grab your notepad, fire up your browser tabs, and buckle up for an exhilarating ride through the world of dirt bike buying.
Make sure to stay through the end to cover all bases!
Can adults ride a 125cc dirt bike?
Adults can handle a 125cc dirt bike.
They're the perfect choice for all riders, whether you're a beginner or a seasoned pro seeking some fun.
Lightweight 125cc dirt bikes are like dirt world ninjas.
They're easy to handle and maneuver, making them a dream for riders of any level. 
Bonus read: Is A 125cc Dirt Bike Big Enough
How do I know if my dirt bike is good?
Whether you're inspecting your current dirt bike or eyeing a used one, here's what to look out for:
No damages and leaks, and the tires are still in good condition
The bike follows every maintenance schedule according to its maintenance records
It delivers its promised speed and power on the trails or tracks
Bonus read: What To Look For In A Used Dirt Bike
How long do motocross bikes last?
With proper care and a healthy balance between smooth and wild rides, you can expect it to last between 100 and 300 riding hours.
Keep up with maintenance, clean it after every ride, and aim for a middle ground between casual and adrenaline-filled rides, and you'll enjoy as many epic hours of off-road fun as you want.
Bonus read: How Long Does A Dirt Bike Last
Is a 250cc dirt bike too small?
If you're average height and build or a beginner, a 250cc dirt bike is perfect for you.
But if you're taller or heavier, a 250cc bike might feel cramped.
What is a dirt bike classified as?
Dirt bikes are categorized as off-road motorcycles.
Unlike road motorcycles made for highway cruising, dirt bikes are purpose-built for off-road adventures, particularly for off-road conditions involving dirt, mud, rocks, and sand.
What should I get for my dirt bike?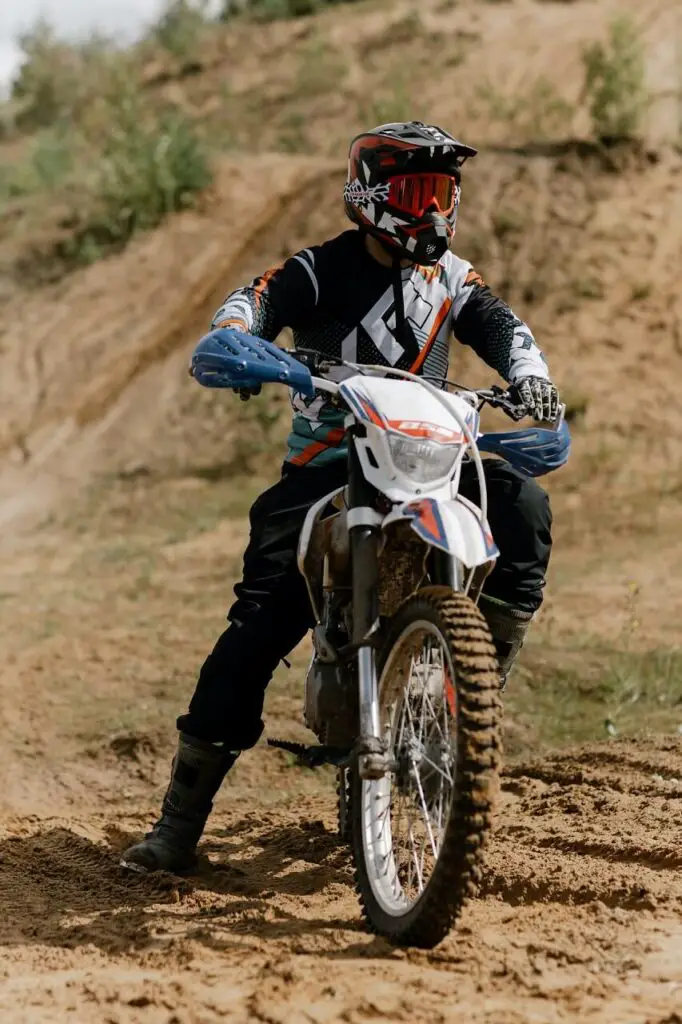 Want to conquer those trails like a champ? Gear up for the ultimate adventure with these must-haves:
Dirt bike riding gear such as a helmet, boots, riding jersey, pants, gloves, and goggles
Transport equipment like a dirt bike trailer, truck bed rack, or a hitch carrier
Maintenance and cleaning essentials like air filter oil and cleaner, chain lube, chain brush, lubricants, and fluids
A basic toolkit that includes wrenches and sockets, screwdrivers, pliers, a tire pressure gauge, and a spark plug wrench
Bonus read: How To Choose Dirt Bike Accessories
What size dirt bike should a 6ft person get?
If you're searching for that perfect dirt bike, look at the 250cc to 450cc range.
Bikes in this range offer the right balance of strength, agility, and control, so you can fearlessly tackle any adventure that comes your way.
Is 6'2" too tall for a motorcycle?
Off-road motorcycles are designed with the average rider in mind, usually 6 feet or shorter.
So, if you're 6″2″, you might feel cramped on some bikes and struggle to extend your legs and arms fully.
The best solution is to look for dirt bikes with higher engine displacements, preferably 450cc and above.
These bikes generally have larger frames and more spacious ergonomics to accommodate taller riders like you. 
Why are dirt bikes so expensive?
Few factors influence the cost of dirt bikes today.
For instance, dirt bike manufacturers put in loads of research and cutting-edge tech to boost performance, fuel efficiency, and lower emissions.
Innovation and R&D are costly, though. 
You're also paying for high-quality materials, precision engineering, and rigorous testing by the manufacturers to ensure your dirt bike can handle everything you throw at it.
Brand reputation matters too.
An established dirt bike brand may mean more price, but it's worth it when you know you're riding with the finest.
Why is KTM so popular?
KTM has been tearing up the dirt bike scene since the 1950s, and their experience shows.
The Austrian brand delivers killer performance and rock-solid reliability.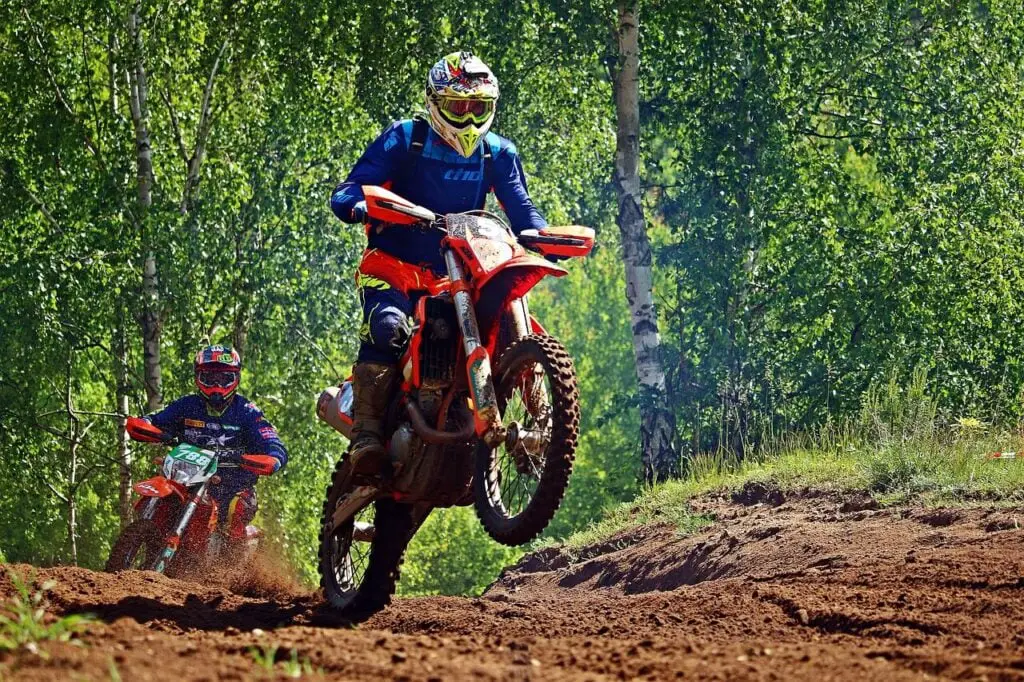 KTM bikes mean business.
pack a punch with powerful engines, precise handling, and top-of-the-line suspension systems.
They also have a variety of dirt bikes to suit every riding style.
Motocross, enduro, trail, adventure touring – you name it, they've got it.
They go toe-to-toe with Japanese dirt bike giants, investing big bucks in research and development.
They're constantly pushing the limits, finding new ways to take dirt biking to the next level.
But they're not just talk.
KTM bikes are built tough to tackle any terrain and conquer the gnarliest conditions.
Their victories in legendary races like the Dakar Rally and motocross championships speak volumes!
Bonus read: Are KTM Bikes Reliable
How fast is a 250cc dirt bike?
250cc dirt bikes hit 55 to 90 mph on average.
If you want to cruise, a 250cc dirt bike can comfortably go 55 to 65 mph.
But if you're feeling wild and want to push it to the limit, you can unleash its full power and reach speeds up to 90 mph.
Bonus read: How Fast Does A Dirt Bike Go
Are dirt bikes a lot of maintenance?
Dirt bikes need more attention than street motorcycles.
They're built to tackle gnarly terrains like mud, rocks, and dust, so they demand extra maintenance. 
But it's not as tedious as it sounds.
Most maintenance includes regular oil changes, chain adjustments, and air filter cleaning.
Just be ready to do it more often.
Consider a two-stroke bike if you're all about low maintenance.
They're simpler to maintain than the more complex four-strokes.
Bonus read: DIY Dirt Bike Maintenance
Should I get a dirt bike or mountain bike?
Choosing between a dirt bike and a mountain bike is tough.
Here's how to decide between the two:
| | | |
| --- | --- | --- |
| Factors | Dirt bike | Mountain bike |
| Riding style | High-speed, heart-pounding action | Chill and scenic ride through nature |
| Terrain and accessibility | Handles rough and tough terrains – dirt, mud, rocks, etc. | Practical for lush forests and narrow trails |
| Thrill factor | Flying over jumps and taking dirt turns | Calculated thrill, technical skills, finesse |
| Skill level and experience | Suitable for experienced riders, adrenaline enthusiasts | Great for beginners, skill-building, fitness |
| Budget and maintenance | Higher upfront cost, more involved maintenance | Budget-friendly, easier to maintain |
Should my first bike be a dirt bike?
Thinking about diving into the dirt bike world? Let's ponder a few questions before you hit those off-road adventures:
Do you have experience with motorcycles, ATVs, or cars? While it's not mandatory, it can make your dirt biking journey smoother.
Are you stoked about muddy trails and motocross madness?
Rome wasn't built in a day, and neither are dirt bike skills. Are you up for the time and practice to become a dirt bike pro?
Are you willing to embrace these risks and bounce back from setbacks?
Why are dirt bikes so hard to find?
You're not alone if you find it challenging to find a dirt bike.
There are a few reasons why it's harder to find a dirt bike than a regular motorcycle:
High demand, low supply due to the pandemic's outdoor craze combined with limited production
Building dirt bikes takes time, causing production hurdles
Seasonal demand affects availability, with summer being the busiest time
Bonus read: What Is The Best Month To Buy A Dirt Bike
Wrapping up
I know how you feel right now – that mix of nerves and excitement when getting your first dirt bike.
So I hope that by answering these common dirt bike-buying questions, I've helped you gain confidence in buying your dream dirt bike!
If you need a refresher or have more questions, come back to this post.
And if you're looking for more dirt bike buying guides, check out the Buying section here at Powersports Radar.
Get out there, snag that dream dirt bike, and let the off-road adventures begin!