Wondering about the top-rated KTM dirt bikes you keep seeing online? You're not alone.
While KTM is a well-known brand in the dirt bike world, you may have heard mixed opinions about its reliability.
So, what's the truth? Are KTM dirt bikes reliable?
KTM dirt bikes are reliable and are, in fact, one of the major players in the dirt bike industry. Their race-ready dirt bikes are built with the utmost performance level and durability in mind, making KTM a top choice for dirt bike riders. 
Years of research and development, along with high-grade components, have allowed KTM to establish a reputation as the frontrunner in the sports racing scene.
Before we dive deeper into KTM dirt bikes and their reliability, let's get to know a bit more about the brand itself.
Meet KTM
You've likely come across KTM when shopping for the best dirt bikes.
It's no surprise, as KTM is a top player in the industry known for delivering reliable and performance-packed machines.
With a focus on innovation and constant improvement, KTM has built a reputation for being dedicated to crafting top-notch dirt bikes.
What does KTM stand for?
KTM stands for Kronreif, Trunkenpolz, Mattighofen.
They're a multinational company based in Austria and are one of the top names in off-road motorcycles.
KTM has a wide range of dirt bikes, from beginner-friendly bikes to high-performance race machines.
And they have them categorized into four types:
Motocross
Cross-Country
Enduro
Free Ride
History of KTM dirt bikes
KTM has quite a story behind it.
The company started as a small fitter and car repair shop in Mattighofen, Austria, by engineer Johann Trunkenpolz, then found success in diesel engine repairs during WWII. 
Johann Trunkenpolz and Ernst Kronreif with their first dirt bike prototype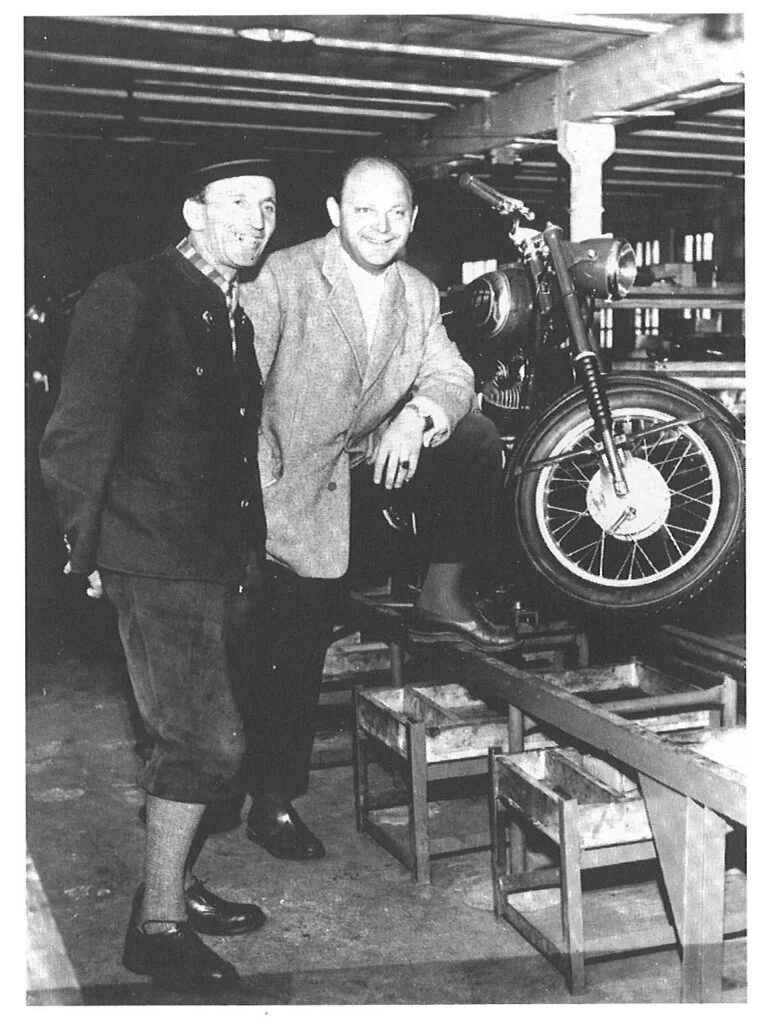 In the 1950s, KTM introduced its first three motorcycle models and made a name for itself in the racing world.
But by the 80s, KTM faced tough competition from Japanese brands.
As a result, KTM's sales suffered, and production ended in 1988.
Four new entities later, KTM made a historical comeback in the dirt bike scene, thanks to their continued investment in R&D and release of innovative dirt bike models.
Today, KTM remains a top player in the motorcycle and sports racing industry, focused on innovation and R&D.
Who makes KTM engines?
KTM builds its engines in-house at its plant in Austria.
Their engine development team designs and enhances engines for their dirt bikes, street bikes, and electric bikes.
Is KTM made in China?
KTM has been working to streamline its production process, which is why they've opened local plants in Asia.
In 2013, they partnered with Chinese company CFMoto, which will help produce and distribute the 2023 KTM 790 Adventure. 
KTM has also set up shop in India to offer more accessible dirt bikes.
They've also been expanding their production in the Philippines to get more dirt bikes to East Asia.
Does KTM make 4 strokes?
KTM's got you covered if you're after some serious power! They offer a line of four-stroke dirt bikes built for the toughest off-road terrains. 
Riders can expect improved handling, quicker response, and more controlled suspension action from the latest lineup of four-stroke dirt bikes.
KTM has improved all the rider touchpoints, from the airbox to the seat cover, to provide better grip and control no matter your riding position.
Check out KTM's 2023 lineup of four-stroke dirt bikes:
KTM 450 SX-F 2023 Factory Edition
KTM 450 SX-F 2023
KTM 350 SX-F 2023
KTM 250 SX-F 2023
2022 KTM 250 SX-F 2023 Factory Edition
Are KTM bikes reliable?
Dirt bikers in the community have mixed opinions about KTM dirt bikes' reliability.
Some riders swear by their KTM's durability, while others have had more frequent trips to the mechanic with their KTM bikes.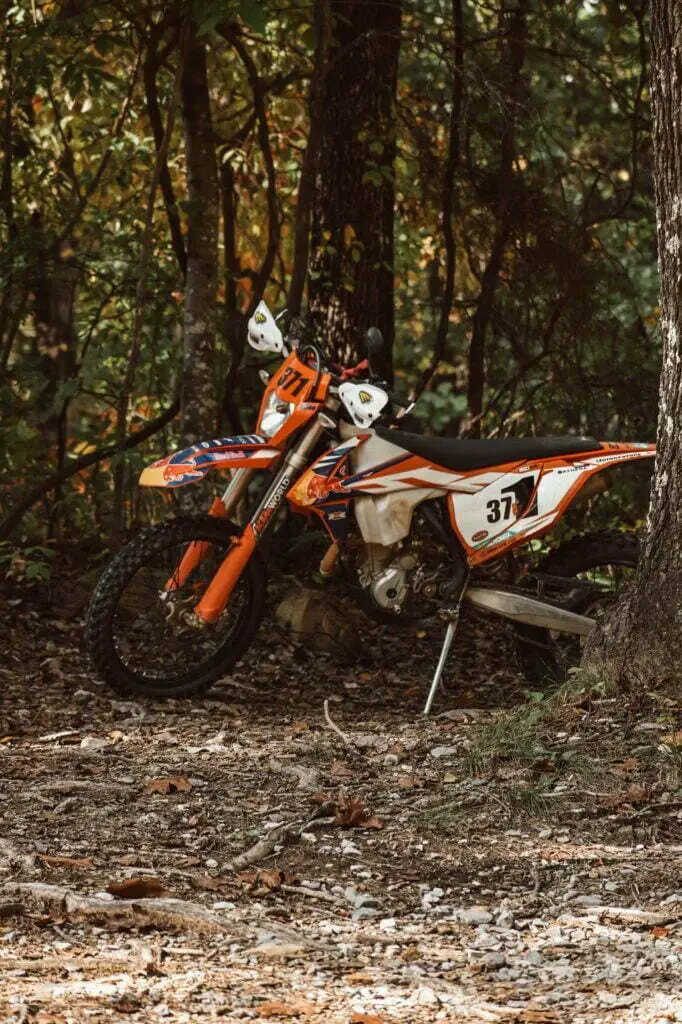 However, no one can deny KTM's place as a leading dirt bike manufacturer due to their: 
High power-to-weight ratio
KTM keeps its dirt bikes lightweight and ready for action using materials like aluminum, carbon fiber, and titanium.
These components, from the frames to the engines and suspension, are tough enough to handle rough rides but won't weigh you down. 
The engines also have lightweight, high-performing parts like camshafts, crankshafts, and fuel systems for extra power and torque without adding weight. 
And, with KTM's well-designed suspension, you'll get maximum control and handling without sacrificing weight.
Wide range of models
KTM's dirt bikes come in all shapes and sizes, making them a top choice for riders of all skill levels and riding styles.
So whether you're a beginner, a seasoned pro, or somewhere in between, KTM has a dirt bike suitable for you. 
And with KTM's expertise in engineering bikes for all off-road conditions, from tight and technical trails to high-speed desert runs, you can be sure you're getting a bike built to perform.
Solid racing reputation
KTM has a rich racing history with 260 world championships and several AMA Supercross titles.
Their dominance in the Dakar Rally since their 1994 debut is also a testament to their performance. 
Racing success has allowed KTM to test and improve their dirt bikes, and they continue to support riders with sponsorships, technical support, training, and resources to enhance performance.
High-quality build
KTM takes great pride in crafting its dirt bikes.
From design to production, they pay attention to every detail to ensure their bikes are top-performing and built to last.
They use only high-quality materials like lightweight aluminum frames, sturdy suspension components, and durable engines.
It means KTM dirt bikes are built to endure even the harshest conditions and withstand years of riding.
KTM dirt bikes are top-notch, but like all machines, they may have a few hiccups. Here are a few common issues reported by riders:
Expensive, frequent maintenance
KTM dirt bikes are built for racing and to perform at high RPMs.
However, that also means they're more prone to overheating, leading to increased wear and tear on the engine.
As a result, they require more frequent maintenance than other brands, making them more expensive even when used. 
On top of that, KTM parts can be difficult to come by, and KTM service centers are not as readily available as those for other brands, especially in rural areas.
Too many recall issues in the past
KTM has recalled some of their dirt bikes due to faulty parts, causing disappointment for riders.
Issues like broken power valves, leaking fuel tanks, and brake failures have led to recalls.
The brand has also faced criticism for rushing new innovations without proper testing.
Although these recalls have frustrated KTM fans, it's not uncommon for vehicle manufacturers to have recalls.
There are times when third-party suppliers of parts and components are at fault.
Expensive price tags
If you browse their lineup, I'll bet you've asked, why are KTM bikes so expensive?
High-performance engineering, premium components, their reputation as a racing powerhouse, and years of research and development all contribute to this.
KTM bikes feature the latest tech, cutting-edge design, and premium materials, all contributing to their premium brand image. 
Sure, used KTM bikes may be more affordable, but they're still pricier than Japanese brands with similar specs.
Wrapping up
KTM dirt bikes are the real deal for riders who want performance and quality.
While they're pricier than their Japanese counterparts, their racing heritage and longevity speak for themselves. 
With proper research and maintenance, your KTM dirt bike will bring endless fun and excitement on trails and tracks.
So go ahead, take the leap, and experience the thrill of a KTM!