When looking for the best dirt bike for a beginner, you're probably pondering the ideal engine size for someone still learning to ride like you.
A 125cc dirt bike is one of the most recommended starter dirt bikes, but is a 125cc dirt bike good for beginners? Is a 125cc dirt bike big enough?
With an average power output of 7 horsepower and an average speed of 45mph, 125cc dirt bikes are ideal for beginners learning how to handle speed, balance, and clutch control. At an average height range of 31" – 36", a 125cc is big enough for teenagers and adults from 5'2″ to 5'8″ tall.
Is a 125cc dirt bike good for beginners?
125cc power dirt bikes are the perfect tool for learning how to ride a dirt bike in any terrain condition, whether you're a beginner on the road or relearning your off-road riding skills.
Here are five reasons why:
1. It has enough power
Most 125cc dirt bikes have a power range of 10-15 horsepower, but some dirt bikes can reach as high as 30 to 36 horsepower.
The horsepower capacity of your 125cc dirt bike will heavily depend on whether it's a two-stroke or a four-stroke engine.
This HP capacity may not be a lot, but for beginner riders, this is the ideal range.
It allows you to master balancing and to control your dirt bike, especially when turning corners or traversing uneven roads. 
Even if you have outgrown your learner's stage and yearn for a more thrilling dirt bike experience, a 125cc dirt bike can still satisfy your needs. Some 125cc dirt bike models are even used in racing competitions. 
2. Speed and acceleration are ideal for beginners
The average speed of a 125cc dirt bike ranges from 55 – 65 mph.
You can still go for a hundred mph, but expect your engine to get strained beyond that.
3. 125cc dirt bikes are cheaper
Brand-new 125cc dirt bikes range from $5000 – $12000, depending on the brand, make, and variation (for example, is it a trail bike or a sports bike?).
If you're looking for brand-new bikes at a lower price, you can opt for off-brand or Chinese models.
You can save more when you buy a secondhand dirt bike. You can score a decent 125cc used dirt bike at around $2000 or less.
If you're starting from scratch, I recommend getting a used dirt bike instead of a brand-new one to save money. 
Besides, you won't feel too bad for adding a few dings and scratches to a used bike. 
The fuel efficiency of the 125cc makes them popular among dirt bike enthusiasts on a budget.
You can travel 70 – 100 miles (on asphalt road) with just a gallon of gas!
Plus, they're always in demand in the dirt bike community, so if you decide to upgrade, you'll have no problem selling your bike.
4. Comfortable enough for long, strenuous rides
125cc dirt bikes have an upright seating position and decent height that makes your riding experience comfortable, especially if you're a tall teenager or an adult within the 5'2" – 5'8″ height range. 
5. Plenty of parts available in the market
If you ever need to replace a part, rebuild your dirt bike's engine, or bring it to a mechanic, you won't have a hard time having your 125cc dirt bike back in pristine condition. 
Since OEM and aftermarket parts are always available, you'll have plenty of options with your repair or rebuild project, depending on your budget.
Is a 125cc dirt bike big enough?
A typical 125cc dirt bike has an average height of 31 – 36 inches. The height differs depending on the dirt bike model, manufacturer, and suspension height (which you can still adjust according to your size and preference).
The 125cc is ideal for riders who weigh 150 pounds or less, but riders who weigh more than 150 lbs can still enjoy a smooth ride on a 125cc.
Choosing the right dirt bike for you
By now, you can already deduce that choosing the most suitable beginner dirt bike relies on three factors: your height, weight, and riding experience. 
You also have to consider something you can easily pick up every time you fall or drop the bike.
As you master your throttle and cornering techniques, expect to fall off your bike a lot (hey, it's all part of the fun).
Your dirt bike should be light enough so you can easily pick it up every time.
There's also the choice between a two-stroke or four-stroke engine.
Two-strokes lean more on speed, while four-strokes rely on power.
Choosing which is better is entirely up to your riding capabilities and preferences. 
You also want something easy to maintain.
Since a 125cc is lighter and doesn't require as complex parts as its bigger counterpart, it's easy to learn how to repair and maintain it.
The best 125cc dirt bikes for beginners
To help you narrow down your choices, here are the top five 125cc dirt bikes for beginners:
Yamaha YZ125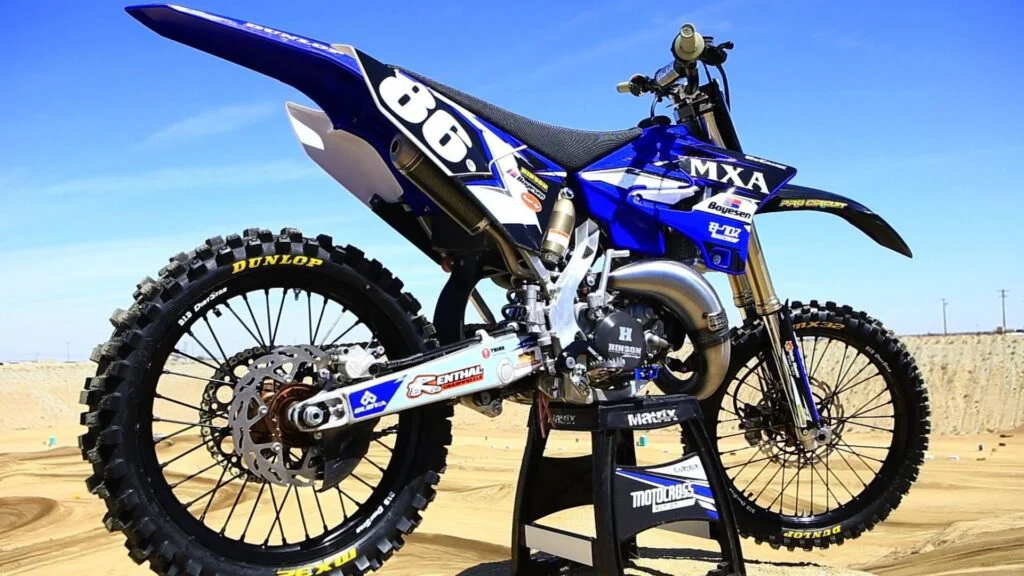 Image courtesy of Motocross Action Magazine
The YZ125 is a two-stroke 125cc dirt bike that's popular for its superb handling, lightweight, and budget-friendly price tag.
It's been around since 1974, and Yamaha continues to upgrade this model to cater to the evolving needs of both novice and experienced dirt bike riders.
Its height can be a bit off-putting for other riders, though.
KTM 125 SX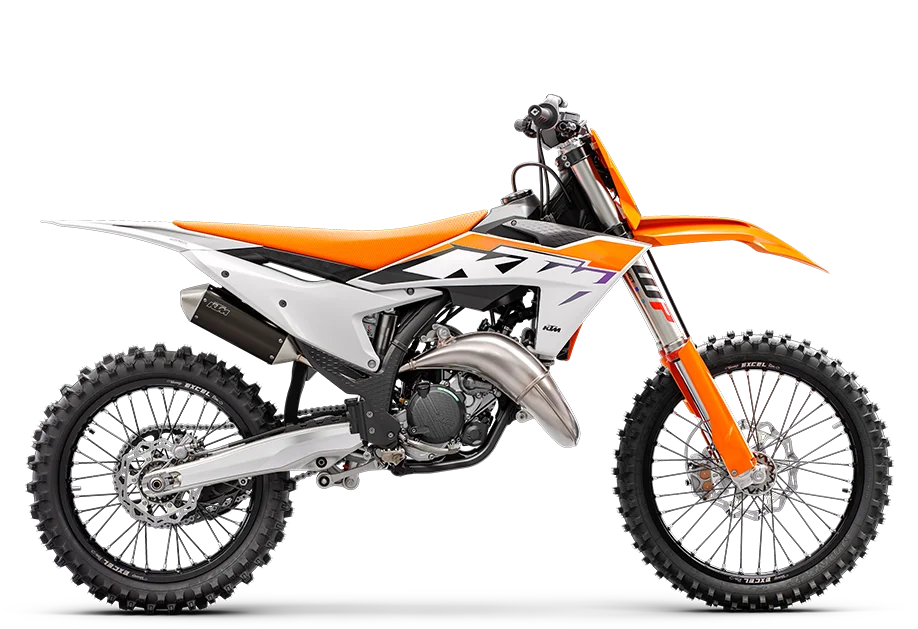 KTM is known for its line of ready-to-race dirt bikes like the KTM 125 SX.
It can go as fast as 100 mph, so you can easily master some advanced riding techniques with this beast.
Kawasaki KLX125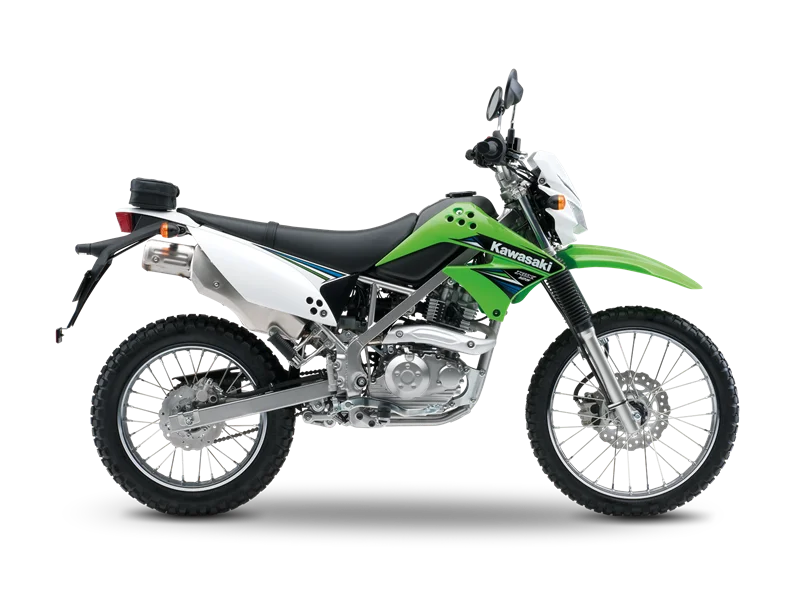 At 125cc, 4-stroke engine, decent suspension, 7HP, and a max speed of 45 mph, the KLX125 is the perfect slow-and-steady bike to perfect your clutch and throttle control.
It's also easy and cheap to maintain.
Honda CRF 125F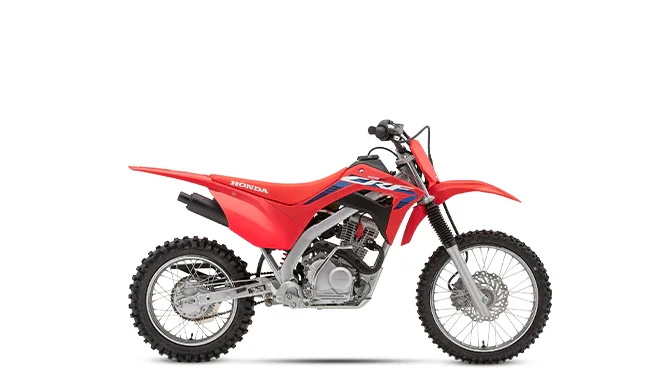 This enduro bike is as basic as a dirt bike can be.
It comes with a four-speed gearbox, an air-cooled 125cc 4-stroke engine, 6 HP, and a top speed of 45 MPH.
It also has an electric start instead of clutch control, so you won't have to worry about stalling your engine mid-ride.
Suzuki DRZ 125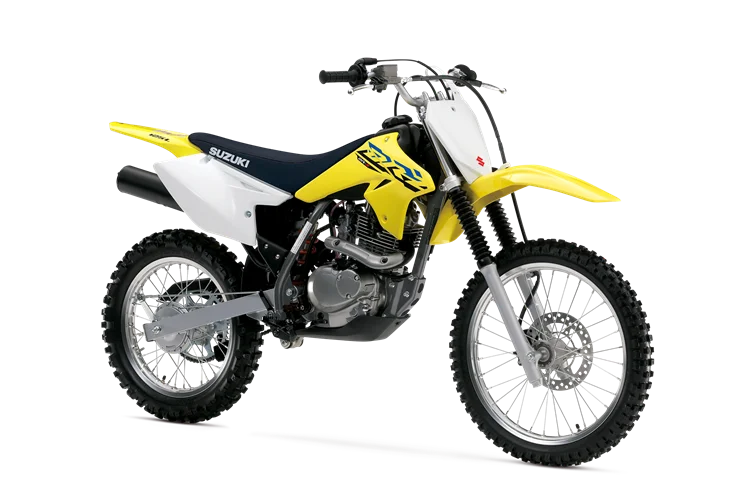 If you have no riding experience and want to learn enduro or motocross racing, this bike is a good start.
It has an air-cooled, 125cc 4-stroke engine, 7 HP, a max speed of 45 mph, and soft suspension for a comfortable ride.
With only 194 pounds, you can lean, turn, and develop proper riding techniques easier.
Wrapping up
With its decent horsepower, beginner-friendly top speed and acceleration, lighter weight, ergonomic seating, average height and size, and affordable price, a 125cc dirt bike is a good choice for a beginner dirt bike. 
However, if you're a rider with riding experience already, you might outgrow your 125cc bike after a few riding sessions.
And if you're taller than the average rider, you might have a slightly off-putting riding experience on a 125cc.
There are plenty of 125cc dirt bikes you can choose from, varying in manufacturers, specs, the number of strokes, and price range.
Choosing the right dirt bike depends on your height, weight, riding experience, and preferences. 
However, if you need advice on the top 125cc dirt bikes for beginners, the hottest ones on the market are Yamaha YZ125, KTM 125 SX, Kawasaki KLX125, Honda CRF 125F, and Suzuki DRZ 125.