If you're considering getting into motocross, let me first welcome you to this exciting sport!
There's always a rush of adrenaline and thrilling challenges to look forward to in this sport.
I know one of the things on your mind as you're thinking of getting started with motocross is, is motocross expensive?
Well, here's the thing.
As with any sport, starting out with motocross will require some investment, but the cost is more affordable compared to other forms of racing.
Getting into motocross costs from $2000 to $30,000 and above. The expense of racing motocross depends on a number of factors, such as the dirt bike you purchase, your riding gear, maintenance and repair costs, race fees, and other miscellaneous fees. 
But there are plenty of ways you can lower the cost of getting started with motocross.
Read until the end of this post to find out! 
What is motocross (MX)?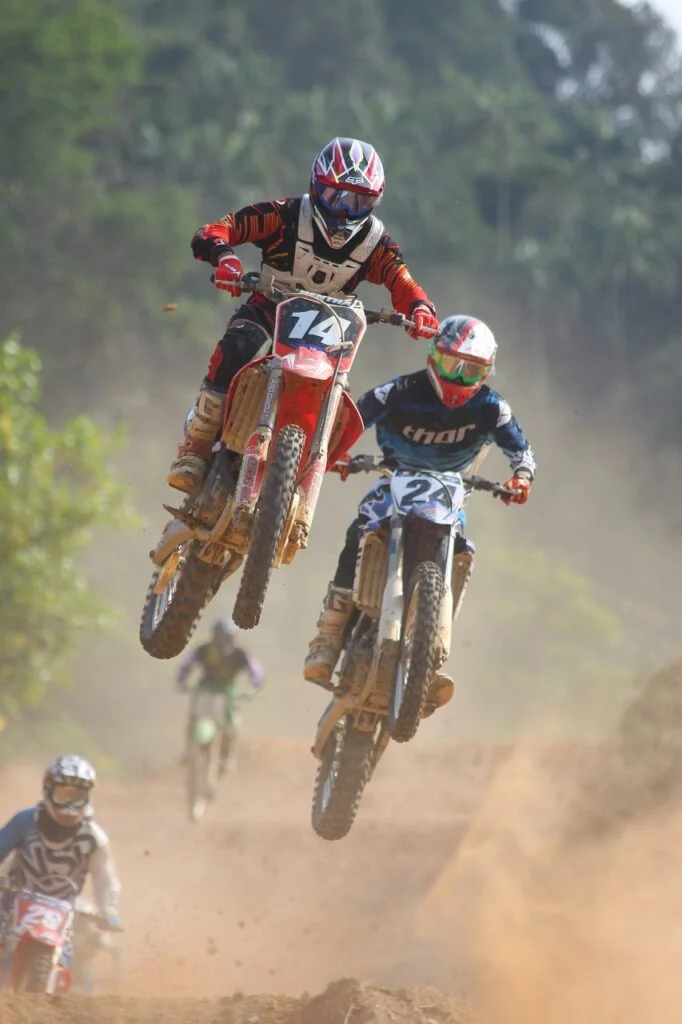 Motocross is an exciting off-road racing sport where racers on dirt bikes tackle challenging tracks with obstacles and jumps.
It usually takes place on closed circuits that are one to three miles long.
MX races last around two hours split into two heats of 40 minutes each.
No two tracks are the same in motocross, making it exciting for everyone!
It's all about who can navigate the various muddy or graveled tracks the best.
Is motocross expensive?
Getting started with motocross can range from $2000 to $30,000+ depending on factors like your dirt bike choice.
If you're thinking of starting motocross, be prepared to invest in a dirt bike, gear, and maintenance.
Here are the key factors that contribute to the overall cost of your motocross experience:
Dirt bike ($2,500 – $11,000)
Your dirt bike is the most significant aspect of motocross and also the biggest financial investment you'll make.
The cost of a dirt bike can vary based on factors like your preferences.
If you want a bike with speed, acceleration, horsepower, and a larger engine, expect to spend around $5000+.
When choosing a dirt bike, consider whether you want a two-stroke or a four-stroke engine.
Two-strokes are faster, lighter, and cheaper, while four-strokes offer more power and torque.
Keep in mind that the type of track and racing classes you plan to participate in can also affect your choice.
If you're new to motocross, I strongly recommend buying a used dirt bike instead of a brand-new one.
It's a smart way to save money while you're still figuring out if motocross is the right hobby or career for you.
And if you decide to take it more seriously later on, you can always sell your used bike and upgrade to a better one.
Riding gear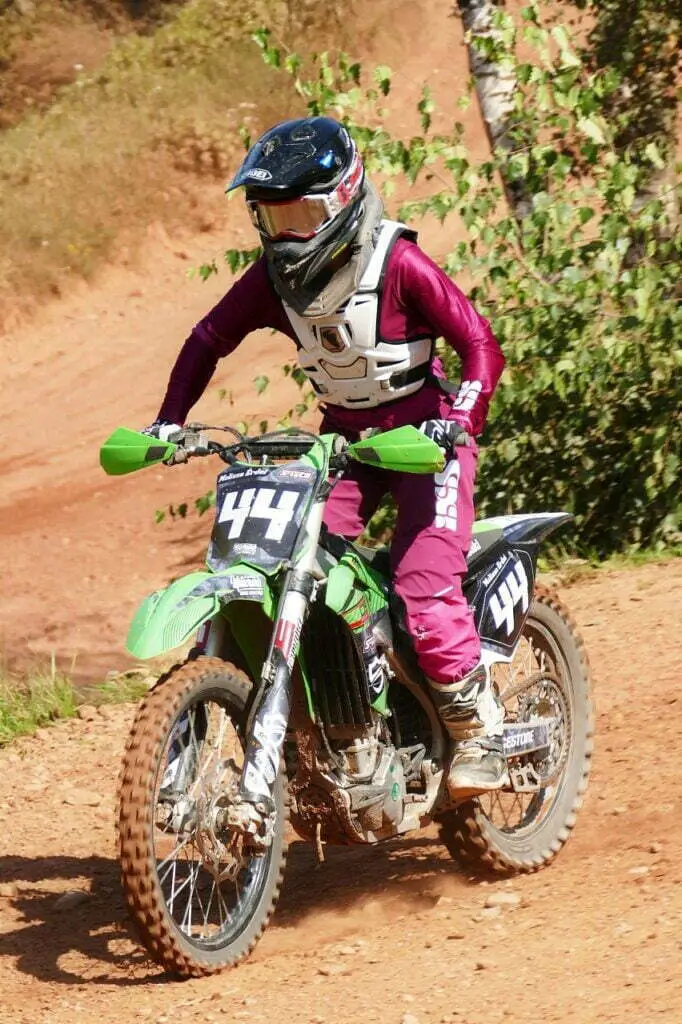 Investing in quality riding gear early on is imperative for keeping yourself safe while racing.
The gear will protect your body from accidents and falls during the race.
Your safety riding gear should include the following essentials:
Helmet ($150 – $500)
Goggles ($50 – $150)
Body armor ($40 – $500)
Gloves ($15 – $500)
Jersey ($15 – $200) and dirt bike pants ($40 – $500)
Dirt bike boots ($90 – $700)
Maintenance and repairs
Maintaining your dirt bike is crucial for getting the most out of it and making it last.
It may cost a bit more upfront, but it's worth it in the long run.
Simple things like changing the oil, cleaning the air filter, and checking the tires and chain can go a long way.
Plus, most of the supplies you need for maintenance aren't too expensive, like premium engine oil which costs around $10 – $15 only.
Then there's also the matter of rebuilding the engine.
Four-strokes generally need a rebuild after around 25-30 hours of riding and can cost around $4000.
But don't worry, keeping up with regular maintenance can lower that cost.
As for two-strokes, they usually need a rebuild between 40-60 hours of riding, and it's usually cheaper, around $1500-$3000.
Race and membership fees
Entering an MX race comes with a fee, usually around $40-$60 for amateurs and higher for professionals.
If you plan to race frequently, you may want to consider a yearly membership for around $150, but it's not a requirement if you're just doing it as a hobby.
Gas
Fuel costs for your dirt bike can vary depending on the bike's type and size, the type of gas it requires, and how many race classes you plan to enter.
Two-stroke bikes can be more expensive because they require pre-mixed gas. 
Use a smaller truck or van with a motorcycle carrier to reduce gas expenses when transporting dirt bikes.
Other fees
Don't forget to budget for food, drinks, and lodging when you're racing.
You can consider packing a tent instead to save money on accommodation and to have a chance to hang out with other racers and fans. 
And remember, always leave a little extra room in your budget for unexpected expenses like a flat tire or a last-minute repair.
How to get started with motocross on a budget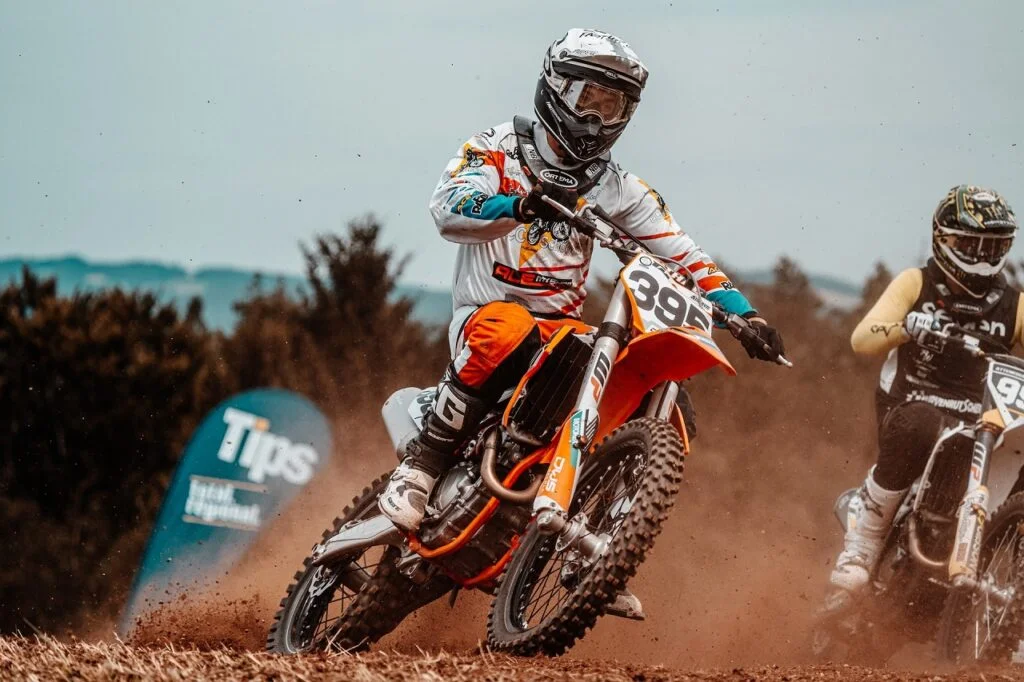 Starting motocross can be pricey, even if you opt for budget-friendly options like a used bike.
To keep costs low, consider looking at these options:
1. Volunteer at your local motocross track
Want to save money on motocross fees? Try racing at local tracks and volunteering to help out.
Volunteering at local motocross race tracks can involve tasks such as setting up track barriers and safety flags, helping with maintenance and repairs, and assisting with registration.
Not only will you save money, but you'll also make connections with other racers and track managers who might offer discounts or waived fees in the future!
2. Find a sponsor
Have you watched motocross races and noticed the logos on the racers' shirts?
Those are part of sponsorship deals they made with companies who sponsor these racers in exchange for promoting their brand.
The perks can vary, from discounted fees to free products.
If you gain a reputation, you can even win cash rewards!
Sponsorships aren't just for big-time racers.
So if you've got exemplary racing skills and already have some race victories under your belt, try reaching out to local businesses and asking for sponsorship.
3. Follow your bike's maintenance schedule
To save money on mechanic visits, make sure to keep your dirt bike in exemplary condition by regularly cleaning the air filter, changing the oil and coolant, and giving it a thorough inspection after each race, especially if it's a used bike.
4. Find a fellow motocross enthusiast
Team up with a fellow racer! You can share repair costs by partnering with someone handy with mechanics.
Or, if you know a friend with a truck or SUV, you can carpool to races together and save on transportation costs.
5. Learn how to do your maintenance
Save money by learning how to do your own dirt bike repairs and maintenance.
Check out my other posts which can aid you in maintaining or repairing your bike properly. 
Wrapping up
Motocross may not be as expensive as some other forms of racing, but it still requires some investment.
But don't let that discourage you!
With some smart planning and resourcefulness, you can enjoy the sport without breaking the bank. 
Make sure to follow the tips in this blog post for ways to save money on your dirt bike, gear, maintenance, and more.
Trust me, motocross is worth it!