On the topic of the best dirt bikes for beginners, I see many riders recommend the Yamaha YZ125.
The question is, why exactly is the YZ125 a good beginner dirt bike? 
A Yamaha YZ125 is an ideal bike to learn how to operate the clutch and throttle because of its low engine displacement, two-stroke engine, light weight and reasonable price tag. However, the height of the YZ125 and its tendency to stall may turn off some beginner dirt bike riders.
What makes a good beginner dirt bike
Here are some factors you should consider before buying your first dirt bike (whether it's a YZ125 or a different model):
Your riding experience
Beginners need something that is easy to handle and not too light (so it won't dance around) but also not too heavy (so it won't be too physically tiring to ride).
You can either go for a 125-cc two-stroke or a 250cc four-stroke.
They're the right weight and power, and models with these engine strokes and displacements are budget-friendly.
Don't opt for something higher than 250cc since those larger bikes are a bit harder to control.
Consider your build
When buying a dirt bike, test it out first to see if it fits your body build.
Can you steer the bike easily, or does it require more weight to move in your desired direction?
Can your feet touch the ground when you sit on the seat?
What kind of riding will you do?
It's wise to determine this early on to decide what type of dirt bike you'll buy.
For trail riding, a four-stroke dirt bike is a viable option for beginners.
For track riding, a motocross bike or any lighter, two-stroke model will do wonders.
They're easy to control, and their acceleration is top-notch on the track.
Your budget
Since you're still starting, you can opt for a cheaper dirt bike.
After all, you won't be stuck forever with your starter bike, and if you want to upgrade, you can sell it later.
There are plenty of second hand options on the market but I only recommend buying a used dirt bike if you've done the research and know what to look out of.
Otherwise you can end up with a lemon.
Is Yamaha YZ125 a good beginner bike?
I'll bet that while searching for reliable beginner dirt bikes, you'll often see the Yamaha YZ125 on most lists.
Here are five reasons why it's one of the most recommended dirt bikes for beginners: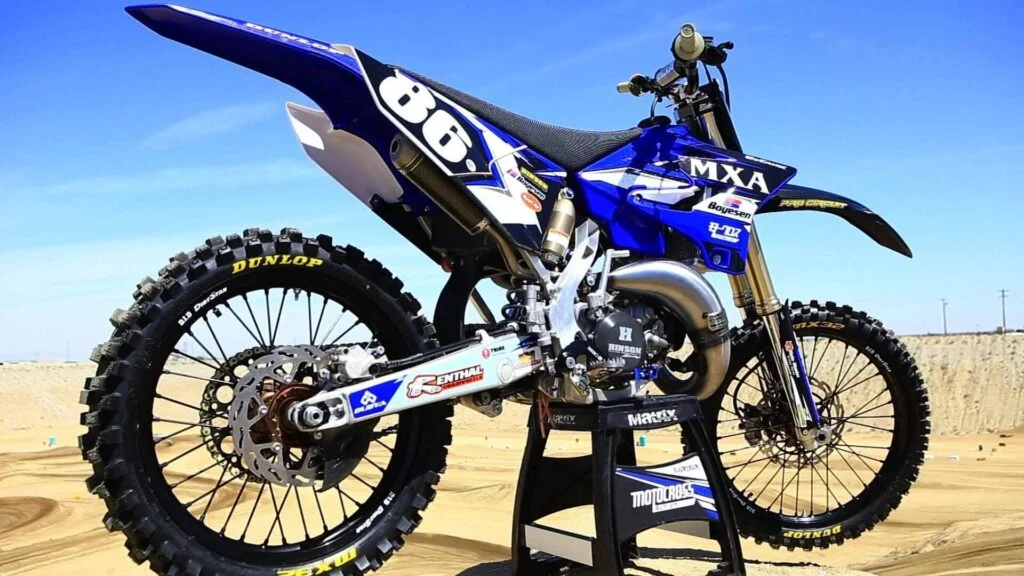 Image courtesy of Motocross Action Magazine
It's lightweight
The YZ125 weighs in at 94 kg (208 pounds), making it one of the lightest dirt bikes on the market.
It's famous for its superb control and handling.
Even someone without any experience with dirt bikes can get comfortable enough to ride it with a few practice sessions.
For beginner riders, a lightweight dirt bike is ideal because they're easier to control both on tracks and trails.
When you fall or crash while learning your balance, clutch, and throttle control (which is normal), you won't struggle with picking your dirt bike up every time. 
It has the perfect power for beginner riders
At 125cc, the two-stroke Yamaha dirt bike provides the middle ground on power capacity for beginner dirt bike riding.
Its torque is something even a complete novice can handle. 
If you want to test the limits at some point, you can do so since it's more forgiving than a higher-cc bike. It's also easier to repair.
Besides, high-displacement bikes are more prone to crashes.
That could be frustrating for someone trying to improve their balancing skills.
Its reasonably priced
The 2022 Yamaha YZ125 is priced $6,899 (at time of writing) which is not bad considering its mid/top-range specs. 
Of course, you can expect a slightly lower price if you're buying a secondhand or a lower-year model since there is already some usual wear and tear.
But you can repair or refurbish it anytime, and it won't cost you a fortune.
Again, I would only advise this if you know what you're doing or know someone who does and can help you out.
Two-stroke dirt bikes like the YZ125 are also easier to maintain since there are no valves on the engine to monitor regularly.
Even a beginner rider can fix it with some basic repair tools in the garage.
There are plenty of aftermarket parts available for the YZ125
Given that Yamaha has been manufacturing the YZ125 since 1974, it's no surprise that aftermarket parts and accessories for this model are still abundant today.
Most components available for the YZ125 are also very affordable.
It's been continuously upgraded
Because of its popularity with beginner riders and even some racers, the Japanese manufacturer has continuously upgraded this model to keep up with the evolving demands of dirt bike riders over the years.
It got an engine and chassis upgrade in 2005, a suspension upgrade with SSS forks in 2006, and another body and suspension upgrade in 2015. 
But this year's model marked the release of their biggest overhaul of the YZ125.
We're talking more top-end power, a more ergonomic ride, and better suspension and brakes. 
The 2022 YZ125 also comes with a brand-new Keihin PWK38S carburetor and a Moto Tassinari VForce4R Reed valve system, making it more fuel-efficient.
The style has also improved.
The graphics embedded in the 2022 model can now last longer in the wear-and-tear conditions of off-road riding.
It also has a more modern and aggressive appearance.
Downsides of a Yamaha YZ125
Like any dirt bike, the Yamaha YZ125 has its drawbacks.
Here are some of the downsides that may affect your riding experience as a beginner: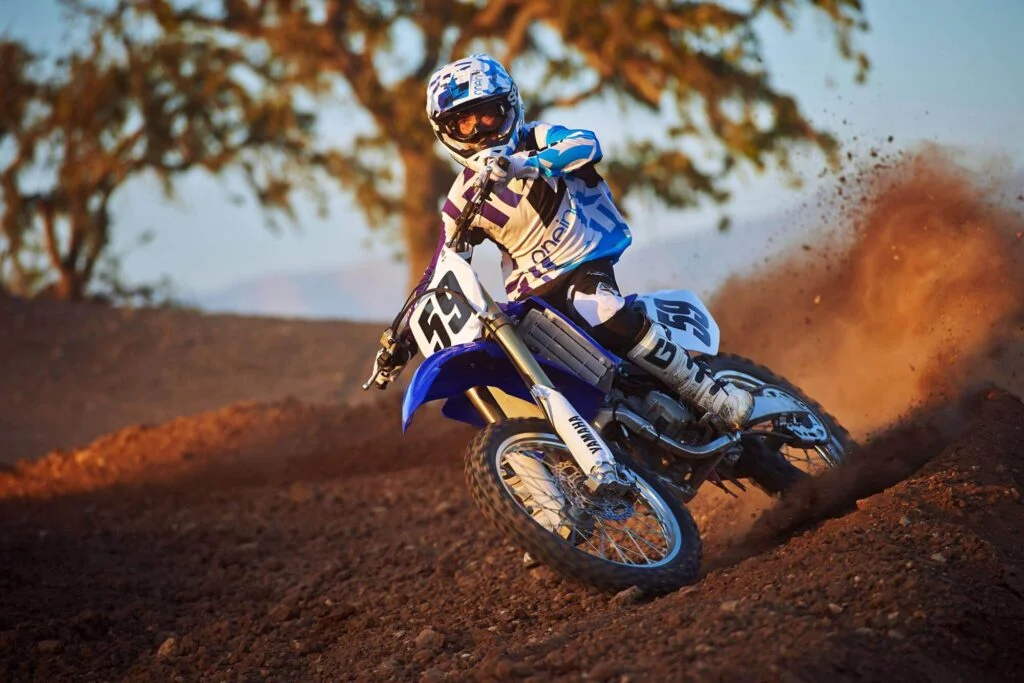 Image courtesy of Total Motorcycle
Height too tall
Even riders of average height may find the YZ125 a bit tall with its 38.6 inches height.
If you're shorter than the average rider, you might struggle with touching the ground when balancing or parking. 
You can adjust the suspension, but it might still be slightly taller than your taste.
Engine stalls easily
Since the YZ125 has low torque, sometimes the power may not be enough to keep the momentum of the air-fuel mixture in the engine, and your dirt bike ends up stalling. 
To avoid stalling, you tend to pull the throttle more.
This is not advisable because you end up accelerating your dirt bike abruptly.
Either you end up on a whiskey throttle or fall off your bike completely.
Abrupt powerband
Power band happens when your dirt bike reaches its maximum horsepower as the engine reaches its peak.
Think of it like a nitro boost for cars.
The issue with the YZ125 is that the power band comes abruptly with no warning.
You might be easily cruising along, and then bam! – powerband out of nowhere.
This can be annoying if you're still learning how to balance your dirt bike.
Wrapping up
Considering its specifications, the YZ125 is a decent choice for a beginner dirt bike. 
But like I always say, the most appropriate dirt bike depends on what kind of riding you plan to do with your bike. 
If you're planning to do some motocross racing or enduro in the future, the YZ125 will be a wise investment.
It's got superior handling and control, and the power is just right to get you moving through rocky terrains and uneven trails.
It even has a six-speed transmission, so you know it can still deliver speed on the road.
In contrast, if you plan only to travel or cruise along roads and not to race, I recommend a higher Yamaha model or something comparable to other brands.
You might get frustrated halfway through with the speed and power it can provide. 
Besides, the height might turn you off while you're still learning to ride.