One of the most thrilling aspects of riding is pushing your bike to its limits and feeling the rush of speed as the adrenaline of the off-road terrain shoots high.
And I'm willing to bet that at some point in your dirt biking journey, you've wondered how fast can a dirt bike go?
How far can I push my bike to the limit?
A dirt bike can reach an average of 50-60 mph speed. Several factors can influence a dirt bike's speed, including engine size, stroke, rider weight, and terrain. These factors can impact the top speed of a dirt bike and may vary from one bike model to another.
Intrigued? Well, there's more to discuss as we dive deep into everything about dirt bike speed.
Throughout this blog post, we outline the average speed for each engine size and the factors that affect speed.
Plus, some tips for making your dirt bike faster. 
So if you're looking to push your dirt bike to the limits and hit top speeds, keep reading!
How fast does a dirt bike go?
Dirt bikes aren't meant for top speed like other two-wheel vehicles, but they're perfect for pushing your endurance to the limit and experiencing that adrenaline high while taking on rocky roads or steep hills.
With an average speed of 50-60 mph and top speeds reaching up to 100 mph, dirt bikes can still keep up with any two-wheel vehicle on or off the road.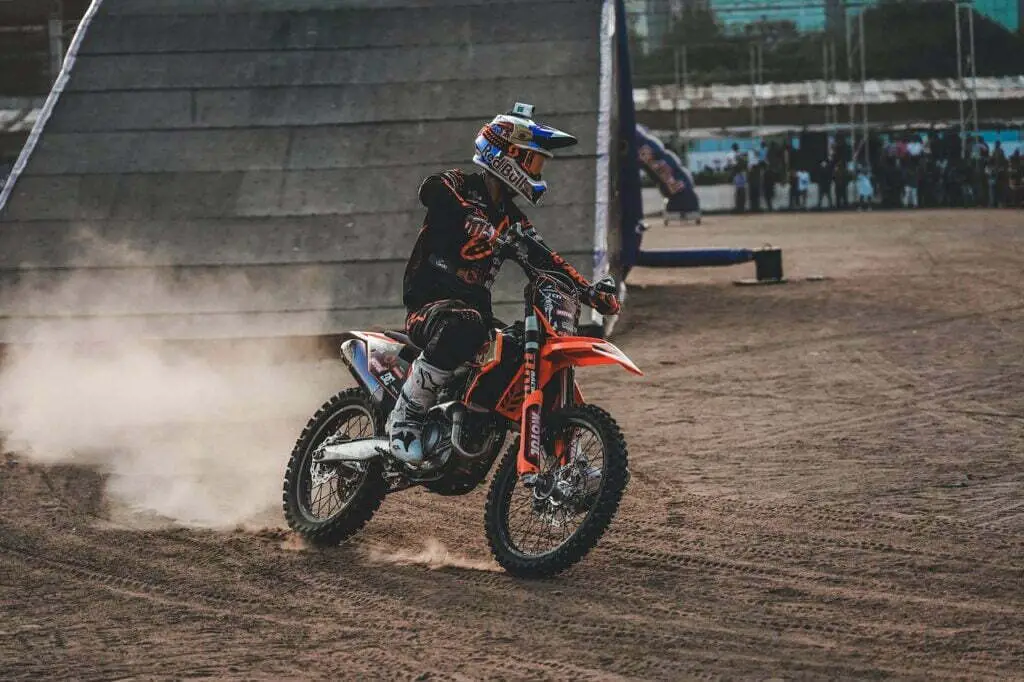 Several factors affect the speed of a dirt bike:
Engine size
In general, larger engines (those with higher cc) produce more power and, in turn, higher speeds.
For example, a 250cc dirt bike is faster than a 50cc dirt bike.
However, size isn't the only factor that affects a dirt bike's speed.
Dirt bike weight can also impact its speed.
That's why it's essential to consider engine size AND weight when looking for a fast dirt bike.
Engine stroke
Two-stroke dirt bikes are faster than four-stroke bikes in terms of top speed.
They're lighter, more agile, and can generate more power and speed per cycle.
On the other hand, four-stroke dirt bikes have more low-end torque, making them better suited to technical riding.
Choosing between a two-stroke and a four-stroke dirt bike depends on what you want and the riding you'll be doing.
If you're looking for speed and nimbleness, a two-stroke might be more your style.
But if you're after better fuel efficiency and low-end torque, a four-stroke might be a good choice.
Rider
As a rider, you also have a significant impact on your dirt bike's speed. 
For one, skilled riders who know how to shift gears and use the clutch can make the most of their bike's engine and easily achieve higher speeds.
Years of riding experience can also build confidence and enable riders to push their dirt bikes to their limits.
Additionally, your body type can also affect your ability to maintain high speeds during extended periods of riding.
Heavy riders on smaller dirt bikes may experience some speed strain.
Therefore, it's important to choose a dirt bike that matches your weight and height, as well as your level of experience.
Type of terrain
Smooth, flat surfaces like motocross tracks are perfect for maximizing your dirt bike's speed potential.
But when you're riding through rough, bumpy terrain or dealing with steep hills, your speed can be affected.
It's all about adjusting your speed and gear to the track ahead of you. 
So, if you're looking to ride as fast as possible, make sure you're riding on the right surface and have the right skills to handle the terrain.
Manufacturer
Did you know that dirt bikes with the same engine size can have different speeds?
That's because manufacturers have different priorities and target audiences.
Some focus on speed, while others prioritize durability, ease of use, or affordability. 
Plus, every manufacturer has its unique design philosophy and technological capabilities.
So, before choosing a dirt bike, it's essential to research and compare different models to find the one that fits your needs and skills.
Dirt bike average speed
As you might already know, the size of your dirt bike's engine plays a big role in how fast you can go.
To help you out, I've put together this list of average speeds for the most common dirt bike engine sizes out there:
| | | |
| --- | --- | --- |
| Engine size | Average Speed | Recommended for |
| 50cc | 25 – 40 mph | 4 – 7 y.o. kids |
| 80cc | 45 -55 mph | 7 – 11 y.o. kids and beginner adults |
| 110cc | 35 – 60 mph | 8 – 14 y.o. kids and beginner adults |
| 125cc | 45 – 70 mph | Beginner adults (but can also be for teens with a bit more experience) |
| 150cc | 50 – 80 mph | Beginner – intermediate adult riders |
| 200cc | 60 – 90 mph | Experienced adults and taller, heavier teens |
| 250cc | 55 – 90 mph | Teens 16 y.o. and above and experienced adults |
| 450cc | 87 – 120 mph | Experienced adults |
How Fast Can a 50cc Dirt Bike Go?
A 50cc dirt bike is suitable for kids aged 4 to 7 who are just starting to learn how to ride.
They can reach an average speed of 25-40 mph, with a top speed of 45 mph.
That's a speed range that's safe for young riders who are still getting their bearings. 
If you're wondering how fast a 50cc dirt bike can go on the trail, popular models like the Honda CRF 50 or Yamaha TTR 50 can hit around 32 mph.
And if you're looking for a bit more speed, motocross-style 50cc bikes like the KTM 50 SX or Husqvarna TC 50 can run as fast as 45 mph.
How Fast Can an 80cc Dirt Bike Go?
With an average speed range of 45-55 mph and a top speed of up to 70 mph, an 80cc dirt bike offers more power than its smaller counterparts.
However, it's important to note that an 80cc bike can be pretty aggressive, so it's wise to approach it with caution if you're a beginner.
That being said, it's a great option for kids ages 7-11 or adults who are just starting out.
Some of the fastest 80cc dirt bikes out there are the KTM 85 SX, Kawasaki KX80, and Yamaha DT80.
The KTM 85 SX is especially popular on MX tracks and is known as a champion's favorite, although it can be a bit pricey.
How Fast Does a 110cc Dirt Bike Go?
Looking for something with a bit more zip than an 80cc dirt bike but not quite ready to tackle the power of a 125cc or 250cc? A 110cc dirt bike might be just what you're looking for! 
With an average speed of 35 to 55 mph, these bikes are suitable for riders who want a bit more oomph without getting in over their heads. Some of the newest models can even hit 60 mph!
110cc dirt bikes can be ideal for kids aged 8 to 14 who are ready for more speed and power.
Many models also come with throttle limiters to help young riders stay in control.
If you're in the market for the fastest 110cc dirt bike, you can't be wrong with one of these models: 
Honda CRF110F
Kawasaki KLX 110R
Yamaha TTR 110
How fast is a 125cc dirt bike?
If you're curious about how fast a 125cc dirt bike can go, you're in luck!
These bikes can reach an average speed of 45 to 60 mph, with a top speed of 70 mph.
Not too shabby, right? They're ideal for beginner adults who want a bike with some power and speed but without being too intimidating.
125cc bikes may not be the first choice for kids, but if your little one is confident and has the skills to handle one, then go ahead.
Just supervise them closely and have them wear all the necessary safety gear.
If you're thinking of getting a 125cc dirt bike for yourself, you'll want to check out these top models for speed:
KTM 125 SX
Beta RR 125 2T
Husqvarna TC-125
TM MX 125
How Fast is a 150cc Dirt Bike?
If you're wondering how fast does a 150cc dirt bike go, on average, it can reach speeds of 50 to 60 mph, with a top speed of up to 80 mph.
While it might be too powerful for kids, it's great for adult beginners who want more speed and power without getting overboard.
Just keep in mind that it might be too heavy for some riders.
Therefore, make sure to test it out and get comfortable with the weight before hitting the trails.
Here are the top contenders for the fastest 150cc dirt bikes:
Kawasaki KLX 150 (can reach 115 mph)
KTM 144 SX
KTM 150 XC
Husqvarna TE 150
How fast is 200cc in mph?
A 200cc dirt bike can be a thrilling ride with an average speed range of 60-75 mph and a max speed of up to 90 mph.
These bikes are more powerful and faster than beginner-friendly dirt bikes, making them ideal for experienced adults and taller, heavier teens.
If you're curious about how fast a 200cc dirt bike can go, check out these top-performing models:
Beta 200 RR
Suzuki DR200S
GasGas EC 200
Suzuki DR200S
How Fast Can a 250cc Dirt Bike Go?
250cc dirt bikes can pack a punch with an average speed of 55-70 mph, and some models can even reach up to 90 mph on flat terrain.
With that kind of power and speed, they're more suitable for experienced riders – teens 16 years or older or adults looking for a thrilling ride.
Check out these dirt bikes that can give you an idea of how fast is a 250cc dirt bike:
KTM 250 XC-F (can hit up to 98 mph)
Kawasaki KX250
Suzuki RM-Z250
Honda CRF250L
How Fast Is a 450cc Dirt Bike?
If speed and power are what you're after, a 450cc dirt bike won't disappoint.
With an average speed of 87 mph and some models reaching over 100 mph, these bikes are built for racers and experienced riders.
If you're a rider weighing over 80kg, a 450cc bike is an excellent option.
Here are some of the fastest 450cc dirt bikes on the market:
KTM 450 SX-F (top speed of up to 123 mph)
Beta 430 RR-S
Kawasaki KX450
Honda CRF450R
How do I increase dirt bike speed?
Riding a dirt bike can be exhilarating, but have you ever wanted to accelerate even faster?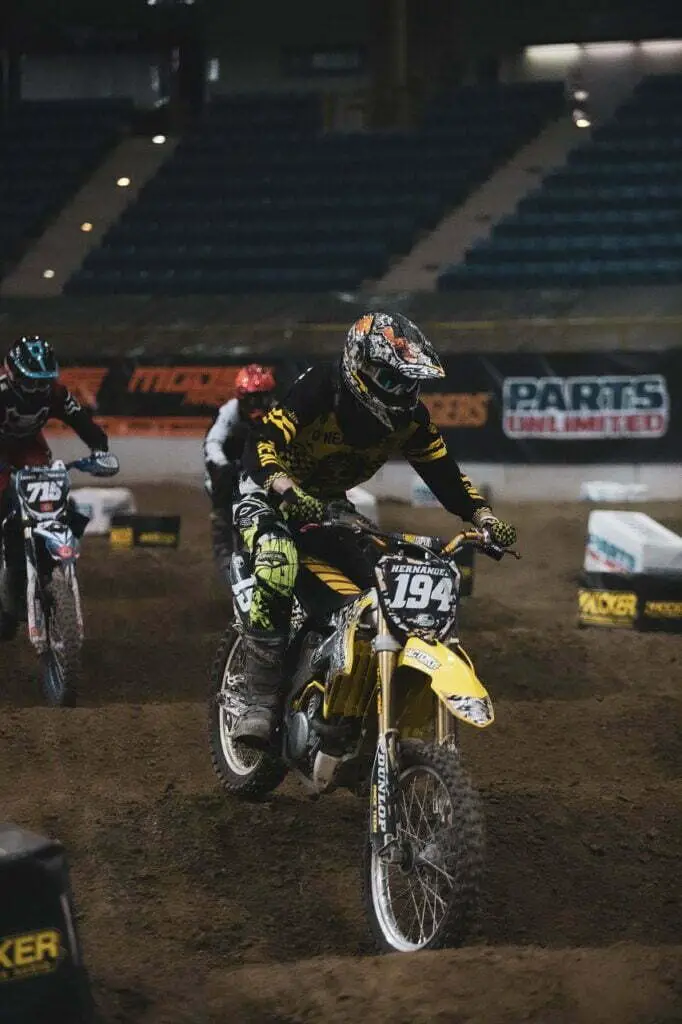 If you have, here are some tips from your neighborhood dirt bike rider on how to increase the top speed of your dirt bike:
Fill up with high-quality fuel. Better fuel means better performance and more speed! But be careful: using poor-quality fuel can harm your engine and make your bike perform poorly.
Keep up with regular maintenance. Like you, your dirt bike needs frequent check-ups to stay healthy and perform at its peak. Regular oil changes and cleaning your air filter can help your bike run more smoothly and efficiently.
Upgrade your exhaust system. Upgrading to a performance exhaust system can help your engine breathe better, resulting in more power and faster speeds. It's like giving your bike an extra boost!
Stick to the right tire size. Using the correct tire size is important for your bike's handling and speed. Make sure to use the recommended dirt bike tire size to keep it running smoothly.
Think about changing your sprocket. Changing the size of your sprockets can affect your bike's top speed, but it can also impact acceleration and torque. So if you want to accelerate faster, consider upgrading your sprocket size carefully.
Conclusion
We've covered a lot of ground in this blog post about dirt bike speeds, and I hope you find it helpful.
Remember, if you're still starting out, it's important to choose a bike that matches your experience level and weight.
And if you want to increase your bike's speed, there are a few things you can do, like using quality fuel, maintaining your bike, upgrading your exhaust system, using the right tire size, and changing your sprocket. 
But most importantly, wear your dirt bike gear every time you ride for a safe and comfy ride!