So, how do you choose a dirt bike? Well, it's simple – find a dirt bike, fire up the engine, zoom into the sunset, and see if you're a match. 
Kidding!
When choosing the perfect dirt bike, there are a few things you need to consider, like your riding skills and style, physique, budget, and even your mechanical aptitude.
But don't worry – it's not as mind-boggling as it sounds.
You only need research and self-reflection to find the dirt bike that speaks to your soul.
What you need to research and reflect on, that's what we'll explore today!
Join me as we dive deep into the best ways and tips for picking a dirt bike, especially if you're starting out.
We'll dive into your riding style, physique, budget, and more, to find the ideal match for your off-road adventures.
By the end of this guide, you'll know how to find the dirt bike of your dreams!
How do I choose a dirt bike for beginners?
We've all been there – struggling to find the right dirt bike.
Many riders will tell you it's about finding a forgiving yet thrilling ride that fits your budget, but how do you choose one that fits that description out of so many bike options available today?
Here are the questions I asked myself to solve that dilemma:
1. What is my riding experience?
If you're a beginner, your riding experience will help you choose the perfect dirt bike.
Consider all your riding experience, including bicycles and ATVs, to gauge your comfort and skill level.
Zero experience? Look for manageable power and user-friendly features in 125cc bikes. 
Already got the basics? Level up with a 250cc bike for more power and speed. 
2. What is my physical build?
Your size matters when it comes to riding your dirt bike.
You want to feel right in the saddle, so pick a bike that suits your physique.
To find the perfect beginner dirt bike for your build, visit local dealerships, bike expos, rentals, or even your buddy's garage.
Test ride different models and see what feels right. 
3. What is my budget?
Budget plays a significant role in your dirt bike hunt.
Think hard about how much you want to spend.
Find that sweet spot between affordability and long-term value.
Take your time researching the best beginner dirt bikes within your budget. 
If you're tight on money, Yamaha has excellent beginner models for every budget.
4. What type of riding do I plan to do?
Ask yourself: What's my future dirt bike playground? Trails, motocross races, or wild off-road adventures?
While some dirt bikes can handle trails and tracks, finding a dirt bike specifically designed for your riding type is still imperative.
5. Do I prefer a 2-stroke or 4-stroke engine?
2-strokes and 4-strokes both have their perks.
2-strokes bring snappy power and lighter weight, while 4-strokes offer smooth delivery and better fuel efficiency.
Choosing one is all about what floats your dirt bike boat.
Take a test ride or watch YouTube videos comparing them.
6. Which transmission am I comfortable with?
If you're up for a more engaging ride and don't mind the learning curve, go for a bike with manual transmission.
It requires clutch control and shifting gears, but the control over power and speed is worth it.
Plus, manual transmission models are cheaper!
But if you'd rather focus on the ride and not switch gears, an automatic transmission is the way to go.
It's suitable for beginners and those who want hassle-free riding.
7. Can I handle my bike's maintenance and repairs?
Any beginner bike will work if you enjoy getting your hands dirty and are willing to learn maintenance duties alone.
But if you'd rather spend more time riding than wrenching, look for low-maintenance bikes like the YZ250.
How do I choose the right size dirt bike?
You don't want a bike too big or small—it should fit you like a glove.
But how can you ensure that the dirt bike you have your eye on is the proper size?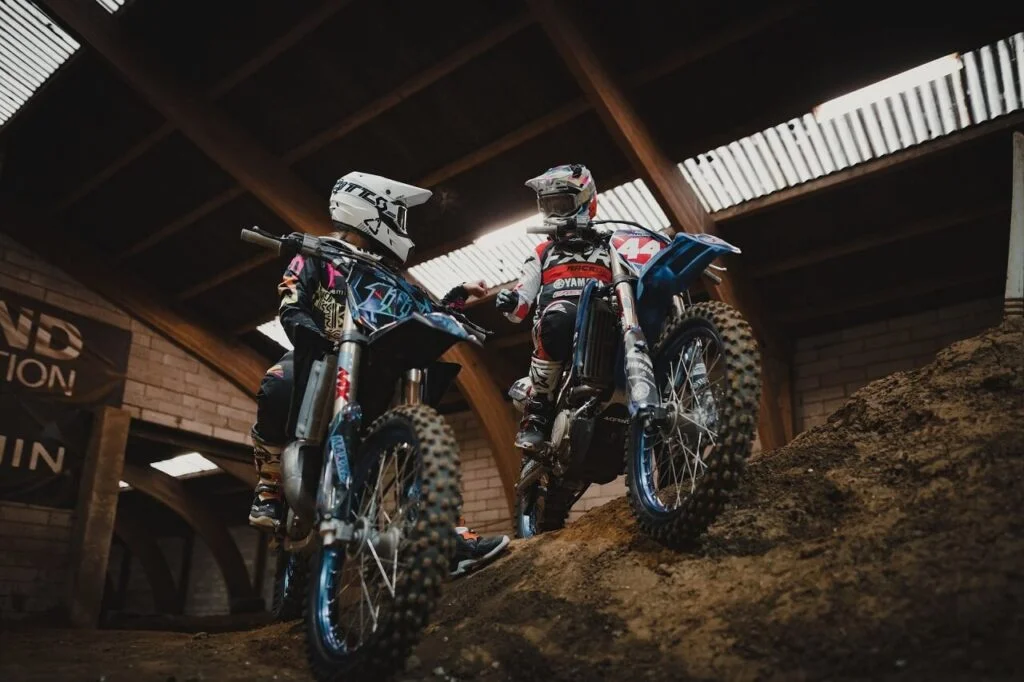 Here's how I found the right dirt bike size for me:
Measure up. Bust out that measuring tape and measure your height, arm length, and inseam. These numbers will give you a baseline to work with.
Check the charts. Look up the manufacturer's size chart and compare your measurements to find a matching size. Remember, though – this is just a guideline.
Visit the pros. Head to a local dealership or bike shop and sit on the bike you're eyeing. Get a feel for the size and ask the professionals for guidance. You can also ask your fellow riders, local mechanics, and online experts for different perspectives.
Consider your experience. Newbie riders might want a smaller, more manageable bike for confidence-building. Experienced riders may prefer bigger bikes for their style and terrain.
Comfort is key. Look for adjustable suspension and the right seat height. You should be able to touch the ground with your feet for an enjoyable cruise.
Reach for the bars. Make sure the handlebars are within easy reach. You don't want to strain your arms or compromise your maneuverability.
Test-ride it. Hop on that bike and see how it feels in action. Nothing beats a test ride to know if it's "the one."
How do I know what dirt bike is right for me?
When it comes to finding the perfect ride, it's also about finding that personal connection.
Here are some telltale signs that you've found your off-road soulmate:
You feel comfortable.
You handle it easily. 
Your feet can touch the ground quickly. 
Your knees can move freely. 
You can maneuver smoothly. 
Your suspension feels stable. 
You don't fatigue quickly.
How many CCs should a dirt bike have?
CCs, or cubic centimeters, refer to dirt bike engine displacement.
It's all about the size or capacity of the engine.
The higher the CC, the more power the engine can generate.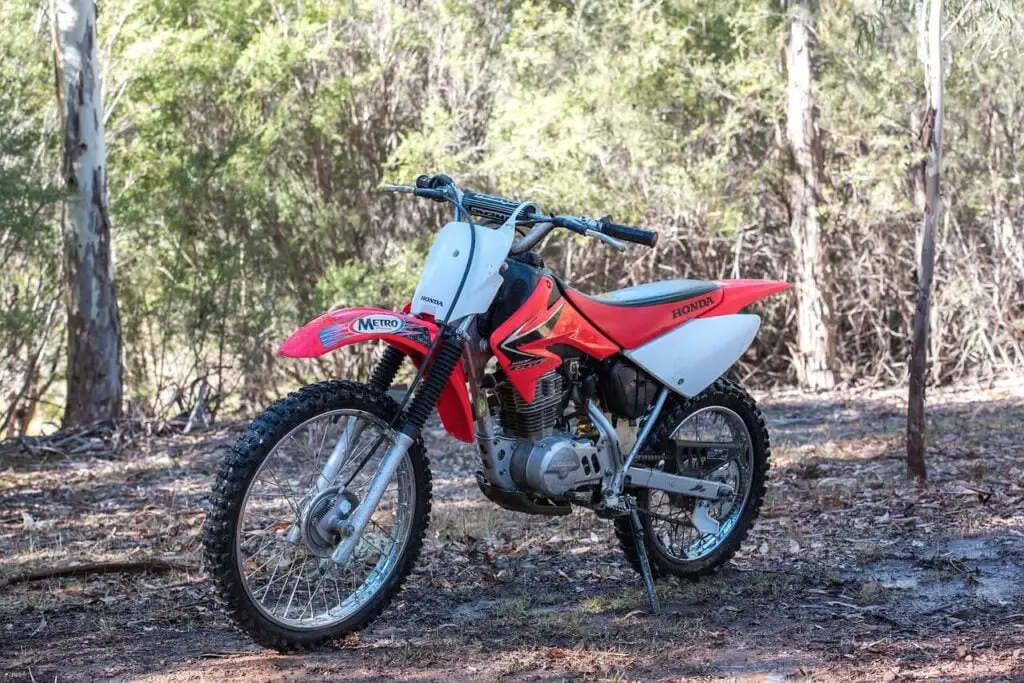 When choosing the proper CC to suit your physical build, you should consider these essential factors:
Riding Experience and Skill Level
Beginners start with 50cc to 125cc bikes for manageable power.
Aim for 150cc to 250cc bikes as you improve – a sweet balance of power and maneuverability.
Seasoned riders aiming for high-performance machines can go for 250cc and up.
Physical size and strength
Match your build with the bike's power.
Smaller riders fit well on 50cc to 125cc bikes, while average builds suit 150cc to 250cc bikes.
Larger riders rock bikes with 250cc and above.
Riding intentions
Tailor the CC to your style.
For trails, opt for 50cc to 250cc.
Motocross or track racing? 250cc and up.
Want versatility? 150cc to 500cc bikes are your go-to.
What dirt bike should a beginner get?
While we all have different tastes and body types, all dirt bike riders will agree with me when I say these CCs are the best match for a beginner:
50cc– suitable for beginner kids
70cc to 90cc -offers more power and better suspension for older kids
110cc to 125cc – offer versatility and power to handle different terrains to adult beginners
125cc – 250cc – perfect for adult riders with a bit of experience looking for a perfect blend of power and control
What should my first dirt bike be?
If you still need to decide what beginner dirt bike to get, I got you with these top four bike recommendations.
These bikes are known for their performance, user-friendliness, and reliability. 
Yamaha TT-R230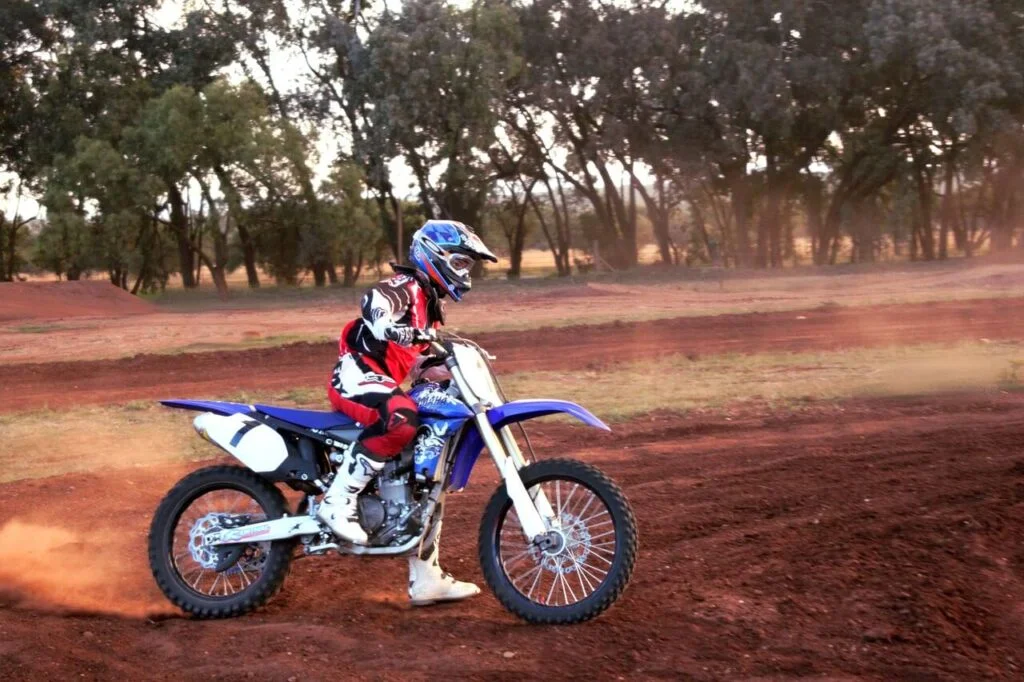 This bad boy rocks a smooth 223cc engine that's suitable for newbies.
Electric start means no tiring kickstarts! It's lightweight, easy to handle, and built to last – classic Yamaha reliability.
Honda CRF250F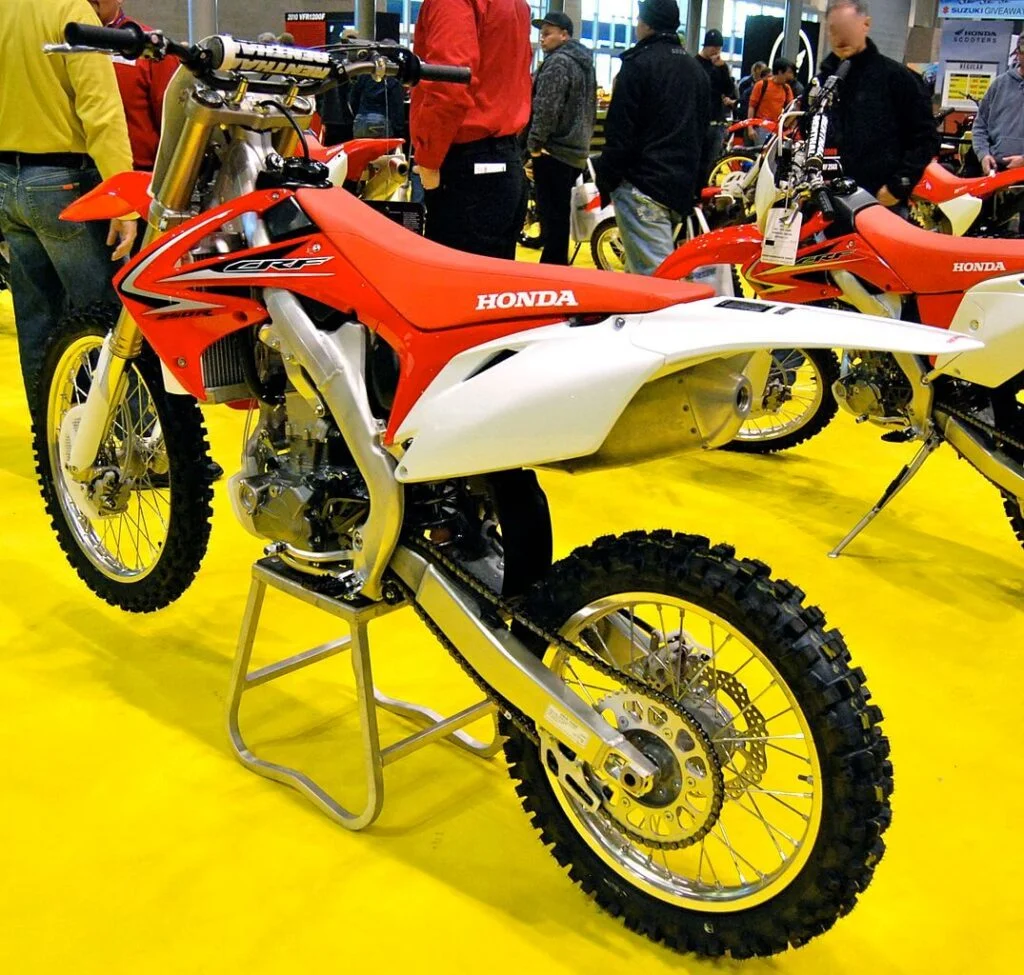 This bike delivers user-friendly power and smoothness with its 250cc engine.
Electric start and fuel injection make it easy to handle.
It's comfy, responsive, and built with Honda quality—everything you need for an epic ride.
Kawasaki KLX140G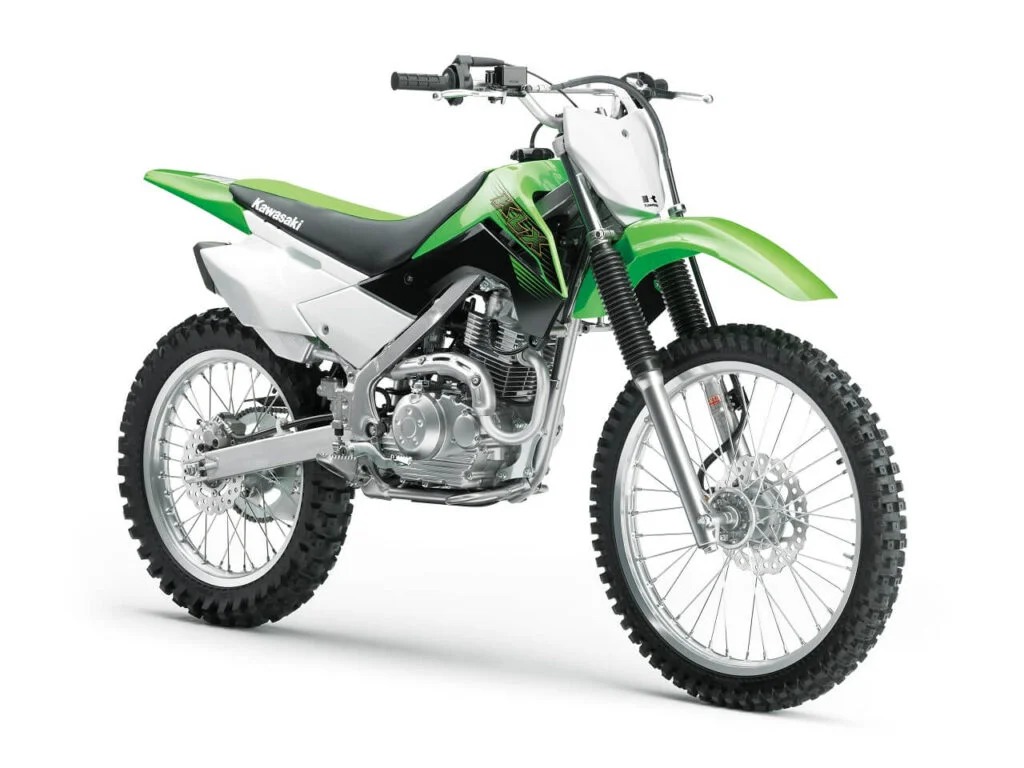 The KLX140G is all about smooth and controllable power.
Its 144cc engine suits taller riders or those moving up from smaller bikes.
With its lightweight build and low seat height, you'll maneuver like a boss. 
KTM 250 XC-F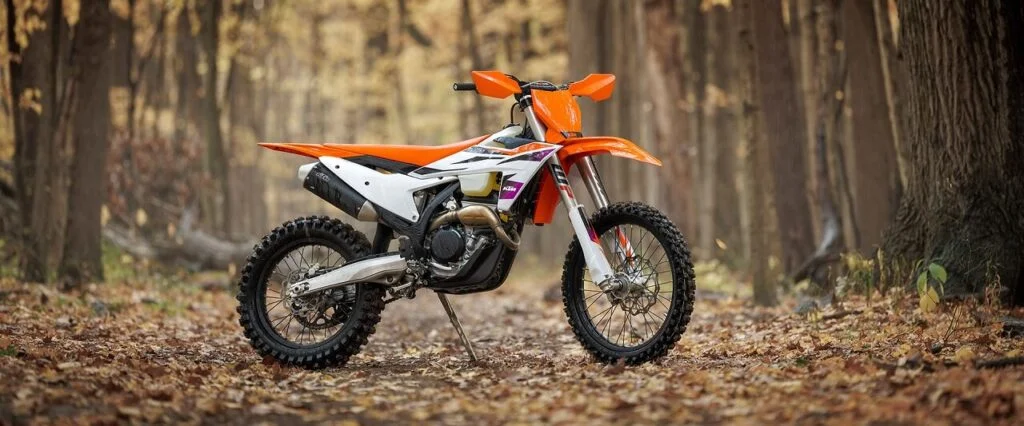 Ready to step it up? The 250cc engine in this baby brings power to the trails.
It's lightweight, agile, and built for off-road dominance.
The advanced suspension system keeps you glued to the ground, perfect for beginners with a need for speed.
What is the right size dirt bike for me?
Finding the right size dirt bike is a big deal because riding a bike that's too big or small can mess with your comfort and control, and nobody wants that.
So here's a quick guide to dirt bike sizes, weights, and age brackets to help you choose.
| | | |
| --- | --- | --- |
| Dirt Bike CCs | Ideal Weight and Height | Recommended Ages |
| 50cc | Weight: Up to 70 lbs (31 kg) Height: Up to 3'6″ (107 cm) | 4-7 y.o. |
| 70cc | Weight: Up to 90 lbs (41 kg)  Height: Up to 4'0″ (122 cm) | 6-9 y.o. |
| 90cc | Weight: Up to 120 lbs (54 kg)  Height: Up to 4'6″ (137 cm) | 8-11 y.o. |
| 110cc | Weight: Up to 150 lbs (68 kg)  Height: Up to 5'0″ (152 cm) | 10-13 y.o. |
| 125cc | Weight: Up to 170 lbs (77 kg)  Height: Up to 5'6″ (168 cm) | 12-16 y.o. |
| 150cc | Weight: Up to 180 lbs (82 kg)  Height: Up to 5'8″ (173 cm) | 14+ y.o. |
| 250cc | Weight: Up to 200 lbs (91 kg)  Height: Up to 6'0″ (183 cm) | 16+ y.o. |
| 450cc | Weight: Up to 220+ lbs (100+ kg)  Height: Up to 6'0″+ (183+ cm) | 20+ y.o. |
Feel free to use our own dirt bike recommending tool called BikeMatch! 
What kind of dirt bike should I get?
Ah, the struggle of finding the perfect dirt bike—I've been there!
Here are more tips that helped me discover my ideal companion, my Honda XR250R.
Stick with the big boys
Check out reliable brands like Honda, Yamaha, Kawasaki, KTM, and Suzuki.
They're the real deal regarding quality, performance, and easy-to-find parts. 
And stay away from those cheap Chinese brands—they may look affordable, but you'll spend more on repairs in the long run.
New or used?
Decide if you want a brand-new bike with all the fancy tech and warranty or a used dirt bike to save some bucks.
Remember, used bikes might need more love and attention.
Get advice from the pros
Ask experienced riders for help.
Hit up your local dirt bike group, join a forum, or chat on social media.
We're friendly and love helping newbies find their rides!
Think about your riding goals
Are you into rough trails, races, or casual rides with friends?
Know your riding style and terrain to find a bike that suits your long-term goals.
What type of dirt bike is right for me?
Let's talk about dirt bikes and their different types:
Motocross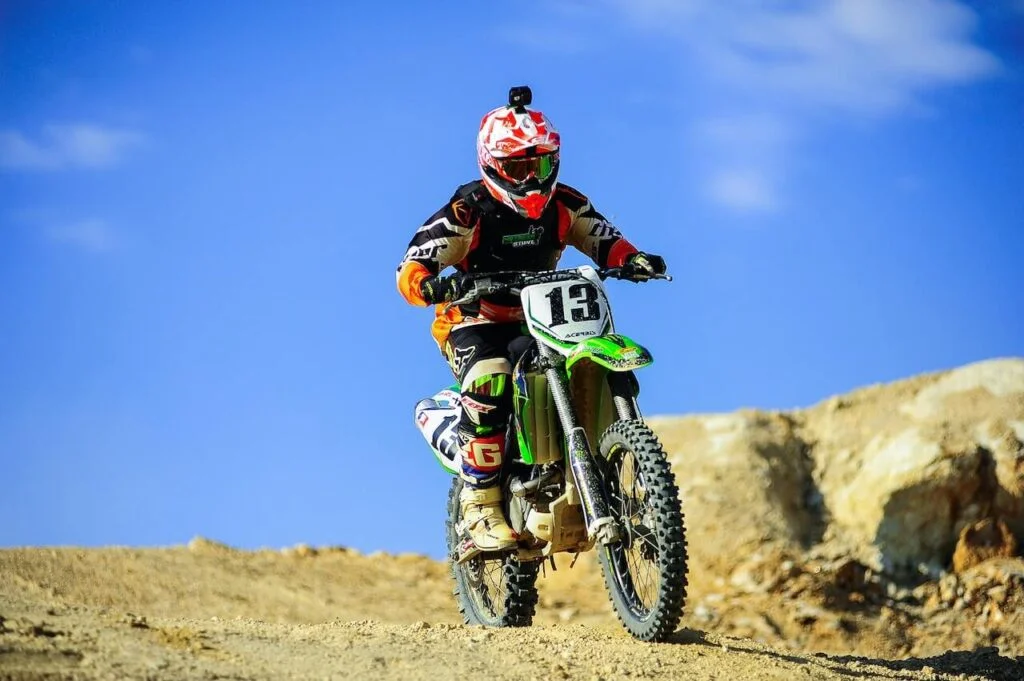 Motocross bikes are your ticket if you're a speed demon who loves competition and catching air.
Trail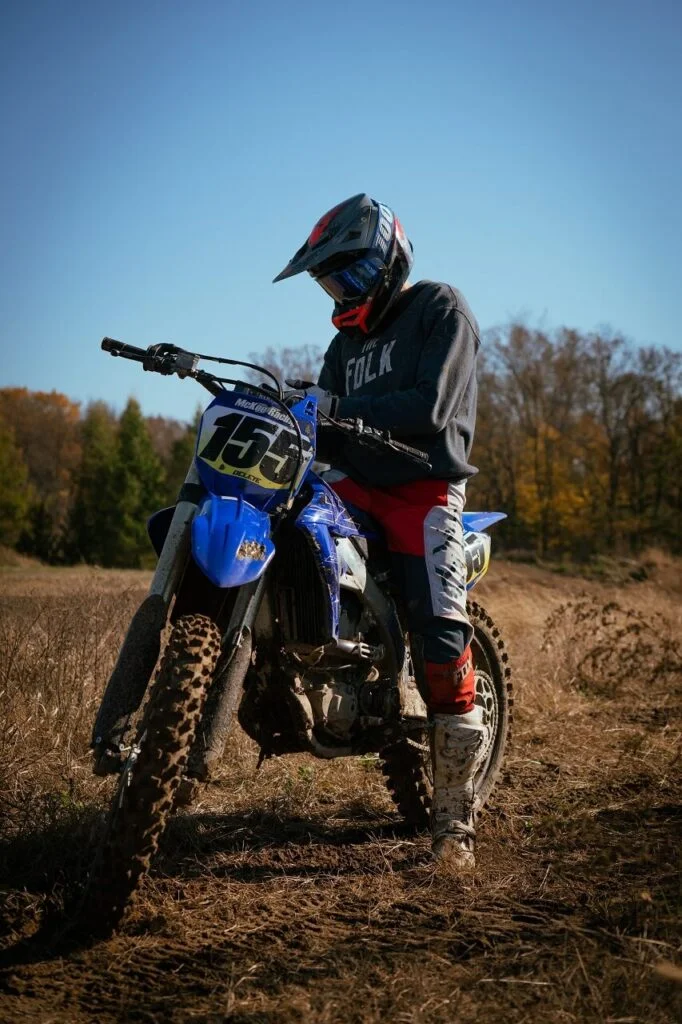 For those who crave outdoor adventures and want the freedom to explore various terrains, trail bikes are the way to go.
They're built to handle different environments and have handy features like electric start and soft suspension.
Enduro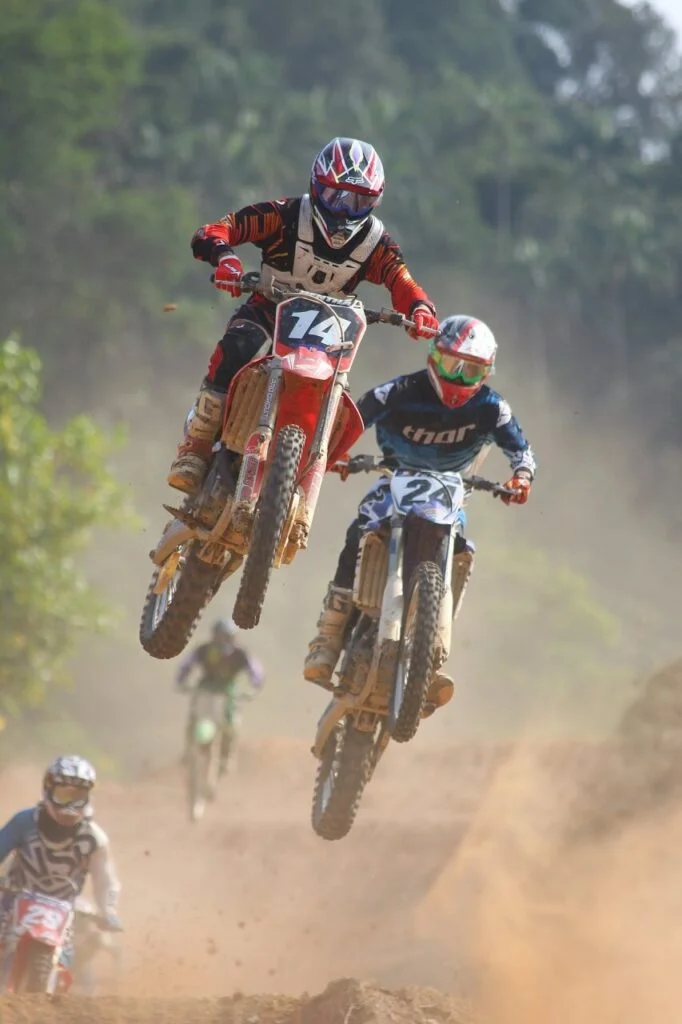 Enduro bikes are your ultimate partner if you're about pushing your limits and seeking thrilling challenges.
They balance power and agility with rigid suspension, a larger fuel tank, and durable construction.
Dual sport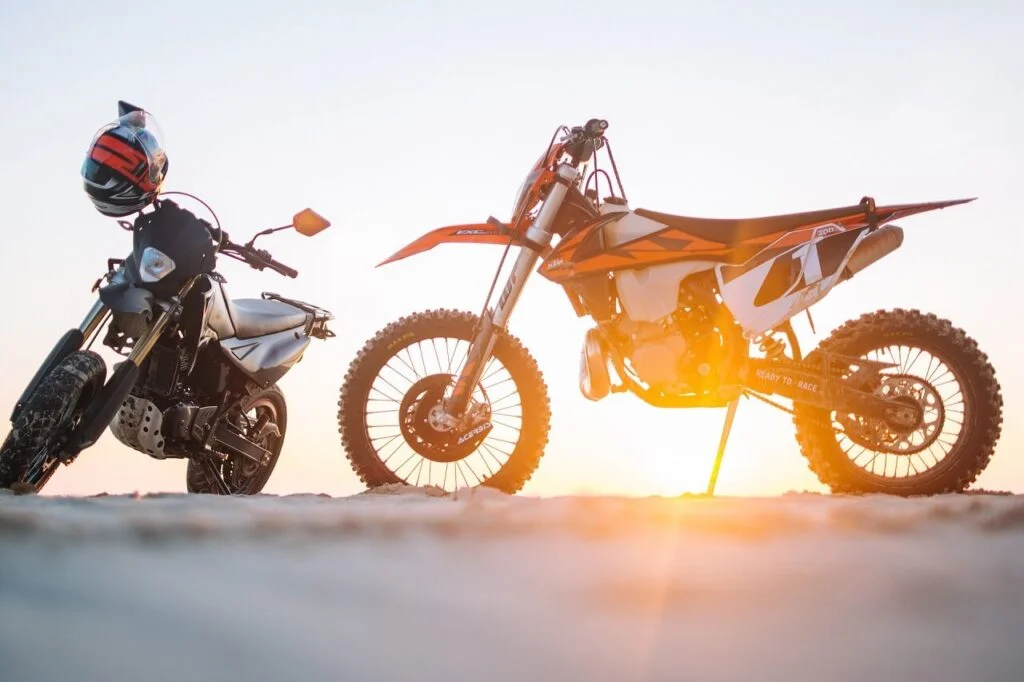 Can't decide if you want to hit the road or the trails?
Dual-sport bikes offer the best of both worlds.
They're street-legal, equipped with lights and mirrors, so you can explore paved streets and dirt paths.
Supermoto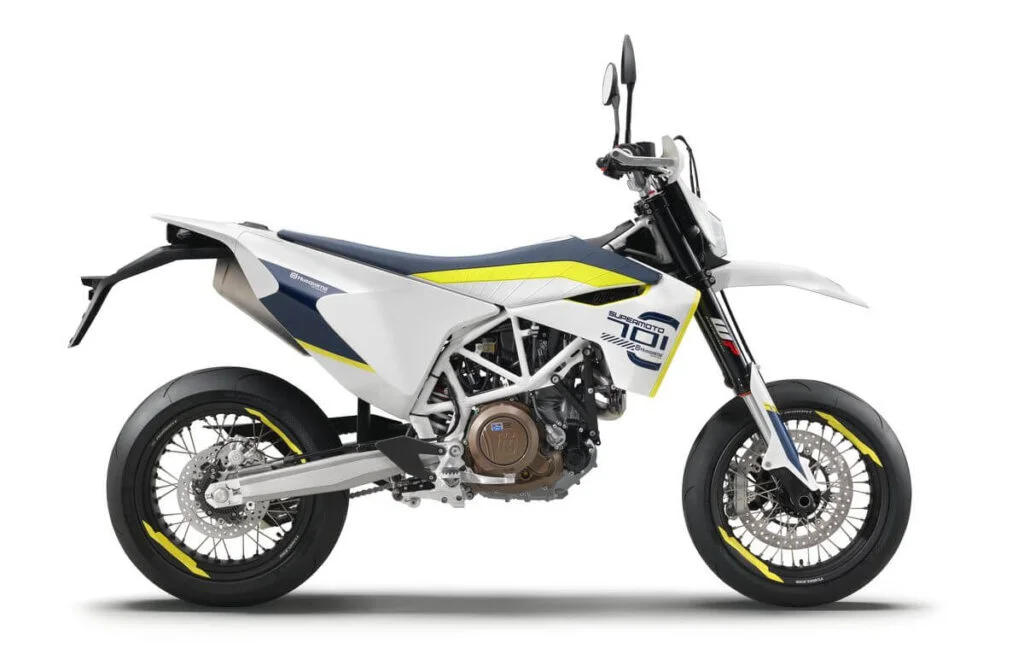 For the true daredevils out there, supermoto bikes are wild rides.
With street tires, powerful brakes, and aggressive suspension, they combine dirt bike features with sport bike thrills. 
Finding the perfect dirt bike starts with soul-searching and research.
I remember being in your shoes, watching my buddies tear up the trails, covered in mud, and grinning from ear to ear.
That's when I knew I had to find my dirt bike.
So, I scoured the internet, talked to fellow riders, and soaked up every bit of advice I could find.
And it all paid off.
Armed with the tips and knowledge I've shared in this post, I found my two-wheeled sidekick!
So as you embark on your dirt bike journey, whether it's your first or upgrading, keep these tips close to your heart.
Consider your riding style, body type, and budget.
Feel free to seek guidance from experienced riders, take those test rides, and see where you want this passion to take you!