When we talk of speed, we often think of motorcycles, but guess what?
Dirt bikes can compete for speed too!
These bad boys combine durability, innovative engineering, and adjustable suspension to become the trusty steeds of off-road fans.
So, today, we're diving into the exciting world of dirt bikes to answer the burning question: "What is the fastest and most reliable dirt bike?"
The crown for the fastest dirt bike goes to the KTM 450 SX-F, clocking in at a mind-boggling top speed of up to 123 mph.
Its top speed is one of the many reasons why the 450 SX-F is also a crowd-favorite in the racing scene.
Speed is just one of many factors to consider in your quest for the perfect dirt bike.
In this post, we'll uncover the top dirt bikes, explore the most reliable bike brands, and even find the most reliable low-maintenance ride.
By the end, you'll have many choices to find the perfect ride that suits your needs and preferences. So, let's start!
What is the fastest, most reliable dirt bike?
As dirt bike riders, we know that exhilarating rush when the throttle opens up, and the wind whips past.
Speed is the game's name, and I'm here to introduce you to the creme de la creme of speed machines – the KTM 450 SX-F.
KTM 450 SX-F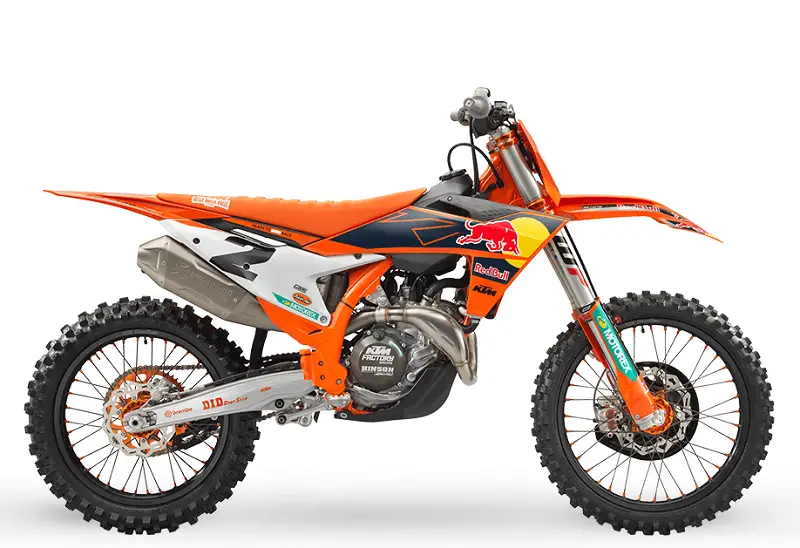 The KTM 450 SX-F is a force to be reckoned with, sporting a lightweight frame, nimble handling, and killer looks.
With an average speed of 75-85 mph and a mind-blowing top speed of up to 123 mph, this 450cc bad boy will send your heart racing.
When you twist that throttle on the 450 SX-F, prepare for an adrenaline-pumping symphony of power, agility, and control that puts you in the driver's seat of pure excitement.
But it's not just about speed – this dirt bike dominates the tracks with its powerful engine and exceptional handling.
The cutting-edge engineering behind it ensures top-notch performance, so you can push your limits and unleash your full potential on the track.
The KTM 450 SX-F is built tough and ready to handle intense racing demands.
Say goodbye to breakdowns and hello to more time tearing up the track.
What is the best dirt bike in the world?
We all know that the "best" title can be subjective, but in the world of dirt bikes, essential qualities separate the cream of the crop from the rest.
Opinions may vary on the absolute best dirt bike in the world, but let me tell you, when you ask any dirt biker what their personal best dirt bike is, it's one of these three contenders:
Honda CRF450R
When you choose the CRF450R, you're not just getting a bike but becoming part of a legacy of excellence and innovation.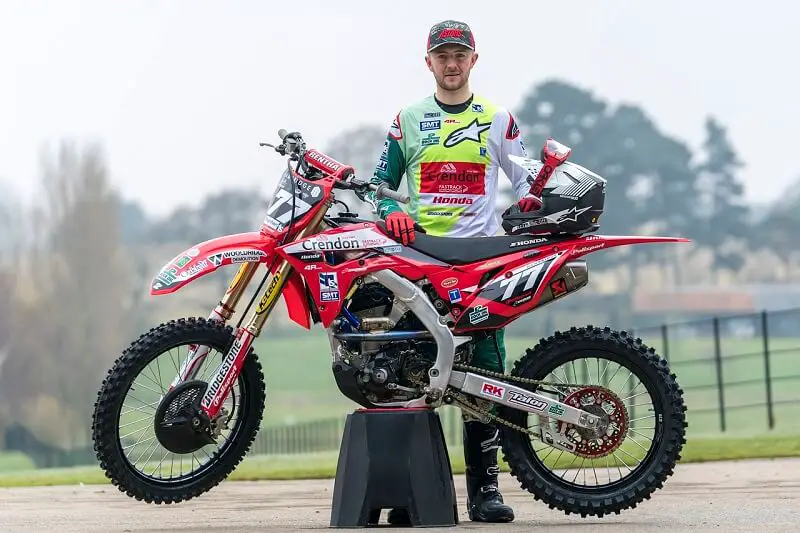 Under the hood of the CRF450R is its impressive 450cc liquid-cooled single-cylinder engine, pumping out a jaw-dropping 56.3 horsepower at 9100 rpm.
That kind of power gives you the confidence to conquer any terrain, whether tearing it up on tracks or blazing trails.
With a close-ratio five-speed transmission, the CRF450R offers precise gear shifts and optimal control for different riding conditions.
And when it comes to speed, it can reach impressive top speeds of 80 to 90 mph, giving you that rush of wind as you push the limits.
The CRF450R's agile handling comes from its lightweight subframe, designed for agility and maneuverability.
It combines with robust suspension mounting points for exceptional stability, ensuring a smooth and controlled ride even on rough terrains.
KTM 350 SX-F
Whether you're a competitive racer or an off-road adventurer, the KTM 350 SX-F bike delivers unrivaled performance and pure excitement.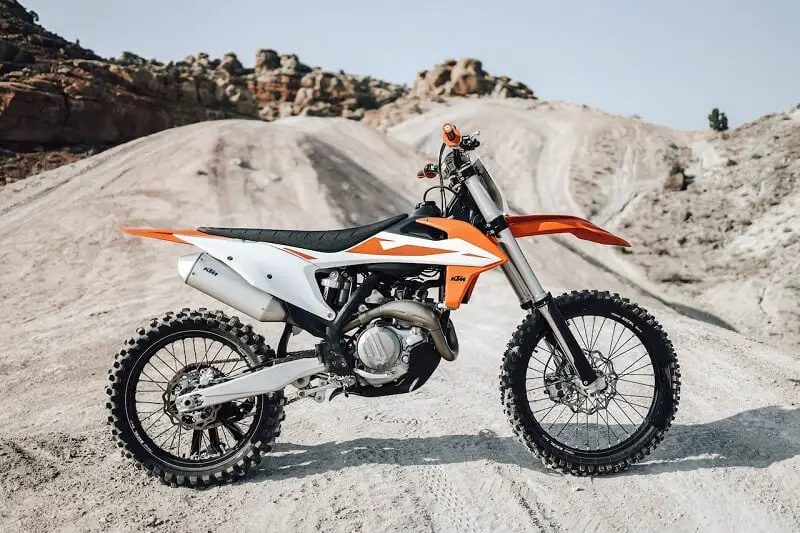 With an impressive 350cc four-stroke single-cylinder engine that produces 58 horsepower, this bike strikes the perfect balance between power and control.
Its 5-speed transmission ensures smooth gear shifts and optimal power delivery, allowing you to confidently conquer any terrain.
The 350 SX-F's 48mm air-type WP XACT front fork with split damping function absorbs bumps and rough terrain like a champ, providing exceptional handling and responsiveness.
The suspension is also easy to adjust, so you can fine-tune your bike to your preference.
Lastly, let's not forget about the advanced technology packed into this machine.
Launch control ensures quick and controlled starts, while the Quickshifter function enables lightning-fast upshifts without using the clutch, giving you that competitive edge.
Kawasaki KX250
If you're looking for a dirt bike guaranteed to deliver jaw-dropping performance, agility, and excitement, the Kawasaki KX250 is your perfect match.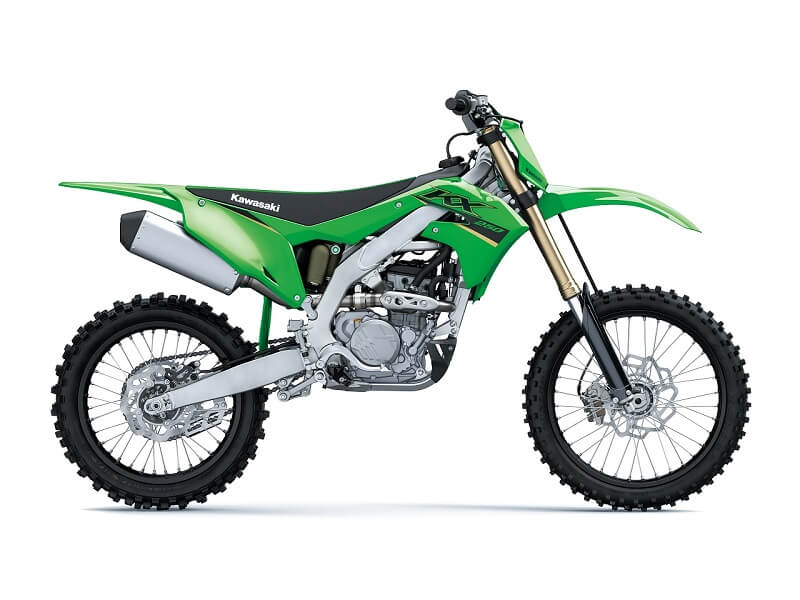 Under the hood, you'll find a 249cc 4-stroke single-cylinder engine with a liquid-cooled DOHC design.
It packs around 40 horsepower and 18 lb-ft of torque, ensuring you can confidently conquer any track or trail.
The 5-speed transmission and wet multi-disc manual clutch provide seamless gear shifts and precise control.
You'll experience a responsive and engaging ride, whether taking tight corners or accelerating straightways.
One standout feature of the KX250 is its dual injectors, which enhance fuel atomization and combustion efficiency.
This means improved throttle response and power delivery, delivering a crisp and thrilling ride.
Kawasaki Launch Control Mode is another incredible addition to the KX250.
This innovative technology optimizes power delivery and reduces wheel spin, giving you maximum traction and a controlled start from the line. It's a game-changer in race situations.
What is the most reliable dirt bike company?
When it comes to dirt bike brands, there are a few that have indeed won our hearts.
These companies have earned their reputation for a reason, whether it's their bikes' reliability, outstanding performance, or sheer prestige. 
If you're searching for top-notch dirt bike brands, here are three names that stand tall in the industry:
KTM 

Since 1934, KTM has been a force in the dirt bike industry.
From conquering the Dakar Rally to dominating the Motocross and Enduro championships, KTM's bikes have proved their mettle time and time again.
With an unbeatable track record, KTM delivers top-notch performance and reliability.
KTM's success lies in its cutting-edge technology and "READY TO RACE" philosophy.
They're committed to creating high-performance machines that can handle anything you throw at them.
That's why riders love KTM—they offer power, precision, and pure excitement.
Whether you're a pro or a casual rider, KTM has a suitable bike for you.
If you want to follow in the footsteps of dirt bike champions who have dominated the top competitions with KTM dirt bikes, I highly suggest checking out these top-of-the-line KTM bikes:
KTM 450 SX-F
KTM 350 EXC-F
KTM 300 XC-W TPI
Honda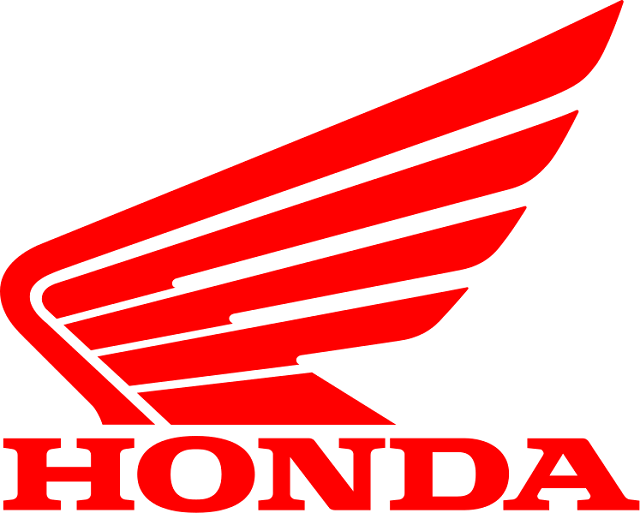 When it comes to trusty dirt bike brands, Honda is a name that rings loud and clear.
Established in 1948, Honda has built a reputation for quality, reliability, and innovation that riders worldwide adore.
What sets Honda apart is their commitment to engineering excellence, attention to detail, and rider satisfaction.
Honda dirt bikes are meticulously crafted, offering reliability, versatility, and pure enjoyment.
Whether you're a pro racer or a weekend trailblazer, Honda has a bike that fits your needs.
In fact, a good proof of this commitment is their most impressive innovation – the Unicam engine.
This groundbreaking design combines the strengths of single and double overhead camshafts, resulting in a compact, lightweight, and powerful engine.
The Unicam engine is the heart of Honda dirt bikes, providing smooth power delivery, impressive torque, and outstanding performance.
Now, if you're ready to join the Honda bandwagon, here are the top Honda dirt bikes worth considering:
Honda CRF450R
Honda CRF250L
Honda CRF150R
Yamaha

Yamaha has captured dirt bike riders' hearts since 1955, thanks to their reliable, high-performance dirt bikes that riders of all skill levels trust and love.
One of Yamaha's game-changing contributions is the iconic Yamaha YZ450F.
This bike sparked the four-stroke revolution and transformed dirt bike racing.
The YZ450F introduced a high-performance, four-stroke motocross machine that combines power, agility, and reliability.
But it's not just about history-making models. Yamaha's commitment to performance, durability, and versatility makes them a fan favorite.
Their dirt bikes boast exceptional handling, responsive power delivery, and rugged construction. 
If you want to experience Yamaha's performance for yourself, these three Yamaha bikes are the leading contenders:
Yamaha YZ125
Yamaha YZ250
Yamaha YZ450F
What is the best low-maintenance dirt bike?
Although tedious, keeping up with your dirt bike's maintenance is always crucial for your bike's health.
However, not all bikes require the same upkeep.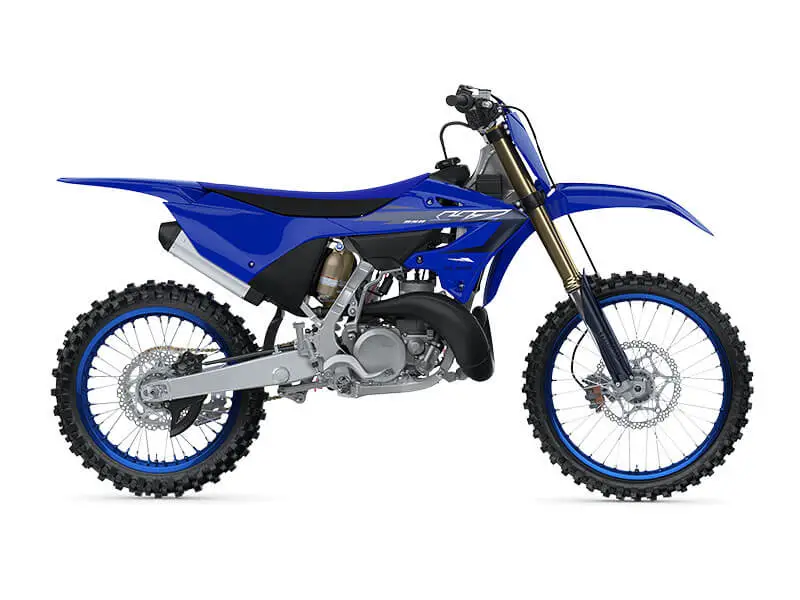 If you're looking for a low-maintenance option that still delivers a thrilling ride, you'll never be wrong with the Yamaha YZ250. Here's why:
Yamaha has earned a well-deserved reputation for producing reliable and durable motorcycles, and the YZ250 is no exception. It's built to withstand demanding off-road adventures with minimal maintenance.
Yamaha has designed the YZ250 with features that make oil changes and air filter cleaning quick and easy. 
Two-stroke engines have fewer moving parts than four-strokes, so changing spark plugs or adjusting carburetors is less complex.
Yamaha's popularity in the dirt bike community means you'll be able to find parts and accessories for the YZ250, especially when you need to replace a worn-out component.
Yamaha provides valuable guidance, instructions, and tips for maintenance procedures, troubleshooting, and proper care.
Conclusion
If you're looking for the fastest dirt bike as your trusty two-wheel sidekick, you'll never go wrong with the KTM 450 SX-F.
It can reach a top speed of up to 123 mph!
However, if you're looking for the ultimate all-around dirt bike, consider the Yamaha YZ250, Honda CRF450R, KTM 350 SX-F, and Kawasaki KX250. 
But if you want to explore more options, I recommend KTM, Yamaha, and Honda.
These brands have a reputation for building tough and dependable machines.
And if easy maintenance is your thing, look no further than the Yamaha YZ250.
With its user-friendly design and readily available parts, maintenance becomes a breeze.
Spend more time on trails and less time in the garage.
Hope these insights help you find the dirt bike of your dreams and one that fits your budget too! Ride on!