So, you've got your hands on a rad dirt bike model with decent features, but deep down, you know there's more to be done.
Well, my friend, you're in luck!
A whole world of dirt bike accessories is waiting for you to explore, from beastly performance upgrades to personalized style statements on the off-road.
But here's the thing: with so many accessories out there, how do you choose the right ones?
How do you properly accessorize your dirt bike in the first place?
Regarding accessorizing your dirt bike, it's more than a one-size-fits-all situation.
There are various factors to consider, like your riding style, safety needs, budget, and your unique personal style.
It can feel overwhelming, but fear not!
In this article, I'll guide you through the must-haves for different types of riding, different weather conditions, and safety requirements.
I'll walk you through choosing the right dirt bike accessories – from protective gear to performance parts and eye-catching decals.
So, fasten your helmet, grab your handlebars, and let's start this adventure of accessorizing your dirt bike.
This website uses affiliate links that may earn a commission for purchases at no extra cost to you.
How to accessorize your dirt bike
When it comes to buying dirt bike accessories, strategy is vital. 
First, consider your riding style and terrain. Do you prefer motocross, trails, or both?
Safety should also be a priority.
Invest in top-notch dirt bike stuff: dirt bike riding gear, a handguard, a cover, and more.
Durability matters too. Look for quality materials and trusted brands to handle the most demanding rides.
And remember compatibility too.
Not all accessories fit every dirt bike model, so double-check before buying. 
Lastly, let's talk about style! Graphics kits, seat covers, and grips can add that extra flair.
Just remember, safety and functionality always come first. 
Dirt bike accessorizing for different types of riding
You already know that different riding styles demand specific gear and accessories so you can make the most of your dirt bike adventures.
So, let's dig into dirt biking accessories you'll need for various types of riding.
Off-road races like motocross, supercross, and enduro
Are you a frequent off-road racing competitor? These dirt bike accessories will come in handy:
Gripper seat cover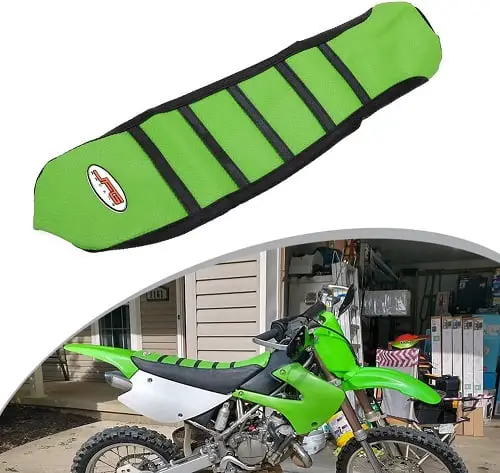 These bad boys are about keeping you planted on your bike with unwavering confidence.
Their textured surface gives you extra grip, enhancing stability and control.
It's like having extra hands holding you tight during the race.
When choosing a gripper seat cover, look for durability against tearing, abrasion, and all kinds of weather conditions.
We want a cover that handles scorching heat, muddy tracks, and rainy days without breaking a sweat.
Gripper seat covers come in different textures and patterns, so find one that suits your bike's make and model and your preferences and riding style. 
Exhaust pipe guard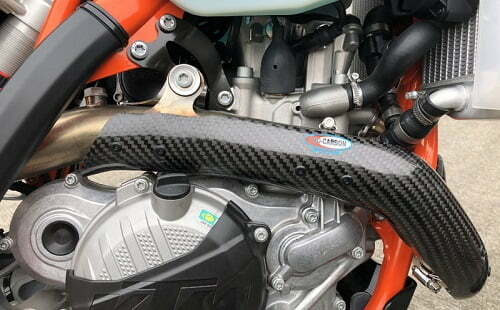 Exhaust pipe guards protect your exhaust pipe from rocks, branches, and debris so your exhaust stays dent-free and fully functional throughout your race.
When choosing an exhaust pipe guard, go for robust yet lightweight materials like aluminum or carbon fiber. 
Pay attention to the design and fit of the guard as well.
Look for options specifically made for your bike's make and model.
And remember style. Find a guard that offers protection and flair to your bike. 
Holeshot device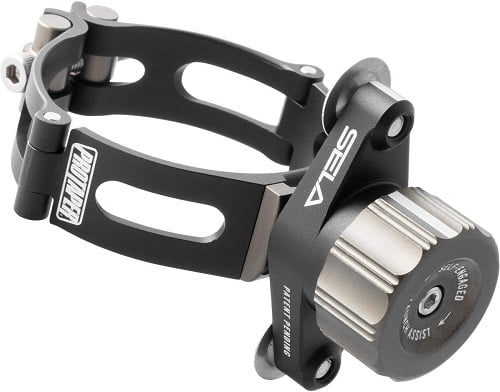 This nifty gadget attaches to your front forks and works magic on your suspension setup.
Get ready for lightning starts!
It gives your front wheel a better grip, preventing wheelies and helping you unleash more power off the line without losing control.
It also improves your bike's geometry, keeping you straighter when you launch. 
When choosing a holeshot device, go for one with adjustable settings to fine-tune it for different tracks and your riding style.
And, of course, make sure it's made of rigid materials and is easy to install and remove.
Trail rides
Before you head out for your next trail ride, make sure you have these essential dirt bike accessories geared up:
Battery charger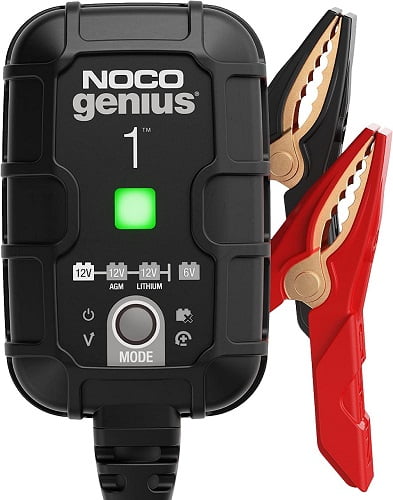 After all those thrilling rides, your battery can drain. But fear not!
The battery charger is like a pit stop during a race, giving your battery the recharge it craves.
When looking for a battery charger, ensure it's compatible with your bike.
Different batteries have different needs. 
Multiple charging modes are also a plus. Choose the right setting for your battery. 
Safety is vital, too, so get a charger with built-in protection. 
And remember portability! Go for a compact and lightweight charger for on-the-go adventures.
LED lights
These lights illuminate the night like nobody's business, revealing hidden hazards and making challenging trails a breeze.
Not only do they enhance your vision, but they also make you more visible to fellow riders.
Think of them as neon jackets but for dirt bikes!
When choosing LED lights, choose ones with high brightness (lumens) and a well-designed beam pattern for maximum visibility without blinding others.
Consider whether you want them powered by your bike's electrical system or an external battery pack. 
Do you travel frequently with your trailer and dirt bike? Take a look at this DIY LED trailer light idea!
Dirt bike accessories for different weather conditions
Just like you gear up for a walk in the park, your dirt bike needs the right gear to tackle whatever Mother Nature throws at you.
So let's discuss the must-have dirt bike accessories for different weather situations, such as:
Dirt bike cover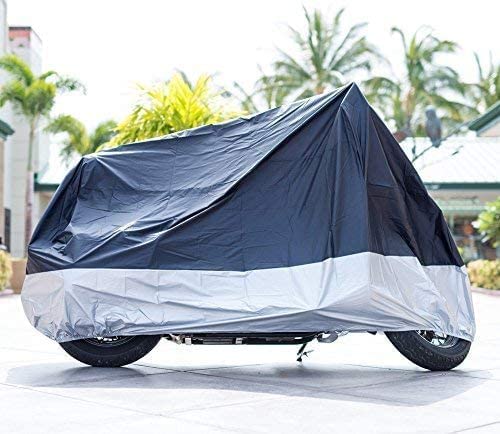 A top-notch cover keeps your bike's paint job, components, and overall condition in tip-top shape.
Plus, it adds an extra layer of security by keeping nosy folks from eyeing your ride.
Choose those made with durable and waterproof materials like polyester or nylon when picking a cover.
These materials shield your bike from rain, snow, and UV damage like champs.
Handguard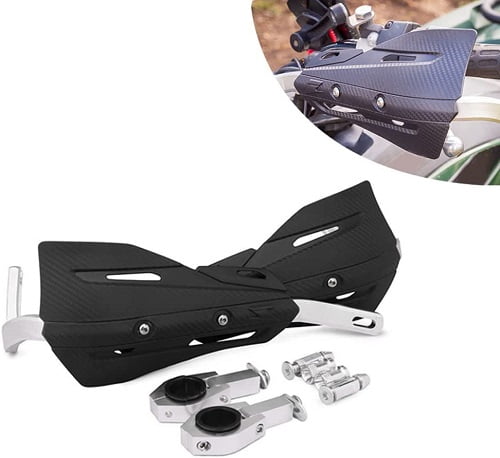 Handguards are your next wise investment if you want a dirt bike accessory to protect your hands from all sorts of elements and hazards on the trail. 
No matter the weather, handguards have your back. In scorching heat, they protect against sun rays, preventing sunburn.
And when it's cold out there, they provide that extra layer of insulation, keeping your hands warm and preventing numbness.
Go for durable materials like reinforced plastic or aluminum when shopping for handguards.
Look for a design that wraps around your handlebars snugly, providing ample coverage for your precious hands.
Radiator guards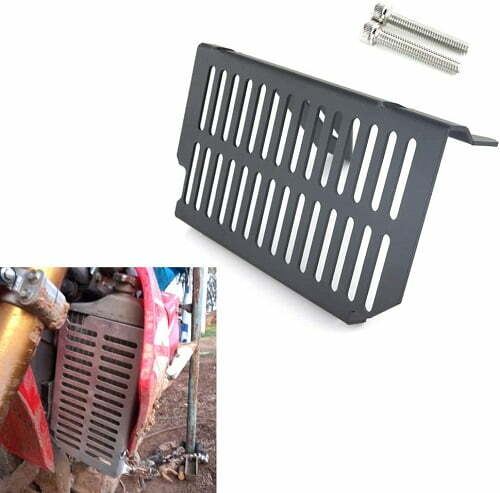 Radiator guards shield your radiator from debris and potential harm, regardless of terrain or weather conditions.
Opt for tough materials like aluminum or stainless steel when choosing a radiator guard.
They're built to withstand the gnarliest impacts and keep your radiator safe. 
Look for a design that allows for proper airflow, ensuring your engine stays cool and your performance stays top-notch.
Some guards even have cool mesh patterns or strategic cutouts to balance protection and airflow.
Accessorizing your dirt bike for safety
To ensure countless thrilling rides in the future, here are the must-have accessories to keep us safe and secure off-road:
Disc lock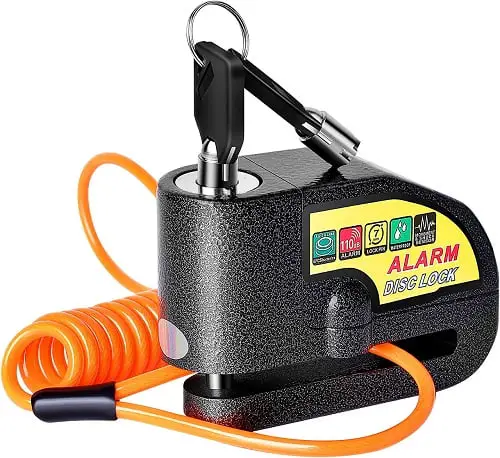 This handy gadget prevents theft and gives you peace of mind.
With a disc lock in place, that wheel isn't going anywhere.
When choosing a disc lock, opt for one made from tough, hardened steel for maximum protection against cutting or prying.
And if you're feeling fancy, splurge on a lock with cool extras like an alarm or reminder cable.
Hour Meter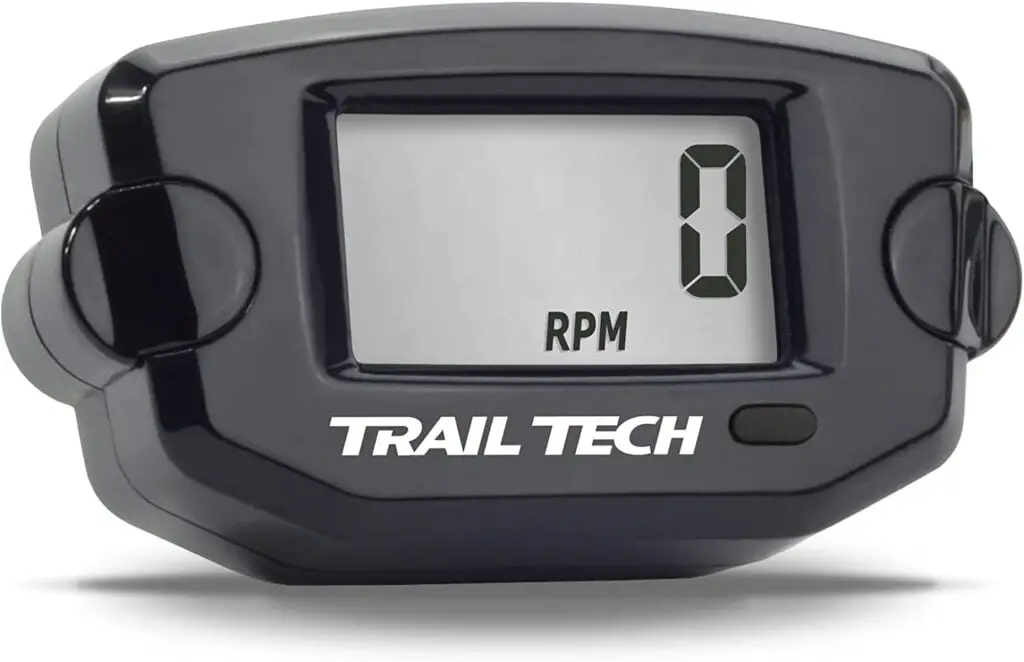 This tiny dirt bike accessory can track your engine's running time so you'll know when it's time for regular maintenance and catch any problems early on. 
When picking an hour meter, choose a trusted brand known for accuracy and durability.
And since we love riding in all conditions, get a waterproof or weather-resistant meter. 
Handlebar mount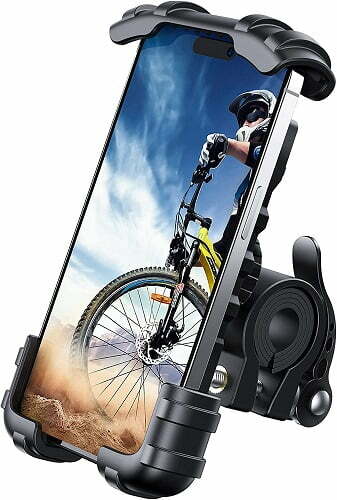 With your phone securely mounted and within reach, you can stay connected and access crucial info like directions without losing focus.
When picking a handlebar mount, choose one with a secure grip, shock absorption, and broad compatibility.
Bonus points if it rotates 360 degrees for the right angle.
Dirt bike accessories for style
When we're tearing up those trails, looking stylish amps the thrill.
Luckily, there are fantastic accessories to deck your bike, turning it into a head-turning charmer that showcases your style.
Upgrade your ride with flair with these dirt bike accessories:
Rim protector decals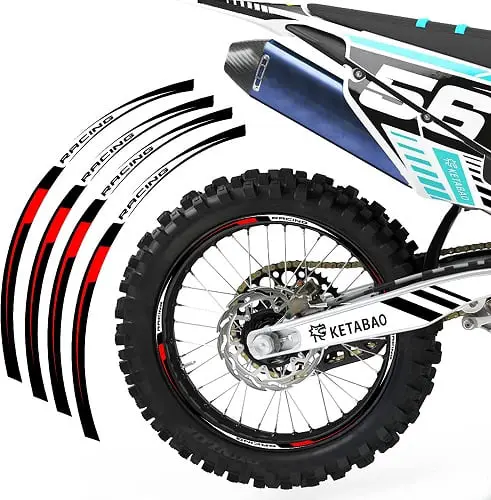 Let your style shine, and protect those rims with some rad rim protector decals.
You can express your unique style with vibrant colors, slick patterns, or eye-catching designs while protecting your rims from scratches and minor damage.
Graphics kits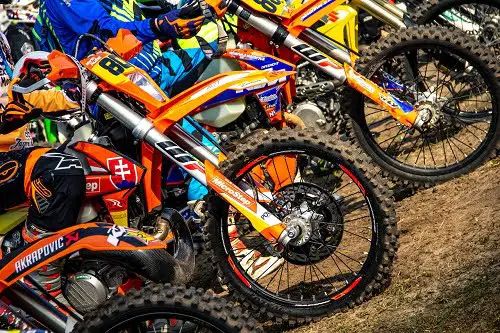 With a wide range of designs, colors, and patterns, you can find a suitable graphics kit to match your unique taste and personality.
Just choose a design that speaks to you, follow the installation instructions, and voila!
Your bike will stand out on the trails with a clean and professional finish. 
They also provide protection against scratches and wear. How cool is that?
Wrapping up
As you gain more experience and discover your riding style, your accessory needs may also change.
So start with the essential dirt bike accessories first from this list, upgrade along the way, and always keep safety at the top of your list. 
Feel free to bookmark this page as your go-to resource for future reference.
And as always, if you're in need of dirt bike gear, motocross accessories, or any other dirt bike-related items, check out your local dirt bike store for a wide range of options.