We all know that insatiable craving for that adrenaline rush, the feeling of conquering the trails with our trusty two-wheeled companions.
The thrill of soaring through the air and nailing that flawless landing – that's what we live for!
But let's face it – we always get stuck finding a dirt bike trail.
We want something that matches our preferences that also ticks the boxes for legality and safety. 
Believe it or not, finding a dirt bike trail is easier than it sounds.
We've got a bunch of methods at our disposal – from firing up Google for a quick online search to tapping into government agencies.
And that's what we'll uncover today.
So, if you're itching to quickly uncover the best dirt bike trails, stick around until the end.
I'll spill the beans on the ten methods I use to find epic dirt bike trails wherever I go. 
How to find a dirt bike trail?
If you're struggling to find a legal, completely-safe dirt bike trail for your next excursion or practice, check out this list of 10 tried-and-true methods I personally use when searching for new riding spots:
1. Ask the local community
 The local dirt bike community is an absolute goldmine of knowledge; tapping into that resource is vital to finding hidden gems!
Whether you're a newbie to the area or just passing through, here are some surefire ways to dive into the dirt bike scene and get the scoop on the best trails:
Attend local dirt bike events. Attend motocross races, off-road expos, or dirt bike club meetings. Rub elbows with fellow riders, swap stories, and unlock insider info on top-notch trails.
Join group rides. Watch for group rides in your area or desired destination. Riding alongside like-minded folks opens up opportunities for chats during breaks and post-ride hangouts. Trust me, people love sharing their favorite trails and hidden riding spots.
Tap into Facebook. Join local community groups and ask about dirt bike trails. You'll have helpful souls pointing you in the right direction in no time.
2. Use a dirt bike trail app
In this digital era, we've got powerful tools right in our hands.
I'm talking about mobile apps that uncover the best dirt bike trails.
There are plenty of dirt bike trail apps out there, but I highly recommend these three:
1. onX Offroad App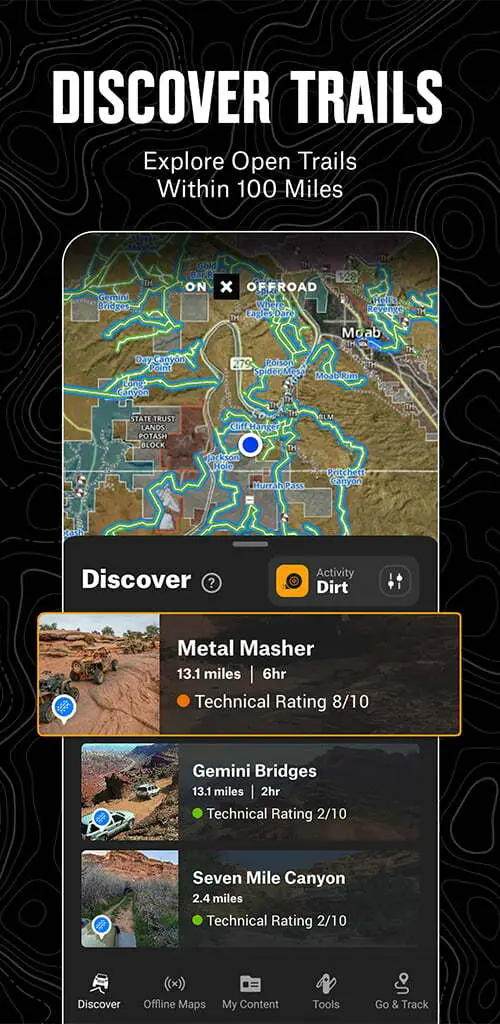 The onX app has over 615,000 miles of trails to explore that you can filter through to find the perfect ride.
The dirt bike trail app even lets you save offline maps, so even if you're deep in the wilderness, you'll still have access to your custom maps.
Check it out on Android or iOS.
2. REVER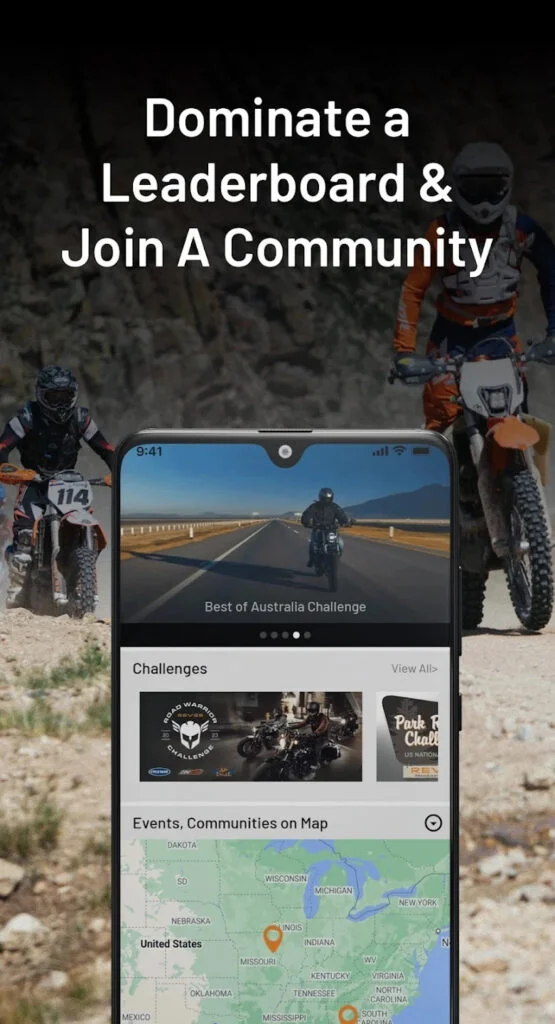 This dirt bike trail app is not just about finding trails; it's also about building a community.
You can record and share your rides with a passionate group of off-road enthusiasts.
The app also has an offline GPS feature, so you can navigate those trails even when out of cellular range.
Check it out on Android or iOS.
3. BackCountry Navigator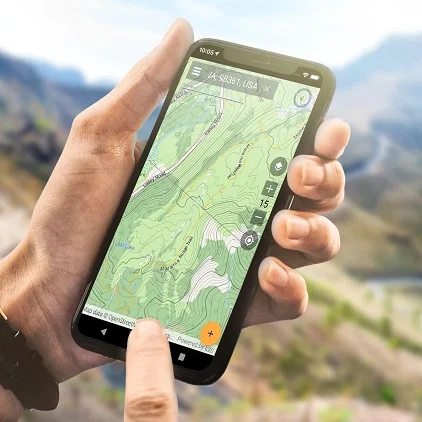 This app transforms your phone into a reliable topo mapping GPS, perfect for remote and off-grid adventures.
You can preload offline topo maps onto your device, ensuring you have access to them wherever you ride.
And with custom GPS waypoints, you'll always keep your way, whether hunting for specific spots or recording tracks during your dirt bike trip.
Check it out on Android or iOS.
3. Find off-road shops and dirt bike rentals
If you want expert advice on the best dirt bike trails in the area, I recommend visiting local off-road shops and dirt bike rentals. 
When you step into an off-road shop or rental service, you're entering a realm of experienced riders and professionals who know the ins and outs of the local trails.
They live and breathe off-roading and have the lowdown on the area's terrain, hidden gems, and popular riding spots. 
If you're new to the area, you can search online for the top off-road and dirt bike shops.
Search keywords like "dirt bike rentals in Colorado" to get a list of potential places to check out.
Once you have a few options, ask them about the dirt bike trails nearby.
Feel free to describe your riding style and preferences so they can tailor their recommendations to your needs.
4. Research state and national parks in your preferred destination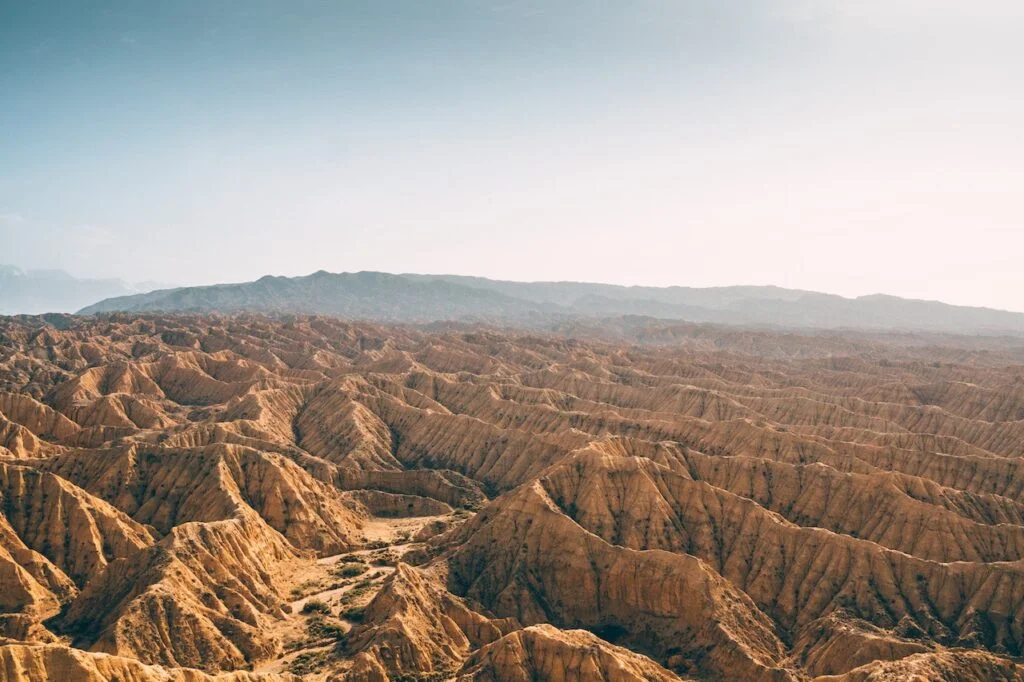 If you're craving an epic ride surrounded by breathtaking nature, state and national parks are where it's at!
They're well-maintained, clearly marked, and offer trails of different difficulty levels to cater to all riders.
To find state and national parks in your destination, start with an online search using keywords like "state parks in [your destination]" or "national parks near [your destination]."
Check out official park websites and government resources for detailed info on available trails, maps, and any specific regulations or permits needed for dirt biking.
For example, Texas Parks and Wildlife Department has a website dedicated to state parks and OHV venues in Texas.
You can also contact local visitor centers, ranger stations, or outdoor recreation offices.
They're experts on the parks and can give you firsthand recommendations and info on dirt bike-friendly trails.
5. Go on social media and online forums
You can always turn to social media and online forums for the best dirt bike trails.
These places are where riders worldwide gather to share their wisdom and experiences about dirt bikes.
Finding dirt bike communities online is easy.
You can start your search on social media platforms like Facebook and Reddit and online forums like Thumper Talk and DirtRider.net's Forum section.
YouTube and TikTok are also gold mines for trail info.
Follow dirt bike influencers, search for location-specific hashtags, and dive into geotagged posts to uncover stunning trails.
6. Do a local area search on Google
Whether you're a newbie to dirt biking or want to explore new areas, a local area search on Google can be your go-to resource.
Just type in specific search terms based on your location, such as:
Dirt bike trails near me – excellent for local options
Dirt bike trails [city/region/area] – e.g. dirt bike trails Los Angeles
Best dirt bike trails [city/region/area] – e.g. best dirt bike trails Colorado Springs
[State/country] dirt bike trails – e.g. Kansas dirt bike trails
[Terrain type] dirt bike trails [location] – e.g. desert dirt bike trails Arizona
[Difficulty level] dirt bike trails [location] – e.g. beginner dirt bike trails Florida
Conclusion
Before we wrap it up, here are some quick tips to ensure you have a blast while staying safe on your dirt bike adventures:
Ride at your skill level. Stay in control and avoid unnecessary risks.
Buddy up if you can. Having someone watch your back can make all the difference.
Give your bike a thorough check before each ride. Inspect those tires, brakes, suspension, and all the essentials.
Stay sharp and prepared. Keep your eyes peeled, anticipate obstacles, and be ready for anything. And remember your dirt bike safety gear – a helmet, goggles, gloves, and protective clothing.
And let's not forget – respect the environment, follow the rules, and be considerate to other trail users.
Now start your search, and let the trail thrill begin!