So, you want to sell your dirt bike.
Maybe you're ready to take your riding skills to the next level and need a new bike to keep up with you.
Maybe you want something more thrilling and powerful than your current ride. Or perhaps you need some extra cash to pay the bills or buy something nice.
Either way, you're probably wondering how to sell a motocross bike fast and for the right price.
Selling a dirt bike is just like selling a car or other vehicle.
You must ensure your bike is ready for sale, set a fair price, advertise it to potential buyers, negotiate a deal, and then handle the paperwork.
Don't worry – it's not as complicated as it sounds.
In this blog post, I'll guide you through selling a dirt bike so you can sell it quickly and get the most money out of it.
I'll also share some tips on selling your dirt bike so you can navigate from preparation through paperwork without headaches.
1. Prepare your dirt bike for sale
When selling your motocross bike, making a positive impression is vital.
A clean and well-maintained bike speaks volumes about your care and investment in your ride, boosting its value and appeal to potential buyers.
Nobody wants unpleasant surprises during inspections or negotiations, so prep your bike thoroughly.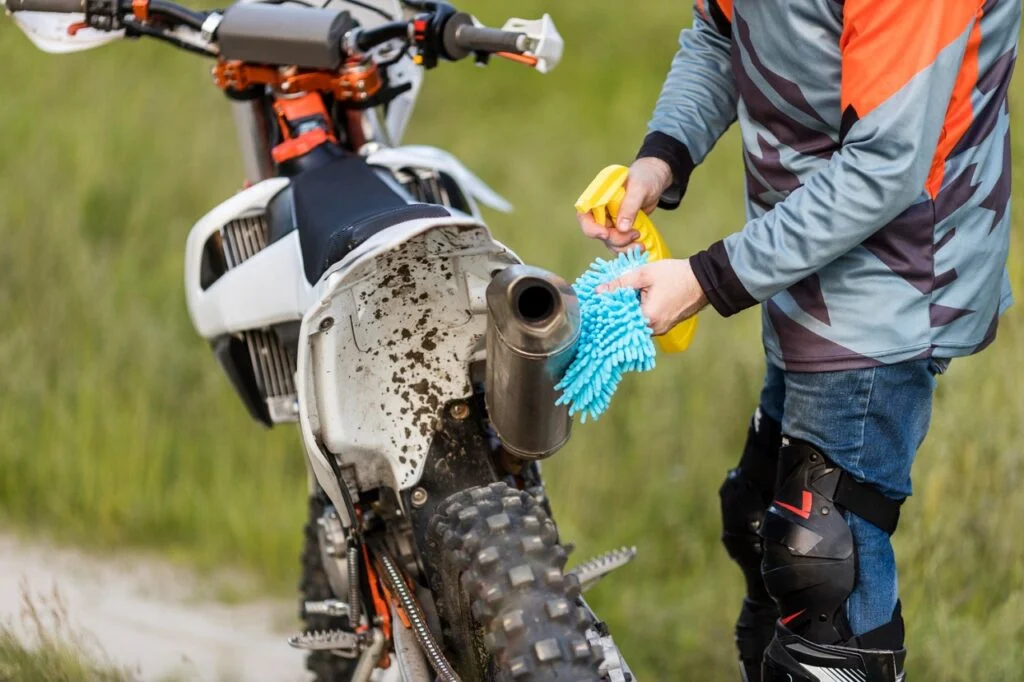 To prepare your dirt bike, give it a proper bath, scrubbing away dirt, grime, and grease.
Be gentle with suitable cleaners, avoiding anything that damages the surface.
After it's dry, applying wax or polish can add that extra shine.
Remember to lubricate the chain, cables, levers, and pedals for smooth operation.
Also, check for wear or malfunctioning parts.
Consider catching up on your dirt bike maintenance tasks or getting a tune-up from a professional mechanic to ensure peak performance.
For a complete list of a buyer's dirt bike inspection list, check out my guide on what to look for in a used dirt bike.
It's also smart to gather all the necessary documents to sell your bike, including an ownership certificate, maintenance records, the owner's manual, warranty information, and a bill of sale.
Transparency and proper documentation will make the transaction smooth and secure.
2. Decide on the right price
Determining the right selling price can be challenging.
You want to ensure you're not undervaluing your bike and losing money.
However, you also don't want to scare potential buyers away with an overly high price. Finding that sweet spot requires finesse.
To find the right price for your dirt bike, first, you need to understand, do dirt bikes hold their value? 
Unlike cars, the value of dirt bikes depreciates slower. In some cases, they even appreciate over time.
There are several factors contributing to this enduring value:
The demand for off-road recreation is steady, with dirt biking appealing to people of all ages and backgrounds.
Dirt bike manufacturers have maintained consistent designs and features over the years, avoiding rapid obsolescence.
Strong aftermarket support allows riders to customize their bikes, giving them more opportunities to enjoy off-road activities.
The vibrant dirt biking community also plays a role in this.
Riding clubs, groups, and events foster a sense of belonging and camaraderie among enthusiasts, which motivates interested dirt bikers to finally take up the hobby. 
Are dirt bikes going up in value?
For sellers, there's good news for you – the price of dirt bikes continues to appreciate over the years.
The surge in popularity, constant technological advancements, and demand for more affordable secondhand bikes as alternatives all contribute to their increasing value.
How do you determine your dirt bike's selling price?
The general rule is that dirt bikes lose around $1000 of their value per year.
For example, if you bought your bike for $8000 in 2019, you could expect it to be worth around $6000 in 2021.
Of course, this is just a rough estimate.
Factors like condition, age, model location, demand, usage, and modifications can sway the value up or down.
Research online listings of similar bikes and use tools like Kelley Blue Book to get a better idea.
Ultimately, your motocross bike's price is determined by what someone is willing to pay.
Testing the market and being flexible with adjustments based on feedback and interest will help you find the right price for a successful sale.
3. Advertise your bike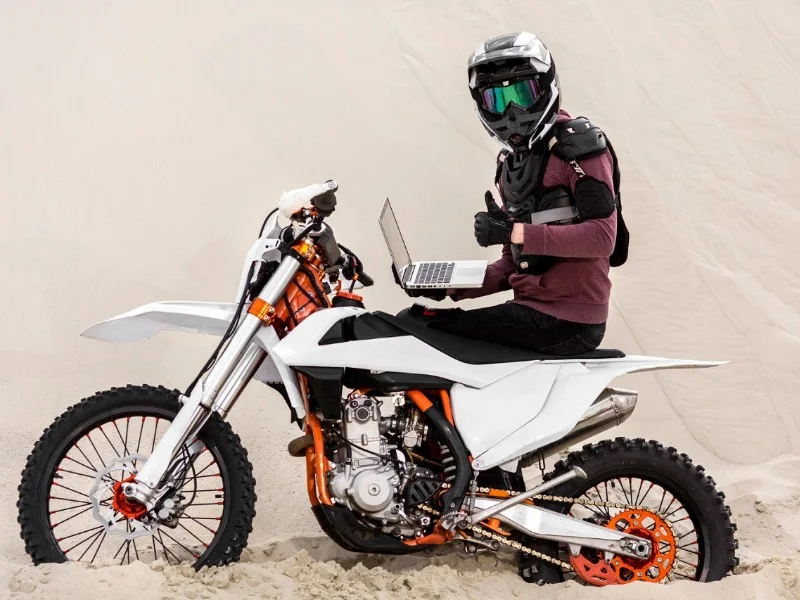 When it's time to sell your beloved dirt bike, there are plenty of excellent ways to advertise it, such as:
Online marketplaces like Craigslist, Facebook Marketplace, and eBay Motors are popular and make selling online a breeze. Many sellers are on here, too, so make your listing stand out.
Specialized dirt bike marketplaces like MXLocker and Cycle Trader cater to die-hard dirt bikers, giving you a targeted audience and an idea of your bike's value.
Bring your bike to a dirt bike track and stick a "For Sale" sign on it. You can also hand out flyers or cards to other riders in the area.
Local motorcycle dealerships work too, but you might get a lower price. Consider this to earn quick cash or trade in a different model.
Post your ad on your dirt bike club's site, social media, or newsletter, and attend events to let others know you're selling.
Post your dirt bike for sale on online forums like ThumperTalk or Dirt Bike Addicts. Share your wisdom to build trust and credibility while finding potential buyers.
If you're looking to sell your dirt bike on any of these platforms, here are some of my tips and tricks to help you sell your motocross bike fast and for a reasonable price:
1. Snap awesome pics
Show off your ride in clear, high-res photos.
Find a clean background that makes your bike pop, and capture it from all angles, including close-ups of the engine and tires.
2. Craft a catchy headline
Your headline should highlight the main selling points of your bike and make people curious to learn more.
3. Provide as much information as you can
Give potential buyers all the info they need.
Share the brand, model, year, engine size, and why you're selling it.
Mention its condition, mileage, and any upgrades you've made.
Lastly, don't forget the price.
4. Highlight the most impressive features of your bike
Highlight its power, handling, and perfect-for-any-terrain features.
Paint a picture with words: "Feel the incredible acceleration and speed" or "Enjoy smooth maneuvering and control."
Here's an example ad so you can picture it better:
2019 Honda CRF450R – Mint Condition – Low Hours – Extras Included
Selling my 2019 Honda CRF450R with a 449cc liquid-cooled single-cylinder four-stroke engine.
Bike is in mint condition
Only 50 hours on it
Ridden for two years – never been raced or crashed
Maintenance is up-to-date
RFS: Upgrading to a newer model
Selling it for $6000. No trades.
If you're interested, message me on Facebook or call or text me at (123) 456-7890. I'm in Redmond, WA, and can show you the bike anytime.
4. Find buyers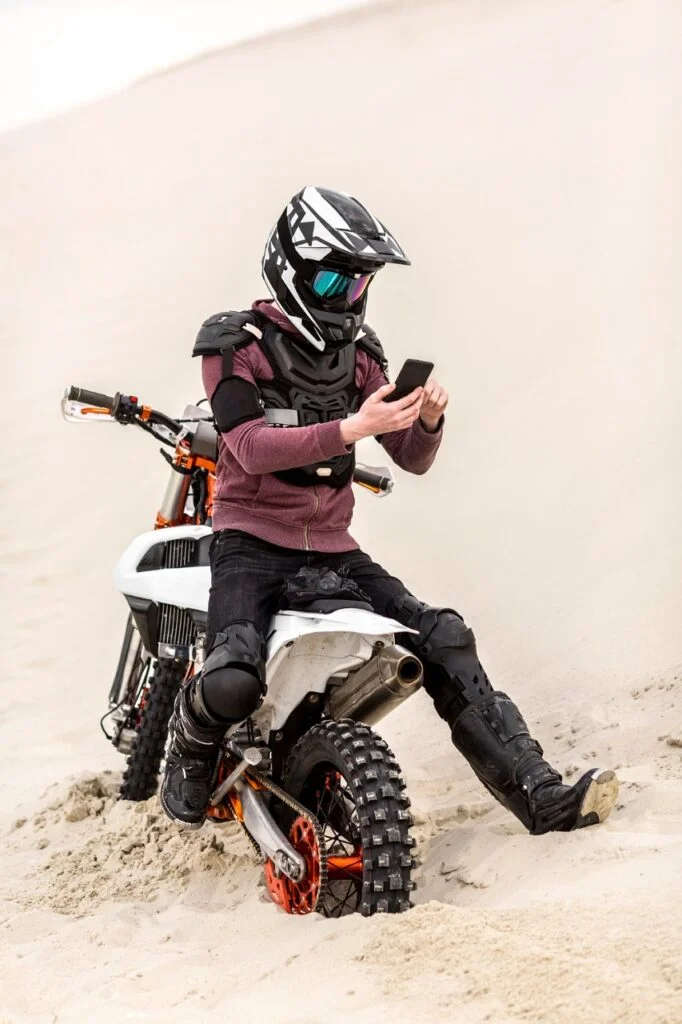 When someone shows interest, be quick, friendly, and informative in your responses.
Share all the details they need: model, year, condition, mileage, price, and where you're at.
Keep those communication lines open! Regularly check your social media accounts, texts, and emails for potential buyer inquiries.
If you spot a serious buyer, offer them a test ride. That way, they can feel the thrill of your bike in action.
Just make sure they're legit, though. 
5. Negotiate with a buyer and close the deal
Here's a tip that will earn you money, literally. Before starting the sale process, think of three price points in your mind – the Wish, the Want and the Walk.
Wish price is what you would absolutely love to get, a moonshot price that you know can be achieved but the chance is low.
Want price is your bike's market value, considering what price similar bikes are selling at (this is usually the price you will end up getting).
Walk is the lowest price, your limit, below which it is just not worth your time selling – if the buyer is not willing to go higher than your Walk price, then just walk away with peace of mind that the next buyer will see more value in your machine.
Having these three price points in mind will ensure that you're prepared and firmly know what you want – this way you will be a lot harder to haggle down than if you didn't have a bottom line price.
Another useful tip – always start negotiating with your Wish price, but don't be disappointed if you don't get it – you will most likely get the Want price.
But I know people who actually got the Wish price right away, so definitely worth a try!
Buyers might haggle at this point, but you have to know your bottom line and stand firm (your Walk price).
Don't let them push you to drop the price more than you're comfortable with.
Your bike's worth what you believe, not what they say.
To convince them of your price, highlight all the awesome stuff about your bike – like its top-notch maintenance, performance, reliability, and looks.
If they've test-ridden it, that's a big help too.
If they still need convincing, sweeten the deal with cool extras.
Toss in some aftermarket upgrades, gear like helmets or gloves, offer to help with transporting the dirt bike, or cover all paperwork fees.
Stay positive during the negotiation.
Use phrases like That's the best I can do for you instead of I can't get any lower.
Once you agree on a price, put it in writing and clarify any doubts.
Get the critical details:
Payment method (and schedule if in installments)
Inclusions, like installed aftermarket upgrades or maintenance offers
When and where will the transfer of ownership happen
6. Secure the payment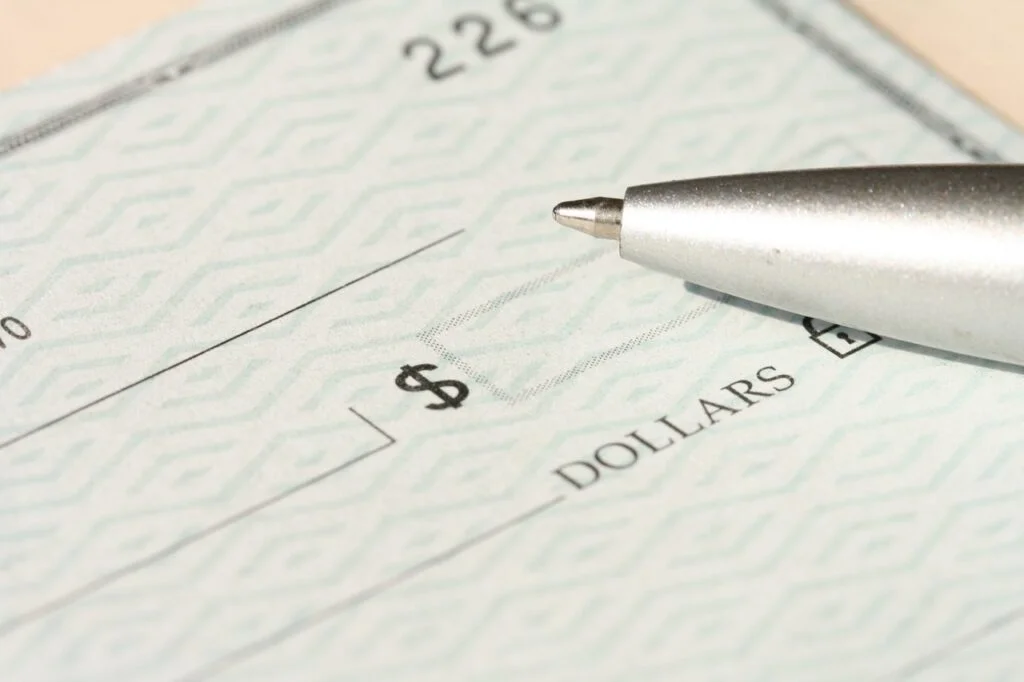 Alright, let's talk about payment options.
You have two options to choose from: cash or check.
Cash is simple, quick, and secure.
Hand over the bike, get the money, and you're ready.
No waiting time or hassles at the bank.
The only downside to accepting cash is that it's risky for the buyer to carry a lot of money.
It's also difficult to trace since there are no records, although you can issue a receipt or proof of payment.
Then we got checks.
It's safe and easy – just write the buyer's info on the check.
You'll have a record of taxes and disputes.
Plus, you can adjust the amount or postdate it if needed.
But the waiting game can be slow, and you're prone to be issued a bounced or bad check.
So which one's better? It depends on the situation.
Cash might be more convenient for smaller amounts, while checks are safer for larger ones.
If you know the buyer well, checks can be cool. If not, cash is the way to go.
And if you're in a rush to get the money, cash is the better option.
Bottom line: weigh the pros and cons, and stick with what feels right for you and your buyer.
No right or wrong answer, just what works best for the deal!
7. Transfer ownership
Congrats on finding a buyer for your ride!
Before you pass the torch, there's one more step – the transfer of ownership.
This is all about legally handing the title and registration to the buyer.
It ensures you're no longer responsible for the bike, and they can ride it with confidence.
To do it, you'll need the following documents:
Bill of sale – covers all the details of the deal – date, price, your info, and the bike's specs like the VIN, make, model, and mileage.
Certificate of title – proves you're the legitimate owner and can sell it. VIN, make, model and year info are here too.
Release of liability – releases you from future bike woes. VIN, make, model, year, and mileage details are needed.
Vehicle history and maintenance records – shows the bike's history and service records. It helps the buyer see what they're getting.
Odometer Disclosure Statement – ensures they know the actual mileage. Don't want any surprises!
Meet with the buyer, carefully review each document, sign it, and get a notary or witness if needed. Hand over the keys with a smile – mission accomplished!
Wrapping up
You'll also need to invest some time and money in your bike to get the best deal possible.
This could be fixing minor issues, boosting your ads online, or legal fees for the paperwork.
But don't worry – it will be worth it!
Remember to stick with your selling price and don't settle for less than your bike is worth.
And don't rush the process, either.
Take time to find the right buyer who will appreciate and take care of your bike as much as you did.