Moving your dirt bike from one place to another is not easy.
It can be even more challenging if you don't have the best dirt bike transport gear.
Nothing ruins an enjoyable ride like a damaged bike or equipment, so I always ensure I have the best gear to transport my dirt bike securely.
To transport your dirt bike safely and conveniently, you need five essential transport gear: a dirt bike hitch carrier to hold your bike to your vehicle; tie-down straps to secure your dirt bike to the carrier; a ramp to load and unload your bike; a wheel chock to hold the bike in place while in transit; and a stand for easy and controlled lifting of your dirt bike.
In this post, I'll discuss each transport gear in detail, including the qualities you should look for and my top recommendations.
Whether you're a seasoned dirt bike rider or a beginner, keep reading to learn how to make your next trip a breeze with these best dirt bike transport gear.
This website uses affiliate links that may earn a commission for purchases at no extra cost to you.
1. Dirt Bike Tow Bar Carrier
If you want to transport your dirt bike without a trailer, a dirt bike tow bar carrier is an excellent choice.
It's an attachment that connects to your vehicle's hitch receiver, providing a secure platform to transport your dirt bike.
Using a tow bar carrier has many advantages over a trailer, such as being easier to use and less expensive.
Before purchasing a tow bar carrier, make sure it's compatible with your hitch receiver.
Not all carriers fit all hitch types. Also, ensure that the carrier is durable enough to hold your dirt bike's weight without bending or breaking.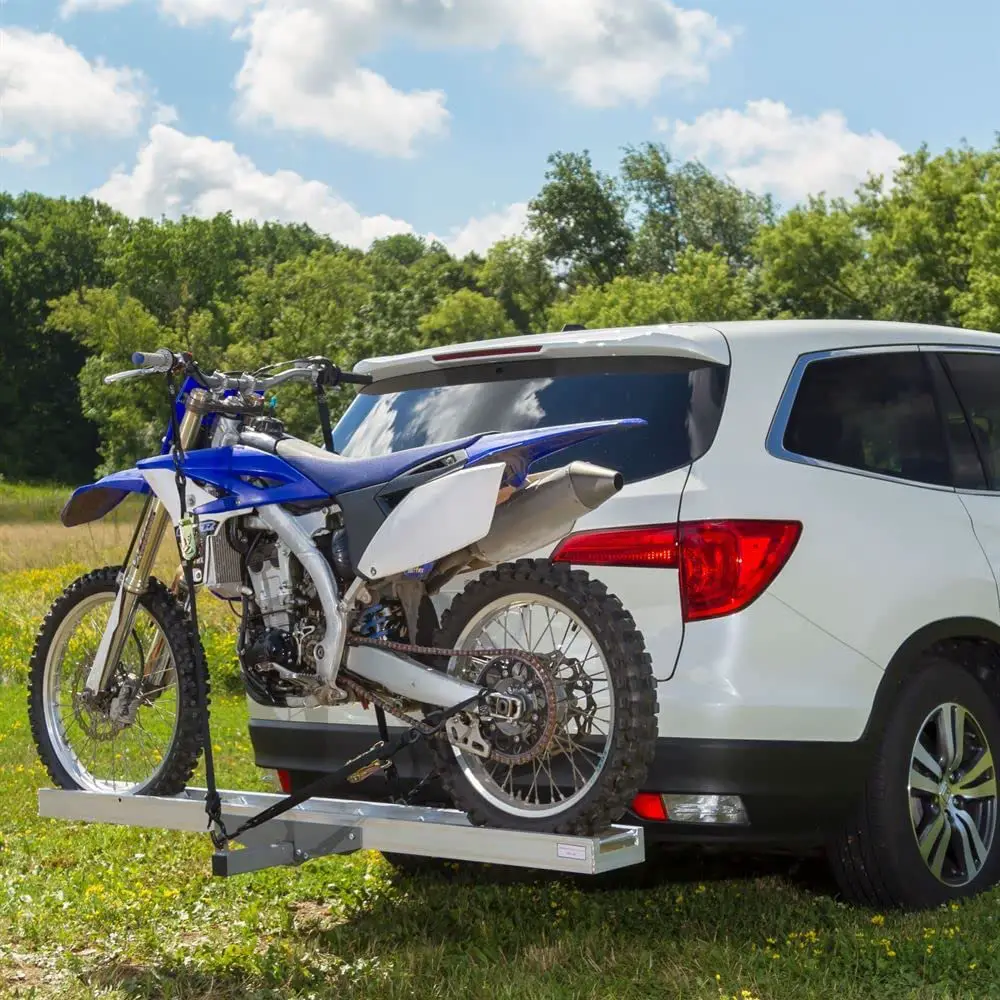 If you're looking for a reliable and sturdy dirt bike hitch carrier, I highly recommend the Black Widow AMC-400 Hitch-Mounted Carrier.
It can fit Class III or IV 2″ hitches and has a weight capacity of up to 400 pounds.
Made with lightweight aluminum and a steel frame, the Black Widow AMC-400 is durable and easy to install and use.
The self-storing ramp attaches to either side of the carrier, making it easy to load and unload your bike.
Plus, the AMC-400 has secure tie-down points and adjustable wheel chocks to ensure your bike stays in place during transport.
2. Dirt Bike Tie Down Straps
If you're looking to transport your dirt bike, one of the most helpful things you'll need is a set of reliable tie-down straps to keep your bike secured during transport.
There are many different types of tie-down straps available, each with its own unique features and benefits.
Cam Lock Tie-Downs
Suitable for lighter loads
They use a ratcheting mechanism to tighten the strap, which is then locked in place with a cam lever, providing a secure hold.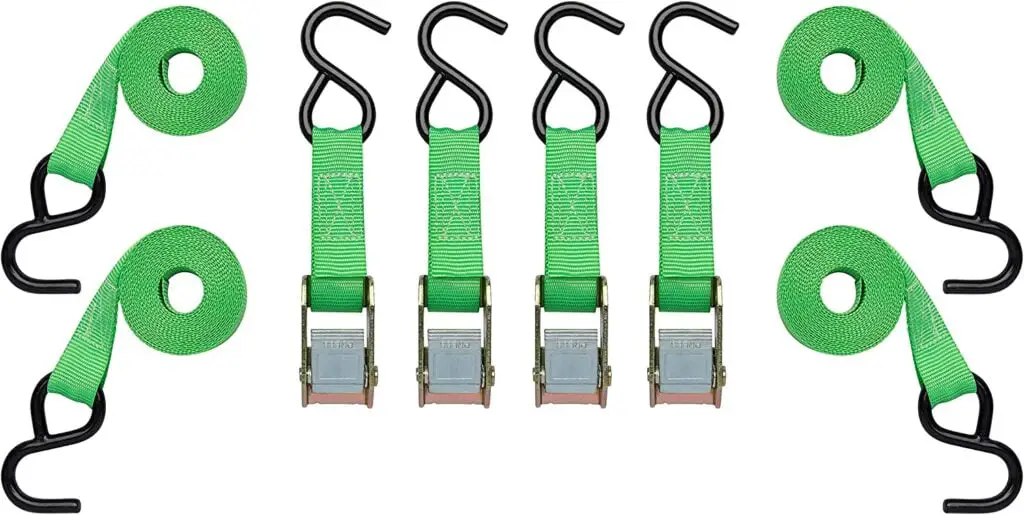 Recommended: SmartStraps 10-Foot Cambuckle Tie Down, featuring SmartWebTM technology and super-strong rubber-coated steel hooks.
It should only be used on products that tension the strap.
Soft Loop Tie-Downs
Great for securing hold without risking damage to your bike
They are designed to wrap around your bike's handlebars or other soft points to prevent damage during transport.
They use a simple cam lock mechanism to tighten the strap and are generally very easy to use.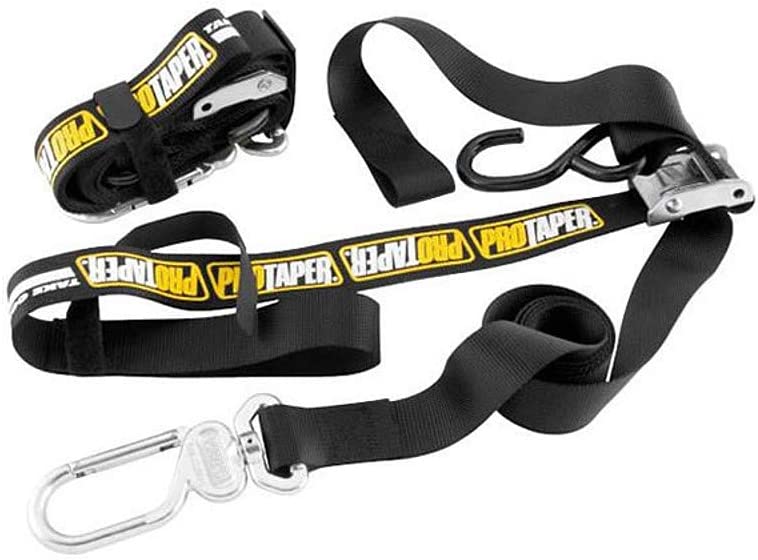 Recommended: Pro Taper 1.5″ Tie Downs, which has a spring-loaded, swivel carabiner base hook to prevent straps from twisting or coming unhooked in hard-to-reach places.
Ratchet Tie-Downs
The heavy-duty option for larger bikes
They use a ratcheting mechanism to tighten the strap, which is locked with a latch.
Ratchet tie-downs are the most secure option, but they can be harder to use than other types of straps.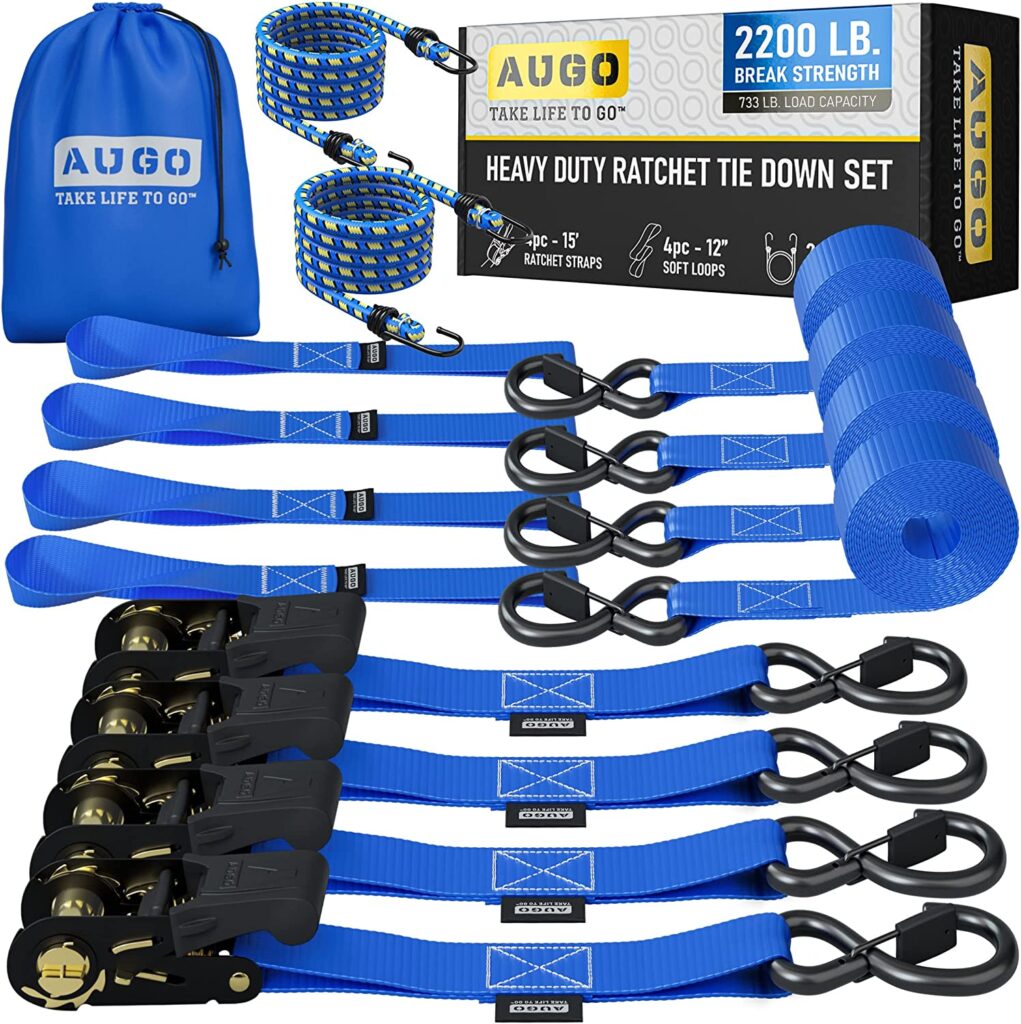 Recommended: AUGO Ratchet Tie-Down Straps, ideal for heavy loads, with a break strength of 2,200 pounds.
The "S" hooks have a safety lock to protect your bike or vehicle surfaces.
The ratcheting mechanisms provide excellent control, comfort, and grip, while the quick-release latch makes unloading easy.
3. Dirt Bike Ramp
A sturdy platform like a dirt bike ramp will let you drive your bike onto the carrier, truck bed, or dirt bike trailer without damaging it or injuring yourself.
Your ramp should be durable, easy to use, and provide excellent traction to avoid slips or accidents.
It should also have a non-slip surface, so your bike's tires can grip the ramp securely.
The ramp's height is another crucial factor since it should provide enough clearance for your bike's tailpipe and engine.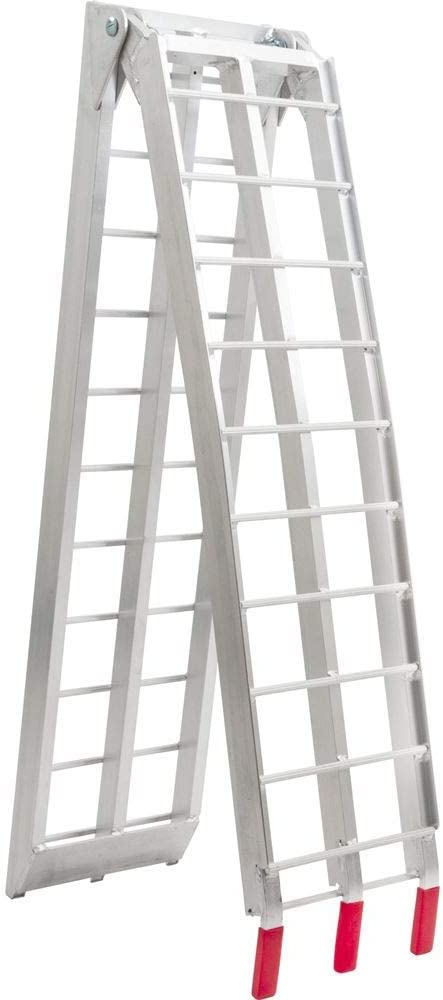 I highly recommend the Black Widow AFL-9012 Single Runner Motorcycle Ramp.
This ramp checks all the boxes for transporting your bike safely and comfortably.
Its serrated rungs provide excellent traction, while its arched design ensures maximum engine and tailpipe clearance.
Additionally, this ramp is lightweight yet sturdy, supporting up to 750 lbs.
This ramp features rubber-coated finger-style attachments that hold your vehicle securely in place without scratching its paint.
Plus, this ramp folds in half for easy transport and storage.
4. Dirt Bike Wheel Chock
A wheel chock is essential for keeping your bike safe and secure as it prevents your bike from falling over during bumpy rides.
It also helps prevent costly repairs caused by compressing your forks during transport.
When choosing a wheel chock, you want something that will keep your bike in place and won't wobble around during transport.
It should also be easy to install and remove.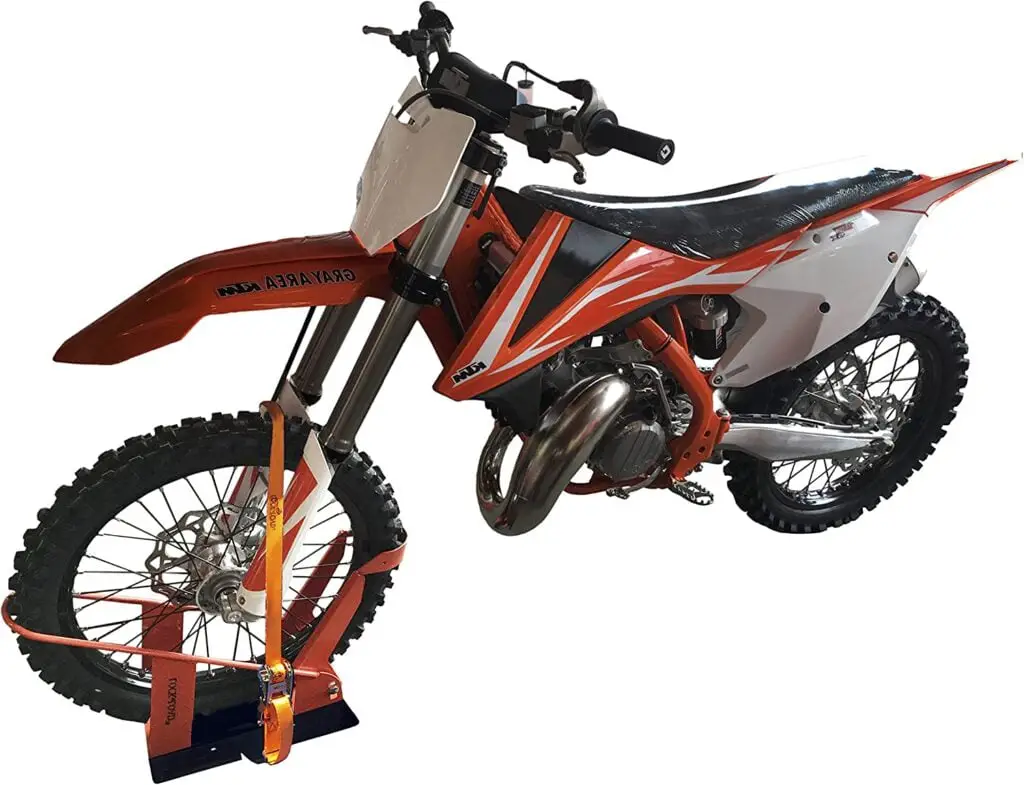 My top recommendation for a dirt bike wheel chock is the Lock N Load Dirt Bike Wheel Chock System.
This chock is specifically designed for one-person loading, saving you time and effort.
It's also very secure, and you don't need to compress your forks, reducing the risk of expensive repairs.
5. Dirt Bike Stand
A high-quality stand is essential for your bike's safety and your own.
A dirt bike stand lifts your bike off the ground, making maintenance and transport easier.
Loading and unloading your dirt bike can be difficult and dangerous without a bike stand.
When choosing a dirt bike stand, look for durability and sturdiness to hold the weight of your bike, adjustability to fit the height of your bike, and a non-slip pad to prevent your bike from sliding off the stand.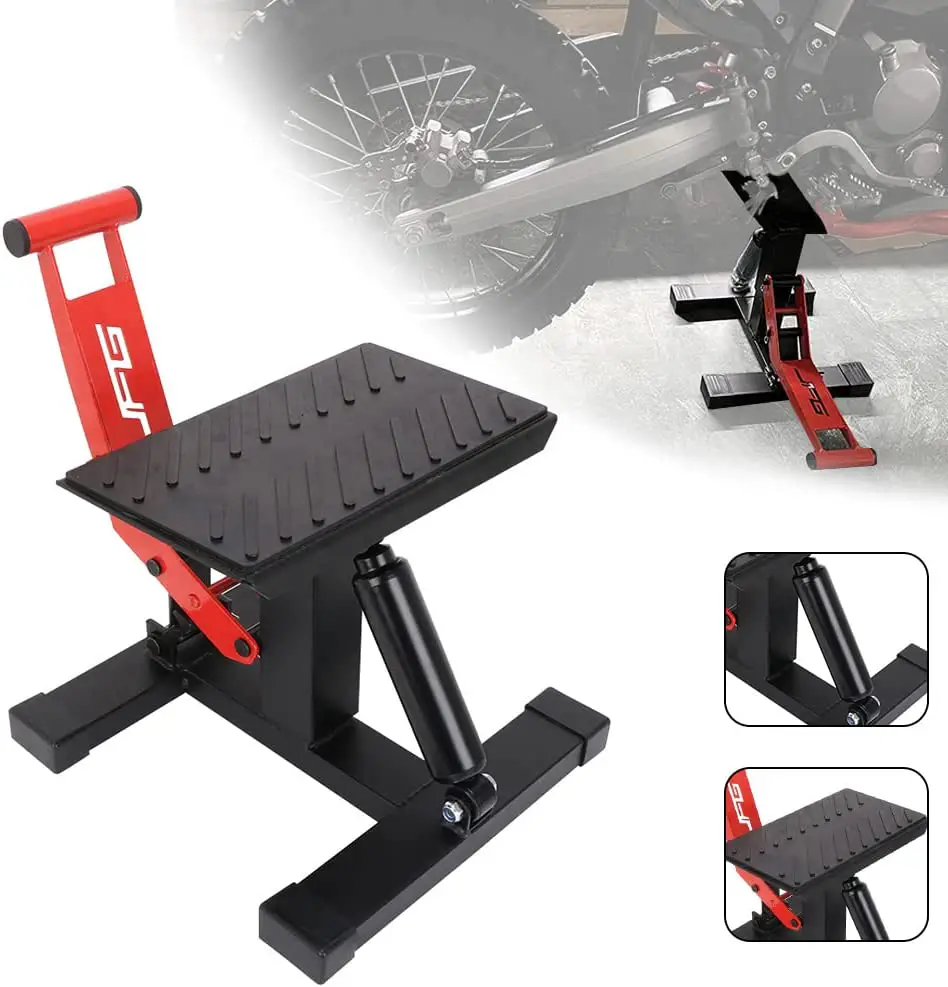 I highly recommend the JFG RACING Dirt Bike Stand for the best dirt bike stand.
It's a fully adjustable stand that can lift most dirt bikes with a maximum lifting weight of 500 kg (1100 lbs).
It's made of solid steel, ensuring durability and stability during use. 
The anti-slip pad is also an excellent feature to prevent bike slippage during transport.
Assembly is easy, and the safety pin is attached to the arm so it doesn't get lost.
Wrapping up
Choosing the best dirt bike transport gear is just as crucial as selecting the right dirt bike.
Whether heading to the track, trail, or race, these gears are essential to ensure your and your bike's safety.
The good news is that they work n matter how you transport your bike, whether on a trailer or a truck bed.
Always use high-quality gear, double-check your straps, and ensure your bike is balanced before hitting the road.
Remember, it's just as essential to transport your bike safely as to ride it. So, take your time, drive carefully, and enjoy your off-road adventures with peace of mind!