Whether you're a seasoned pro or a novice to the world of dirt bikes, no one can deny the difference that a good pair of dirt bike pants can make to your riding experience.
As you shop for the best dirt bike pants, questions like how do dirt bike pants fit and what kind of dirt bike pants are right for me are sure to come up.
Dirt bike pants are designed to fit the rider as snugly as possible while allowing full motion and flexibility. Dirt bike pants come in a relaxed fit (suitable for casual rides and cruises) or a race fit (designed for rough terrain and performing high-speed stunts).
Are dirt bike pants worth it?
Most riders may not think of dirt bike pants as one of the priority investments for their dirt bike, especially for those still trying to find their way on their bikes.
However, if you're after a comfortable and safe riding experience, you'll thank yourself when you invest in quality dirt bike pants early on.
These pants are made to be stretchable, flexible, and durable to protect you from potential damage during a crash or when your legs make contact with the exhaust pipe of your bike. 
They're also made with materials that provide waterproofing and ventilation to make your riding experience as comfortable as possible.
What makes good dirt bike pants?
There are a million choices of dirt bike pants on the market today, and they all differ in quality, comfort, and design, depending on the brand and the type.
So to help you make your search faster, I'll share with you instead these five qualities you should consider when deciding on the best dirt bike pants for you:
Flexible
Your dirt bike pants should be flexible enough to bend at will without causing the threads in the pants to loosen every time.
Pants made with stretchable materials give you more room to stretch your legs anytime and allow natural movement without strain.
Lightweight
Your dirt bike pants should be lightweight.
Otherwise, they'll weigh you down and make you uncomfortable when adjusting your body while riding or turning.
This is why jeans aren't the best riding pants to ride in.
But most dirt bike pants are already lightweight, so you don't have to worry about this much.
Perfect fit
The dirt bike pants you choose should allow you to move freely and comfortably in them.
They should stay in place no matter how much you move while riding and not bunch up or slide down to prevent distractions.
Durable
The best dirt bike pants should be durable, especially in areas like the inner knees and the leg area I mentioned earlier that come into contact with the pipe of your bike (which can get very hot). 
Dirt bike pants have the tendency to wear and tear faster than other pants due to the strain of the rider's style, so make sure to choose pants with durable materials, like leather, on the inner thighs. 
Protecting
Aside from the durable materials, dirt bike pants manufacturers also add some extra protection features such as:
Tapered leg area – gives your other gears, like knee pads, more room for attachment while still giving your legs enough coverage and protection 
Protective rubber elements – protect your legs from getting burned and prolong your dirt bike's lifespan
Removable internal EVA hip protectors – safeguard your hips from damage during accidents
How do dirt bike pants fit?
Dirt bike pants are made to fit snugly to your body but still allow room for motion and flexibility.
They're not too tight but not too baggy either. 
Dirt bike pants fit can be categorized into two types: relaxed and race.
A relaxed-fit riding pants is usually made of textile fabric and provides more room for movement and comfort.
They're more suited to casual rides or cruising since they prioritize comfort for long rides.
Relaxed pants usually go over your riding boots.
Conversely, race-fit pants are fitted and designed to mimic dirt bike posture and stance.
These pants are usually tucked inside the boot.
To give you an idea, here are the different types of dirt bike pants available on the market today:
Riding jeans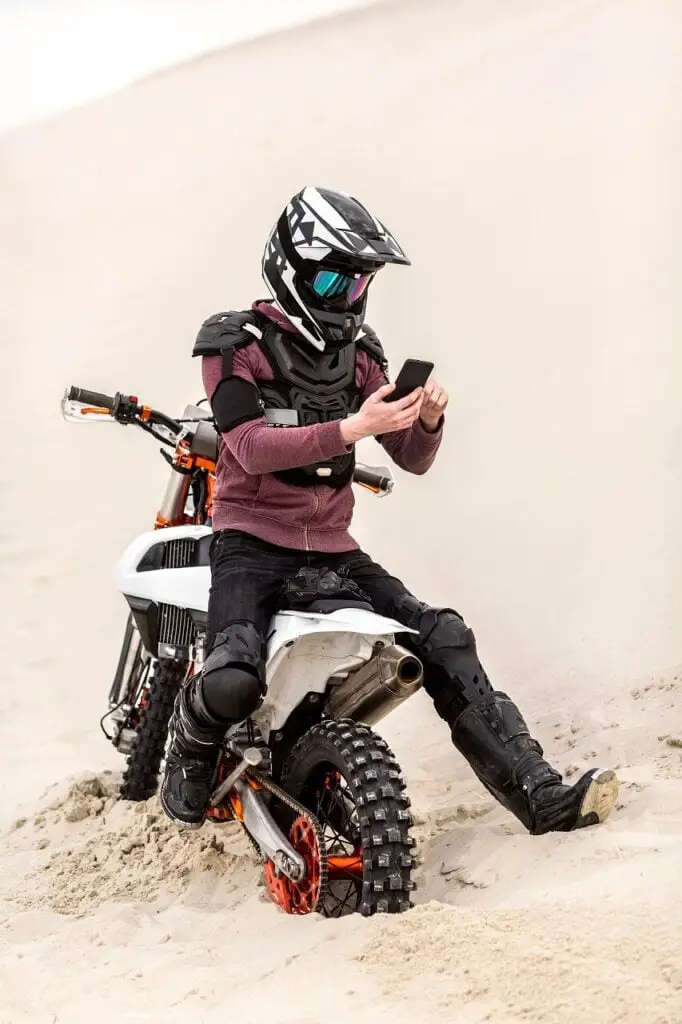 For dirt bike riders looking for a casual look while riding their bikes or simply something easy to wear around town, there are riding jeans today made specifically for motocross riders.
They come with the usual knee and hip protection and some wear-resistant materials. 
Mesh pants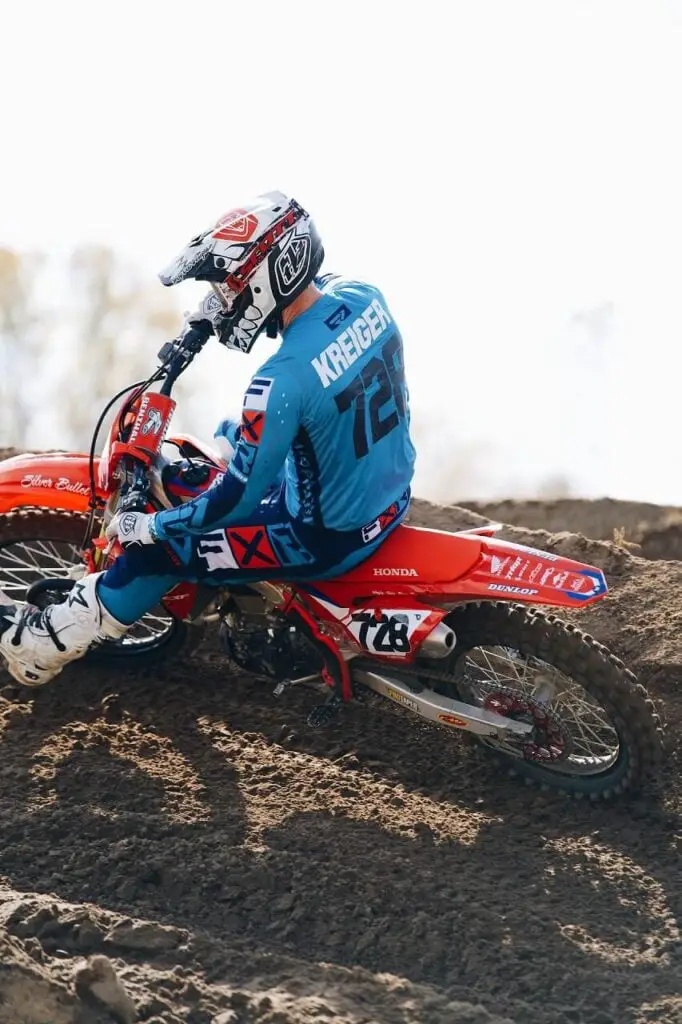 Mesh pants trade the casual vibes of riding jeans for extra comfort and protection.
It has larger mesh panels for better ventilation and more durable materials in critical areas like the knees. 
Personally, mesh pants are my favorite to ride in as you don't get too hot during longer rides.
Mesh isn't as durable as other materials for dirt bike pants, though.
Full textile pants
If you want the best of both worlds for casual riding, full textile pants are where it's at.
We're talking waterproof materials, better protection against crashes, more durability, thermal liners, and more. It's suitable for any kind of weather.
Leather pants
Leather is the way to go for the best dirt bike pants for high-speed rides, mainly due to its durability.
Leather dirt bike pants come with a pre-curved design to recreate the tucking position of a rider.
How to find the right size of dirt bike pants for you?
Measuring your inseam and waist will help you find the right size dirt bike pants.
Here's how you can find both:
1. Grab a measuring tape and measure your waist. 
The waist area is usually the spot where the bands of your jeans rest most comfortably.
Put one end of the tape on one side of your belly button.
Wrap the tape around your body, and mark the point where it meets the other side of your belly button.
Add 1 – 2 centimeters to your measurement to be sure.
2. Measure your inseam by putting one end of the tape on the circular portion of your ankle. 
Then, bring the other end to the inside of your crotch.
Measure the distance to find your inseam measurement.
As with your waist area, add 1 – 2 centimeters to your measurements. 
3. Take note of both measurements and compare them with the size chart of the dirt bike's manufacturer. 
Some manufacturers differ with the measurements for each size, but most brands use these measurements for reference:
| | | |
| --- | --- | --- |
| Size | Waist (inches) | Inseam (inches) |
| 28 | 27-29  | 30 |
| 30 | 29 – 31  | 30 – 301/2 |
| 32 | 31 – 33 | 301/2 – 31 |
| 34  | 33 – 35 | 31- 311/2 |
| 36 | 35 – 37  | 31 ½ – 32 |
| 38 | 37 – 39 | 32 – 321/2 |
| 40 | 39 – 41 | 32 – 321/2 |
Source:
Pro Style MX
Note: The chart above is for men, so if you're buying a women's or youth's dirt bike pants, check with your chosen brand first. 
Wrapping up
Dirt bike pants are one of the most important protective gear a rider should invest in early on.
They're designed to provide comfort as you ride through rough terrain, perform high-speed stunts, or simply cruise along long roads. 
Dirt bike pants come in a relaxed fit, which is suitable for casual rides.
They also come in a race fit, which snugs your body more than a relaxed fit and is designed for motocross racing.
The perfect dirt bike pants should be flexible, lightweight, durable, fit your body perfectly, and have protection features.
Take note of your measurements once you've found pants that fit these criteria, then compare them to the size chart of the brand you choose.