When I was new to dirt biking, I thought the most challenging step was getting on a bike and figuring out how to make it move.
Turns out that was the easy part. The real challenge was finding the best dirt bike for beginners that suits me.
I remember feeling overwhelmed by all my options.
I wanted a bike that ticked all my boxes: the right size, power, suspension, brakes – the whole deal.
But every choice had pros and cons, and I couldn't decide.
And that's why I'm here to help you avoid the same situation.
I've handpicked these top six dirt bikes for beginners that are lightweight, easy to maneuver, and strike that perfect balance of speed and power.
All you have to do is match your preferences, skills, and budget to these bikes.
Sooner or later, you'll go home with your first new bike!
The Six Best Dirt Bike for Beginners
1. Yamaha YZ125
The Yamaha YZ125 has been in production since 1974, a testament to its reliability and performance.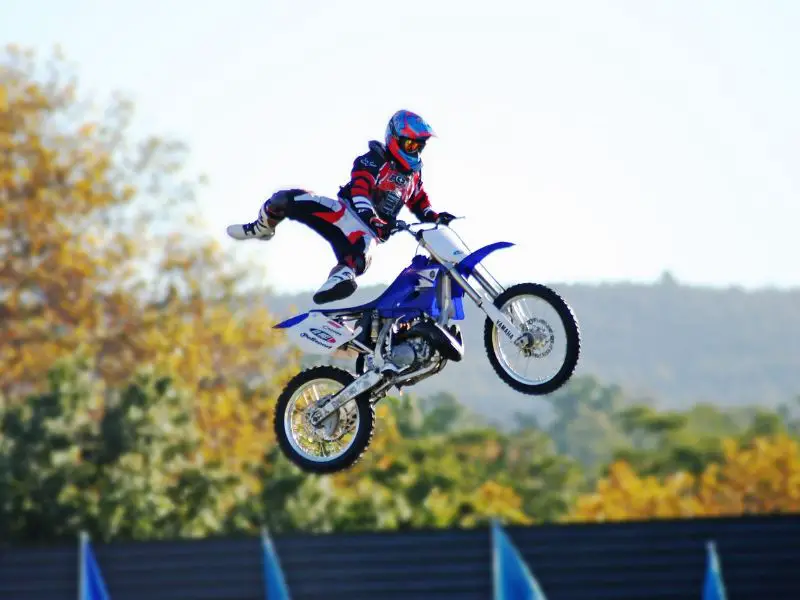 The YZ125 is a 125cc 2-stroke motocross beast that's seen stars like Jeremy McGrath and Ryan Villopoto shine on it.
But it's not just for pros – it's got all the goodies to help you rock your beginner dirt biking journey.
This ride boasts a powerful responsive engine with smooth power delivery, easy starting, and low-end torque to keep you out of sticky situations.
Plus, the 2-stroke engine means less fuss and maintenance for you.
The YZ125 has an adjustable power valve and top-notch front forks, so you can customize your ride to suit your skills and the terrain.
Completing the package is its slim bodywork for easy maneuvering and improved brakes so you can easily control your speed or come to a complete stop.
Bonus read: What Is The Weight Limit For A 125cc Dirt Bike
2. Honda CRF250RF
If you're after the best dirt bike for beginners, let me introduce you to the Honda CRF250RF, one of the best dirt bikes on the market today.
This bike is ideal for kickstarting your dirt bike journey – easy, reliable, and downright fun.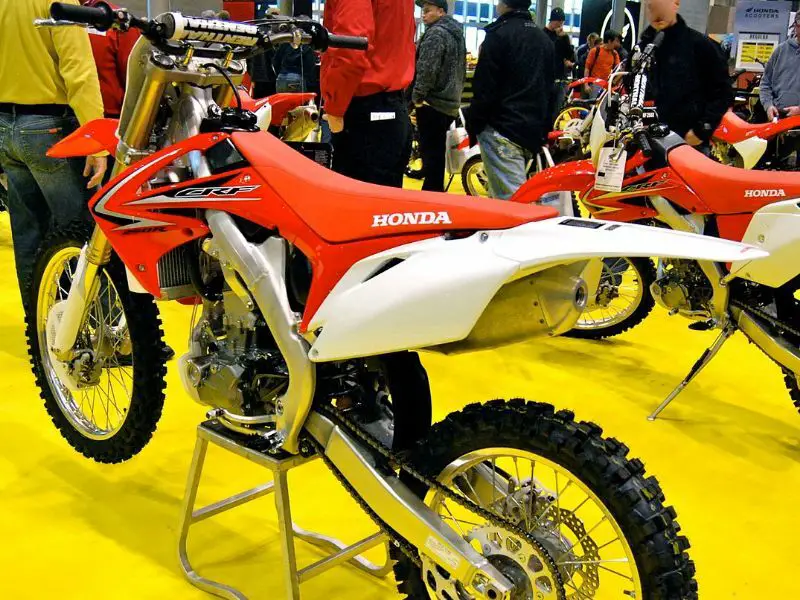 The CRF250RF is a champ for control and comfort.
It can handle any terrain, it's tough, and it's low maintenance.
That means more time to polish your balance and speed control and less worrying about mechanical issues.
With a smooth 250cc engine and smart fuel injection, you'll have a blast without fussing about gear shifts or rough starts.
The Pro-Link®️ rear suspension is the cherry on top, keeping you stable and comfortable regardless of the terrain.
Bonus read: Is 250cc Dirt Bike Good For Beginners
3. Kawasaki KLX110L
If you want something small, the Kawasaki KLX110L is the perfect beginner dirt bike. 
The KLX110L may be small, but it's packed with power and fun.
With its 112cc 4-stroke engine, you'll get smooth and reliable performance.
It also comes with a manual clutch, so if you want to master shifting gears, this bike's for you.
The KLX110L also comes with an electric push start. 
The KLX110L's ground clearance and seat height make it easy to handle and balance on any bumpy track.
It has a sturdy frame and suspension to support you during bumpy rides while practicing. 
There's an even smaller KLX110L variant for younger riders – the KLX110R.
The two variants' ground clearance and seat height are the only differences, but everything else is almost identical.
4. Yamaha TT-R230
If you're new to the dirt bike scene and looking for a low-maintenance and learner-friendly ride, the Yamaha TT-R230 is your ride-or-die choice.
This trail bike has been making waves since 2005 and for good reasons.
It's got a torquey 223cc four-stroke engine that delivers just the right amount of power for off-road fun without being too overwhelming for new riders.
Starting it up is easy with the electric start button. 
With its low seat height, long-travel suspension, and generous ground clearance, this bike can tackle rough terrain like a champ and still be comfy and easy to handle, even for shorter riders. 
Plus, it's built tough with a steel frame that's nimble and durable.
And with a six-speed transmission and powerful brakes, you'll have complete control on any trail.
5. Honda CRF110F
If you're looking for an affordable beginner dirt bike, the Honda CRF110F is an ideal candidate.
It's got the right mix of power and control, suitable for riders of all ages and skill levels.
The CRF110F perfectly balances strength and control, making it one of Honda's top-selling bikes.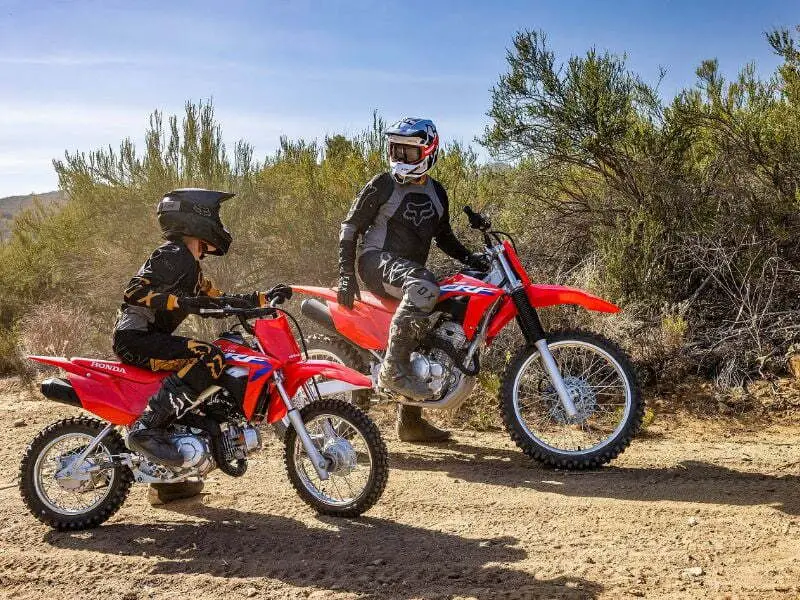 You've got a smooth 109cc four-stroke engine, keeping the ride cool and fuss-free.
If you're not a fan of manual clutches, no sweat.
The CRF110F has an automatic clutch, so you just twist that throttle and take off.
And the fuel injection system keeps things efficient and eco-friendly, adjusting fuel delivery for peak performance at any altitude. 
While it's not built for hardcore racing, it's got the guts to conquer steep hills and any trail you throw at it.
6. KTM 250 SX-F
The KTM 250 SX-F is known for tearing up the tracks in dirt bike races, but don't let its racing rep scare you off.
It's also one of the best dirt bikes for beginners, particularly for bigger riders or any beginners wanting more power but still learning to go beyond the intermediate level.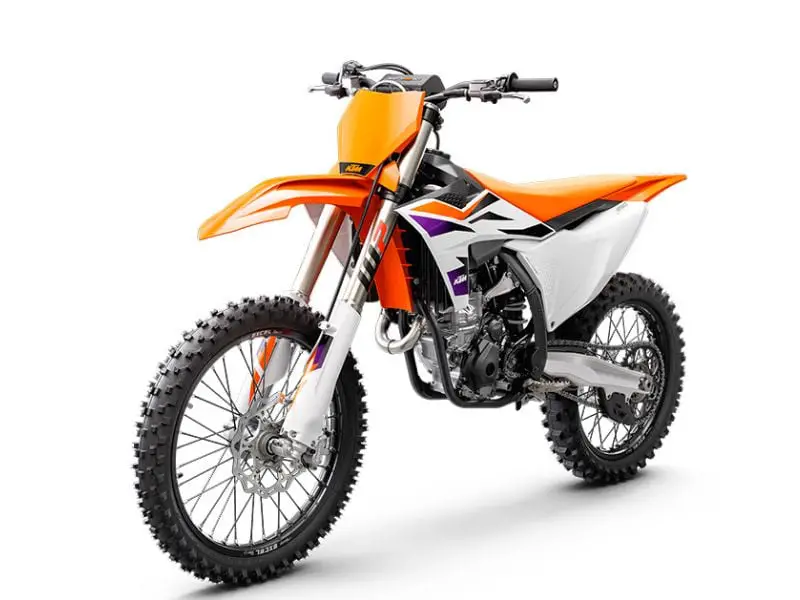 Its 249.9cc engine still fits the recommended range of 125cc – 250cc for beginner dirt bikes.
The 250 SX-F's engine is a perfect combo of torque and speed, fuel-injected for even more punch.
It also comes with launch control to help you kick off smoothly, while the Quickshifter lets you shift up or down without the clutch.
Lastly, it has an air-adjustable front fork for stable suspension and a higher seat height for extra legroom.
Bonus read: Are KTM Dirt Bikes Reliable
Wrapping up
Hope these top picks brought you closer to finding your dream ride!
But remember, the final call is all yours. Pick what fits your style, budget, and skill level best. 
If you need more help finding a beginner dirt bike, check out the BikeMatch tool.
Enter your height and weight, and the tool will give the best bikes matching your build.