If you're like me, you love your dirt bike as your off-road sidekick.
You enjoy riding it on trails, hills, and mud.
But have you ever wondered how to make money from dirt biking? 
Well, I've got some good news for you – it is possible!
Whether you want to pursue it as a professional career or simply share your knowledge and off-road adventures online, there are different ways to make money from dirt biking.
If you're interested in making money while enjoying your dirt bikes, stick with me until the end of this post.
I'm about to show you some ideas that can earn you a quick hundred bucks to a staggering million dollars.
Some of this you can do right away, while some may take longer but promise you a better income.
1. Build your dirt biking network
Dirt biking is a way of life, and it's even better when you're riding with like-minded buddies who share your passion!
Building your dirt biking network has its perks – new skills, trail discoveries, great friendships, and the start of turning your passion into a money-making career.
The best way to build your dirt biking network is to join a local dirt bike club or chapter.
If you live in a trail-packed area, you'll easily find dirt bikers to connect with.
You can also ask at dirt bike shops or your trusty mechanic.
Hop on social media, too – check out community groups or Facebook pages in your area.
Attending events and competitions is another fantastic way to connect with fellow riders, potential sponsors, and media personalities.
2. Become a certified dirt bike instructor
Want to share your skills and make money doing what you enjoy?
Be a certified dirt bike instructor! Getting certified as a dirt bike instructor is easy.
Follow these steps:
Join one of the United States Motorcycle Coaching Association (USMCA)'s programs or email [email protected] for recommendations.
Ace background screening and Abuse Prevention training.
Get CPR/First Aid certified.
Finish ConcussionWise, HeatWise & CardiacWise courses.
Nail USMCA Core Content Assignments & Quizzes.
Submit references confirming your coaching experience.
Once you're certified and ready to roll, you have two options:
Apply as an instructor at dirt bike riding schools – less work for you, but the income is fixed
Host your dirt biking workshops – involves more work, but you'll have more freedom with your teaching style and income. Great if you're known in the dirt biking scene.
3. Become an influencer in the dirt bike community
If you're into social media and love sharing your dirt biking journey there, becoming a dirt bike content creator might be up your alley.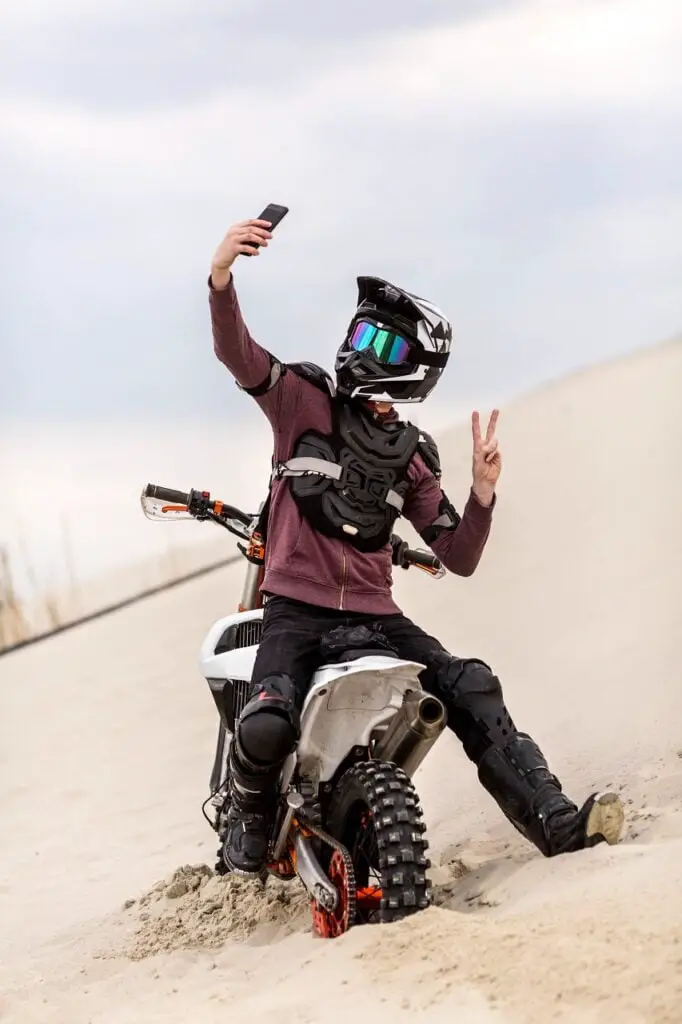 There are different ways to kickstart your content creator journey.
You can start a blog or vlog or be active on social media.
Share tips, trail adventures, gear reviews, and take on fun challenges – the possibilities are endless!
Once you've established a community, you can make money doing what you love.
Get sponsored, earn from ads, or become a dirt bike affiliate for sweet commissions. 
4. Design and sell dirt bike merchandise
Got the gift of design and creativity?
You can make money designing and selling dirt bike merchandise items.
Dirt bikers love to customize their bikes and gear, so you'll have a guaranteed market when you start this side hustle.
There are tons of cool dirt bike merch ideas to try, depending on your skills and budget:
Custom decals
Graphic stickers
Clothing items like hoodies, caps, t-shirts, and even socks
Keychains
Phone cases
You can sell your items online on platforms like Redbubble or Teespring.
You can also be independent and offer them on social media, like Facebook Marketplace.
You could also sell your items at dirt biking events and shows.
5. Join freestyle events and shows
Freestyle motocross (FMX), in particular, is all about jaw-dropping stunts and tricks on your dirt bike.
And you can earn some serious cash and recognition from it!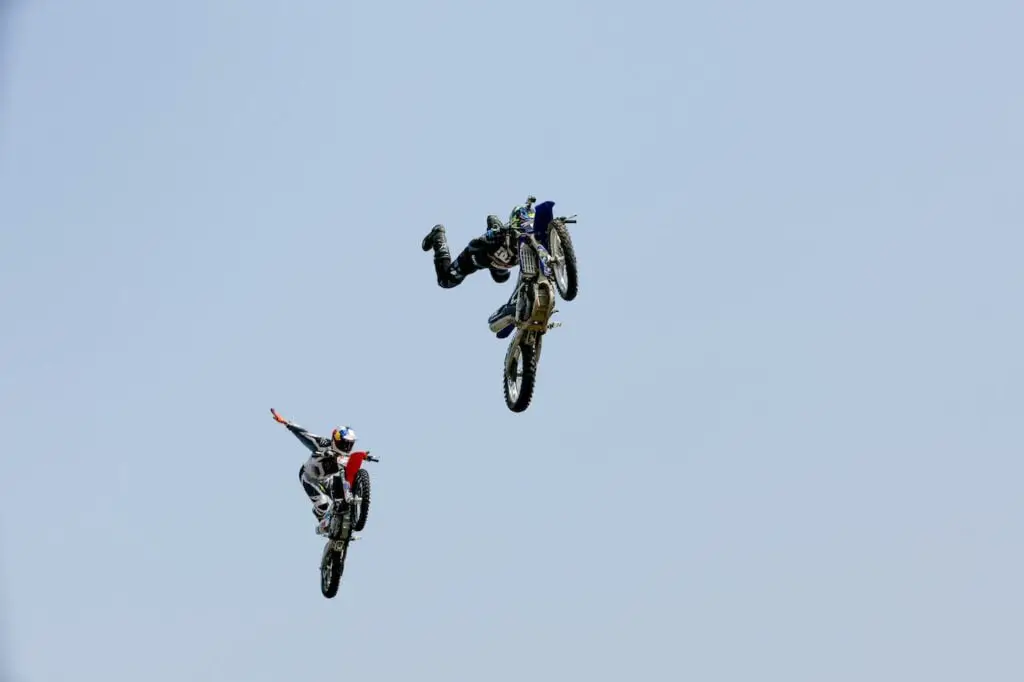 Here are some of the most popular FMX competitions where you can show off your best stuns and tricks and win exciting prizes:
X Games – hosts competitions like Best Trick, Freestyle, and more. The prize money can vary from $5k to $50k for the champs!
Nitro World Games – hosted by Nitro Circus featuring FMX and other extreme disciplines. Win $50k for 1st place, $25k for 2nd, and $10k for 3rd in the FMX category.
Monster Energy Cup – while mainly for supercross racing, they also have an FMX Best Whip category, where the FMX Best Whip champ scores $10k.
To dominate these events, you must show off your flips, spins, and whips and ensure you've got the right dirt bike mods, protective gear, and a solid racing background.
6. Become a pro racer
Dirt bike racing is an electrifying sport that draws millions of fans and sponsors worldwide.
That's why plenty of dirt bikers dream of making it as a pro dirt bike racer.
There are different types of dirt bike races, each with its rules and epic challenges.
Here are the most popular and rewarding ones:
Motocross – the biggie with AMA Motocross Championship and FIM Motocross World Championship. Prize money goes as high as a million dollars
Supercross – faster, tighter, and technical; offers the same prizes as motocross
Enduro – part of rallies and series like the FIM Enduro World Championship. Cash prizes range from a few hundred to tens of thousands.
Endurocross – The AMA EnduroCross Series and FIM SuperEnduro World Championship have lower rewards, but the experience is worth it.
Racers also make big bucks through sponsorships and endorsements.
Brands love to back winning riders; in return, racers sport their logos and promote their gear. 
Once you're famous, you'll get sweet big-name endorsements starring in ads and campaigns.
Bonus read: How to Train For a Dirt Bike Race
Wrapping up
These are just some ways to turn your passion into profit.
There are so many opportunities for dirt bike enthusiasts like us, and all we need is a little creativity and persistence.
Some of these ideas can help you earn extra cash quickly, while others may take longer to build up.
But it is important to keep working on them and improving your skills as a rider.
The better you are at dirt biking, the more opportunities you can pursue to make money!