KTM is known for its tried-and-tested high-performing dirt bikes and unwavering commitment to quality, and it has secured its spot as one of the most reliable dirt bike brands.
Every KTM dirt bike you'll come across is impressive – no doubt about it. 
And then you see the price tag, and the first thing that comes to mind is, why are KTM bikes so expensive?!
KTM dirt bikes are products of years of research, development, and rigorous testing to create dirt bikes that redefine the off-road experience.
While initially, it seems like a hefty investment, you know you're getting the best dirt bike with the best performance and tested durability on your off-road adventures.
If you want to dig deeper into the logic behind KTM's prices, make sure to stick around!
And if you're looking for a reason to justify buying a KTM dirt bike, I assure you that at the end of this post, you'll find out why it's a choice you won't regret.
Why Are KTM Bikes so Expensive? Here are the Five Reasons Why
1. Engineering Excellence
KTM knows how to build killer dirt bikes, no doubt about it.
Their bikes are the product of engineering excellence, bringing their trademark cutting-edge technology and innovation to every KTM bike. 
Just take a look at these popular KTM bikes, and you'll see the excellent engineering everyone's talking about:
KTM 450 SX-F: A beast with a 450cc engine roaring 63 horsepower. Light as a feather at 100 kg, thanks to its aluminum frame. Suspension? Top-tier. Launch control? Yeah, it's a starting line champion.
KTM 250 SX-F: Versatile and built tough to handle heat and pressure. Precise Keihin fuel injection for smooth power.
KTM Freeride 250: Electric power with a 250cc punch (electrically speaking). No emissions, minimal noise, and a battery that lets you ride for hours.
Now, what's under the hood of these KTM wonders?
Let's dive into the parts that give KTM bikes their edge:
High-Performance Engines: These engines are like dynamos on two wheels, giving you the speed, kick, and endurance you crave.
Keihin Fuel Injection: Precision is the name of their game. Smooth power, efficient fuel delivery, and no stalling in sight.
Top-Notch Suspension: Think buttery-smooth. These suspensions adjust on the fly, giving you grip, control, and all-around good times.
Launch Control: Ready to launch like a pro? This feature dials in your power for perfect starts every single time.
2. Brand prestige
KTM isn't just a motorcycle brand; it's a whole way of life.
They've built a devoted gang of dirt bike fans who love their energy, ideas, and top-notch stuff.
Rocking the orange logo is a badge of honor for KTM riders.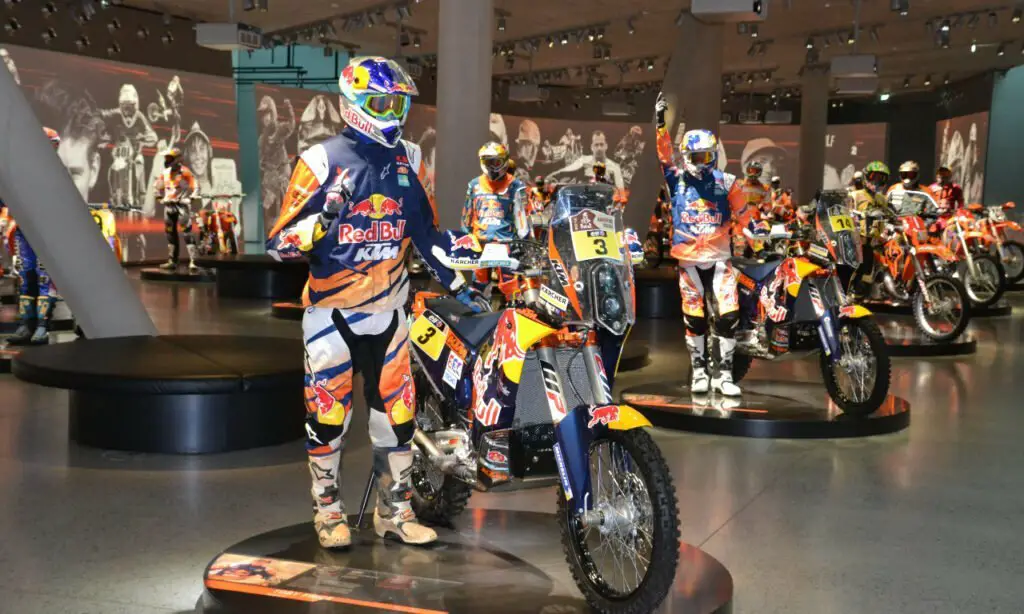 But what's the secret behind their brand's prestige? 
Authenticity – Because KTM keeps things on the smaller side, they can focus on giving you a top-notch ride that's all about quality and performance.
Racing heritage – KTM has been owning the off-road tracks for ages, racking up trophies in motocross, enduro, rally – you name it. They've even minted some legendary riders. Their motto is "Ready to Race," and boy, do they deliver.
The European brand prenotion – You know how European stuff has this air of fancy? Well, KTM, being an Austrian brand, rides on that vibe. People see that orange logo and think, "Now, that's some top-shelf dirt biking."
Stylish, aggressive design – With their sleek design and bold colors – bright orange, white, and black – they're a feast for the eyes. Sharp lines and edgy angles make sure they stand out in the crowd.
3. Smaller production volume
Despite its worldwide popularity, KTM's production volume is still lower than its Japanese competitors. 
First, KTM is committed to high-octane excellence for its bikes.
Mass production isn't their jam.
They're all about top-notch performance, whether you're ripping up the dirt track or exploring off-road landscapes.
Their dedication to R&D makes up for their smaller production volume.
Second, KTM takes its time with its production.
More precision and robust features also mean more time is needed to produce dirt bikes.
Third, KTM is a smaller fish in the bike pond.
They lack the resources and global reach of their Japanese competitors.
They mostly rely on word-of-mouth and their loyal fanbase for brand awareness.
Plus, they must deal with the higher tariffs and taxes when exporting their dirt bikes.
4. R&D investment
KTM takes its research and development game seriously, and that's why it remains one of the bestselling dirt bike brands in the world, despite its high prices.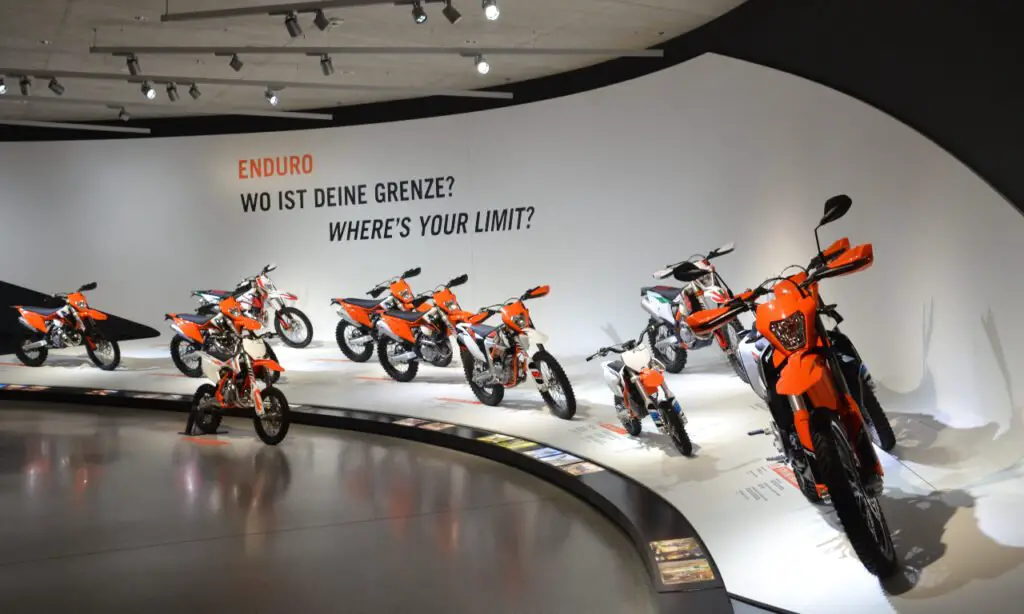 For instance, in 2021, KTM invested €100 million in R&D alone.
That's how you know you're riding with a brand about quality and high-speed dreams.
But they're not just armchair engineers.
KTM's got a pro team in the FIM Motocross World Championship and AMA Supercross, where they put their dirt bikes to the test to see how they perform under the gnarliest conditions and find more areas for improvement.
5. Customization options
If you're in the market for a ride you can genuinely make your own, KTM is a great option.
You can customize your KTM dirt bike in various ways:
Jazz up your bike with graphics like fresh decals and stickers
Tweak your bike's comfort and performance with suspension upgrades. Adjust the bounce and feel to fit your groove.
Try engine tuning kits to give your engine's gut a makeover
These are just the tip of the iceberg, though.
The point is, if you want something customizable, with plenty of parts and items available for upgrades, KTM is a good option for you.
You'll pay extra, sure, but you'll have a ride that's uniquely yours.
Wrapping up
It's no secret that KTM dirt bikes are high-quality machines that offer superior performance, durability, and style.
But they're not for everyone. 
If you're looking for a dirt bike proven to handle any terrain, speed, and challenge, and the price is not a major issue, then a KTM bike is a perfect choice.
However, if you're looking for something budget-friendly and easy and cheap to maintain, you may want to look at other brands. 
Still, if you want something tried and tested, a KTM dirt bike is a good investment you can make.
The upfront price will pay off in the long run, as you will have a thrilling ride for years!