When I was starting out with dirt bikes, I learned the hard way that the right gear makes all the difference.
Trust me, a pair of Asics won't cut it.
To truly excel in the dirt bike world, you should invest in the best dirt bike boots for beginners.
Dirt bike boots should have sturdy plates to provide protection, good padding, ventilation, durable materials, a snug fit with adjustable straps, sturdy soles for grip and stability, flexibility, and a style that fits your personality.
If you're anything like me, you know that nothing ruins a good ride faster than blisters and swollen toes.
That's why I've narrowed down the top five best dirt bike boots for beginners like you, tested and researched by yours truly to ensure they're a perfect addition to your dirt bike gear.
This website uses affiliate links that may earn a commission for purchases at no extra cost to you.
1. O'Neal Rider Boots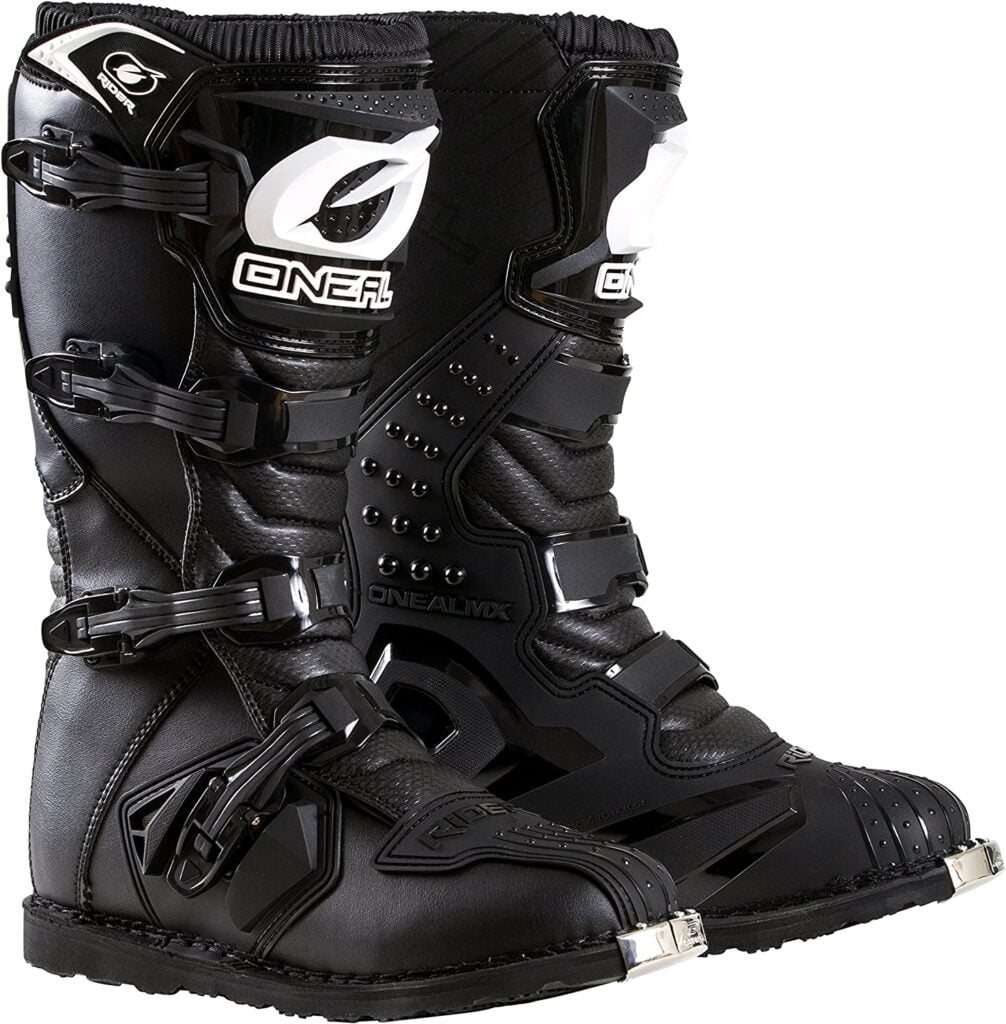 Let me introduce you to one of the best beginner dirt bike boots out there – the O'Neal Rider Boots.
These boots provide superior protection and performance for a secure riding experience.
One of the key features of these boots is the injection-molded plastic plates that offer excellent impact protection.
The metal shank reinforcements also provide extra support, ensuring the boots remain in shape and reduce the risk of injuries.
The Snap-Lock adjustable four-buckle closure system is easy to use and keeps the boots firmly in place.
The Goodyear welt sole with moderate grip provides maximum stability and control, making them suitable for any riding conditions.
The air mesh interior, generous heel support, and cushioned insole keep your feet comfortable even on long rides.
Plus, the synthetic leather heat shield protects your feet from heat damage.
The rear pull tab offers extra leverage for easy removal of the boots.
Some riders have experienced sizing issues with the O'Neal Rider Boots, so go for a size larger than usual.
Some also find the boots heavy and bulky and may take some time to break in.
Overall, I highly recommend the O'Neal Rider Boots for beginner dirt bike riders.
They offer reliable protection, a comfortable fit, and sturdy construction that can make your riding experience safer and more enjoyable.
2. Fly Racing Adult Maverik Boots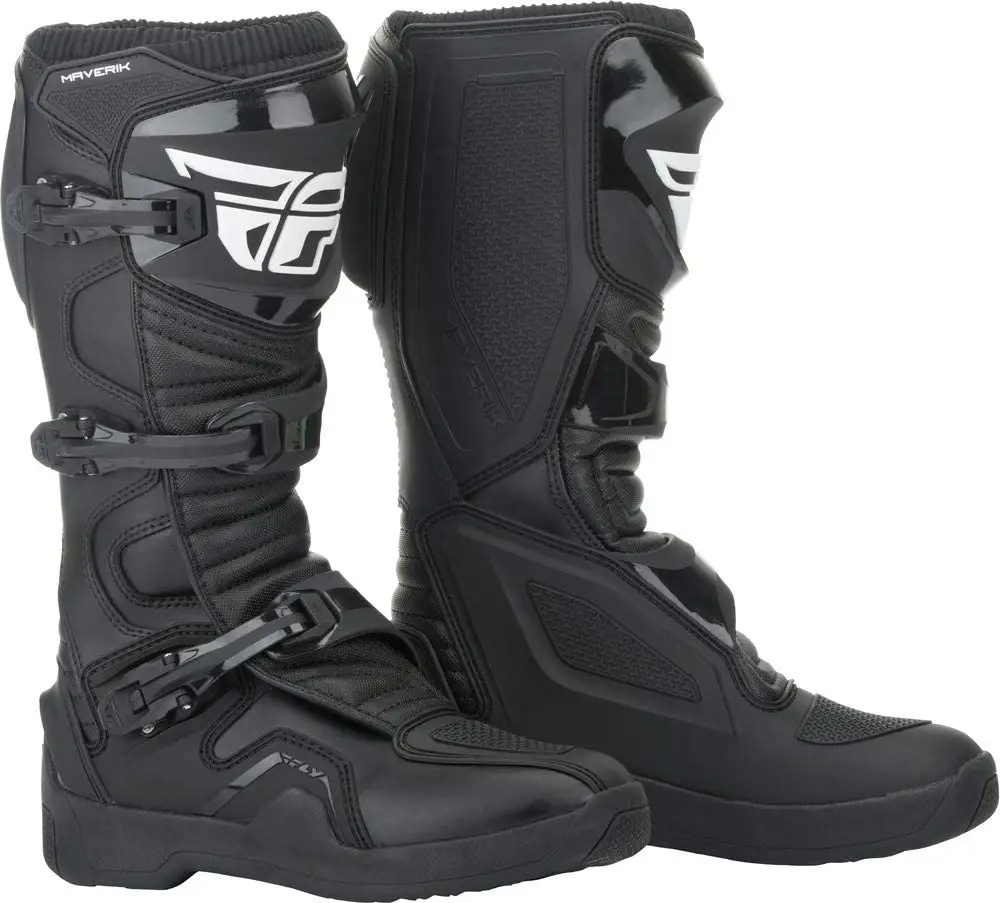 If you're a newbie to dirt biking looking for boots that offer protection and flexibility, the Fly Racing Adult Maverik Boot may be the right choice for you. 
These boots have a 3D molded plastic shift panel with grooves to prevent wear, ensuring you won't miss a shift.
The rear ankle is articulated for flexibility while providing support, making it appropriate for navigating challenging terrain.
The Fly Racing Maverik Boots are CE-approved, so you know they meet safety standards.
The molded outsole is lightweight, and the rubber compound provides grip while remaining durable.
The innovative one-piece plastic injected 'fish tail' midsole design adds support and stability, and the quick-lock buckles prevent dirt clogs.
While some riders have shared that the sizing can be a bit off, double-checking the sizing chart and considering ordering a size up or down can help you get the right fit. 
The Fly Racing Maverik Boots may also feel difficult to break in at first, but they can become more comfortable over time with regular use.
In spite of these minor issues, the Fly Racing Maverik Boots are still a good, reliable choice for dirt bike boots.
3. Answer Racing AR1 Boots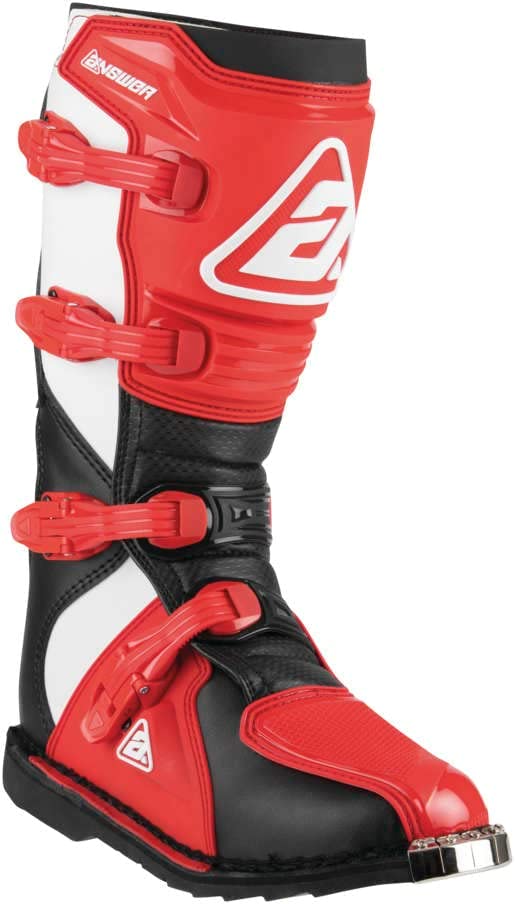 If you're a beginner dirt bike rider searching for an affordable pair of boots, the Answer Racing AR1 Boot is worth checking out. 
Answer Racing has blended synthetic materials, plastic, and high-performance textiles to create these lightweight, protective boots.
Plus, they come with four easy-adjust steel/plastic buckles that you can customize for the right fit.
The injection-molded plastic shin guard plate and rear plate will protect your leg from impacts, while the articulated rear ankle area adds flexibility and makes it easy to move around comfortably.
The boots also feature thick ankle padding covered in vented material to keep your feet cool and dry, even during long rides.
While some users have had issues with sizing, buckle adjustability, break-in time, and durability, most dirt bike riders are satisfied with their AR1 boots and would highly recommend them.
So if you're looking for a pair of quality, affordable boots, the Answer Racing AR1 Boot is a solid choice.
4. Alpinestars Tech 7 Boots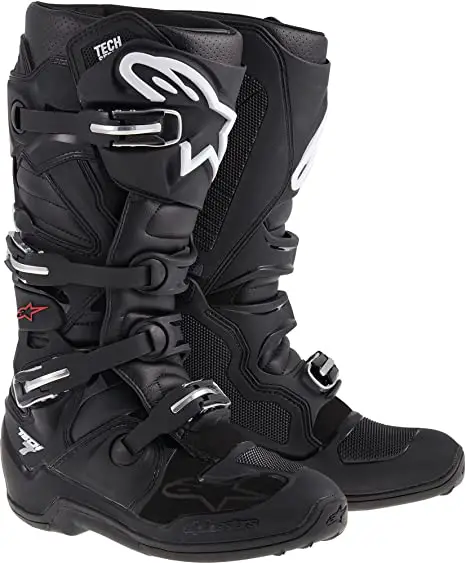 If you're a beginner dirt bike rider, you may want to consider the Alpinestars Tech 7 Boots. 
These boots have an ergonomically designed chassis that fits snugly around your foot.
The one-piece injected dual compound material used in the foot shell is highly resistant to abrasion and impact, making the boots stronger and more durable.
And with their integrated soles, you can ride with better grip and durability.
In terms of protection, the Tech 7 Boots have got you covered with their calf protector plate, blade flex system, and TPU ankle protection system.
The buckle closure system is impressive, too, with high-impact aluminum closures that are incredibly durable and have memory settings.
The quick-release and locking system with a self-aligning design makes it easy to put on and take off boots. 
Some riders have had issues adjusting the buckles, but they are replaceable.
And with the wide opening at the top, you can adjust them to fit your legs comfortably.
Overall, the Alpinestars Tech 7 Boots are popular among dirt bike riders thanks to their advanced, convenient features.
5. Gaerne SG-12 Motocross Boots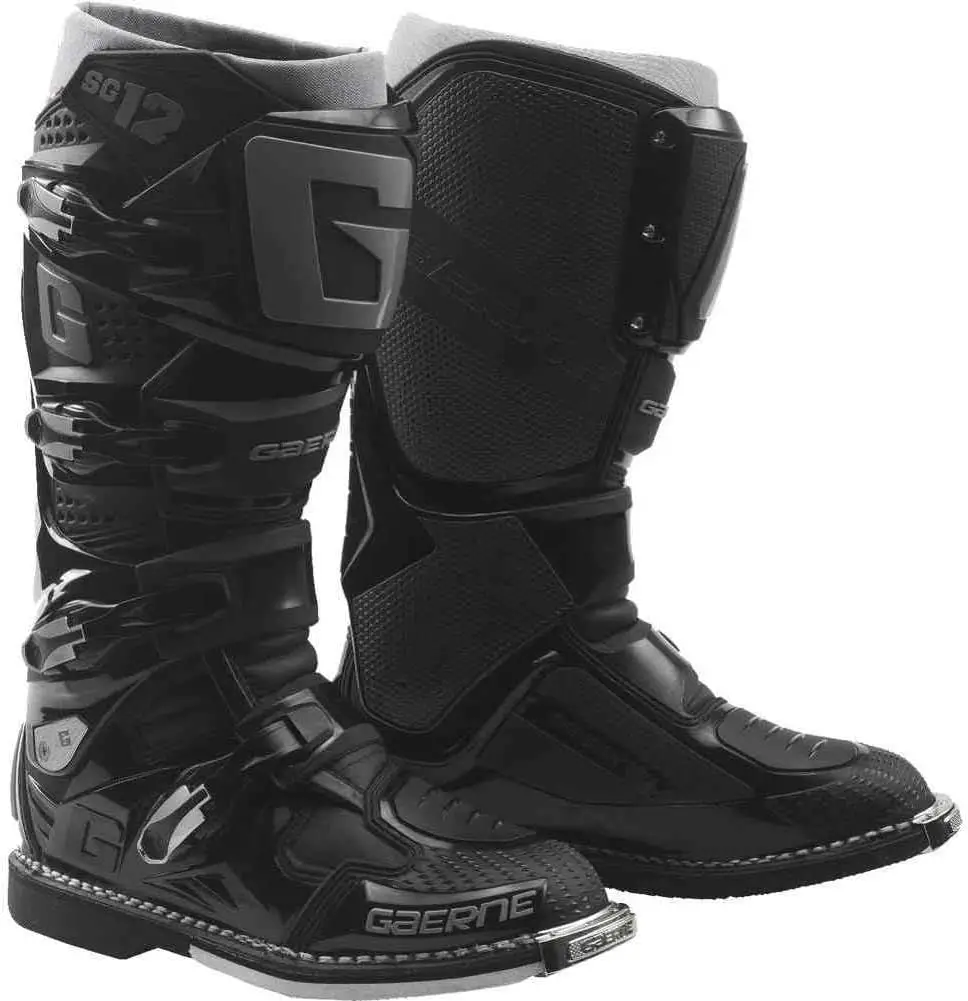 The Gaerne SG-12 boots feature Gaerne's Dual Stage Pivot System that offers sturdy lateral support while allowing your foot to feel natural.
The Grip Guard on the inner side of the boot also gives excellent grip and heat-resistant padding against your inner leg.
You can adjust the anatomically-shaped thermoplastic shin plate with three screws to accommodate a wider leg or knee brace.
The SG-12 also has a reliable buckle system with four lightweight alloy buckles that attach to an adjustable strap for easy in and out. 
Breathable Acronos Swiss fabric makes up the gaiter, while the interior lining features Gaerne's "Memory Cell Foam" for the most comfortable fit.
Gaerne designed the updated Heel Cup to absorb shock in the event of rear compression, and they also made the Toe-Box slimmer to enhance your feel of the shift lever and bike controls.
Some riders find the boots heavy, but this can be attributed to their sturdy construction for off-road conditions.
On the other hand, some riders find the buckle system challenging to use and prone to breaking, while others find it simple and reliable. 
Overall, the Gaerne SG-12 Motocross Boots are a high-quality, comfortable, and durable choice with innovative safety features that improve your riding experience.
Wrapping up
Choosing the suitable dirt bike boots is crucial for your safety and comfort on the ride. As a beginner, focus on boots that offer protection, comfort, durability, fit, grip, flexibility, and style.
;Do your research before making a purchase to ensure the boots meet your standards and preferences. 
Out of the top five boots on this list, my favorite for beginners is the Alpinestars Tech 7 Boots.
With its advanced features, including a buckle system and ergonomic design, it's sure to provide the necessary protection and comfort that beginner riders need.