After years of dirt biking, I've learned that wearing the proper dirt bike armor can make all the difference in preventing injuries.
I'm thrilled to share my top picks for the best dirt bike armor for beginners like you.
When buying dirt bike armor, there are a few things to consider.
First and foremost is protection. The armor should provide ample protection to your chest, back, shoulders, and elbows without hindering your movement or comfort.
The armor should also use high-quality materials that can withstand the rigors of off-road riding.
Finally, the armor should be adjustable and customizable to fit your body perfectly.
Now, for the fun part – my top picks for the best dirt bike armor for beginners.
These choices are based on my experience and research, so you can trust my recommendations.
Hopefully, by the end of this post, you'll have a better idea of which armor suits you best and will make it to your dirt bike gear list.
This website uses affiliate links that may earn a commission for purchases at no extra cost to you.
1. Fox Racing Men's R3 Chest Guard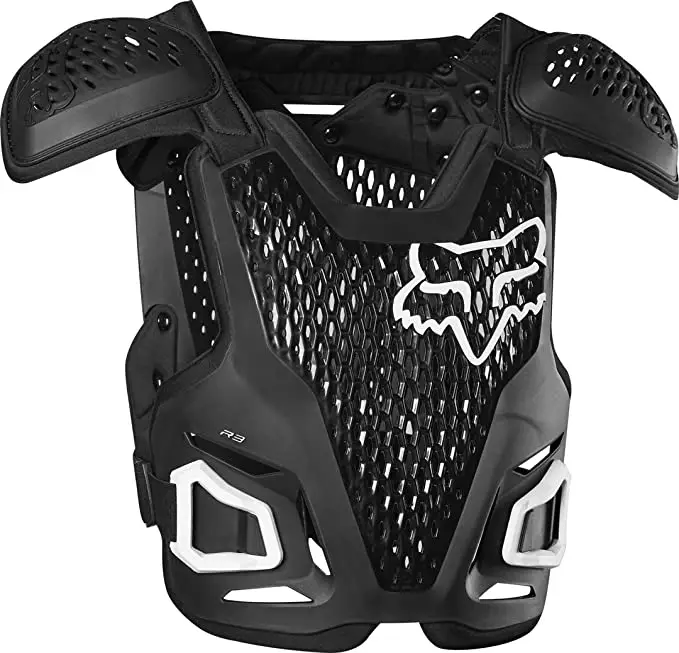 If you're a beginner dirt biker who wants to stay protected without feeling weighed down, I highly recommend the Fox Racing R3 Chest Guard.
Its ventilated main body shell keeps you cool while keeping dirt and debris out. 
The R3's adjustability is one of its finest features, allowing you to customize the shoulder and waist straps to fit your body's shape for maximum comfort and security.
Plus, the low-profile design and shoulder cups enable easy movement, so you won't feel restricted while riding.
The R3 Chest Guard works well with various neck braces. The integrated buckle system ensures the neck brace and chest guard work together correctly.
However, some riders have reported sizing issues with the R3 Chest Guard, so it's crucial to take careful measurements and double-check them against the size chart provided by Fox Racing before making a purchase.
The elastic waistband also stretches out over time, causing the chest guard to shift while riding.
2. Alpinestars A-1 Plus Chest Protector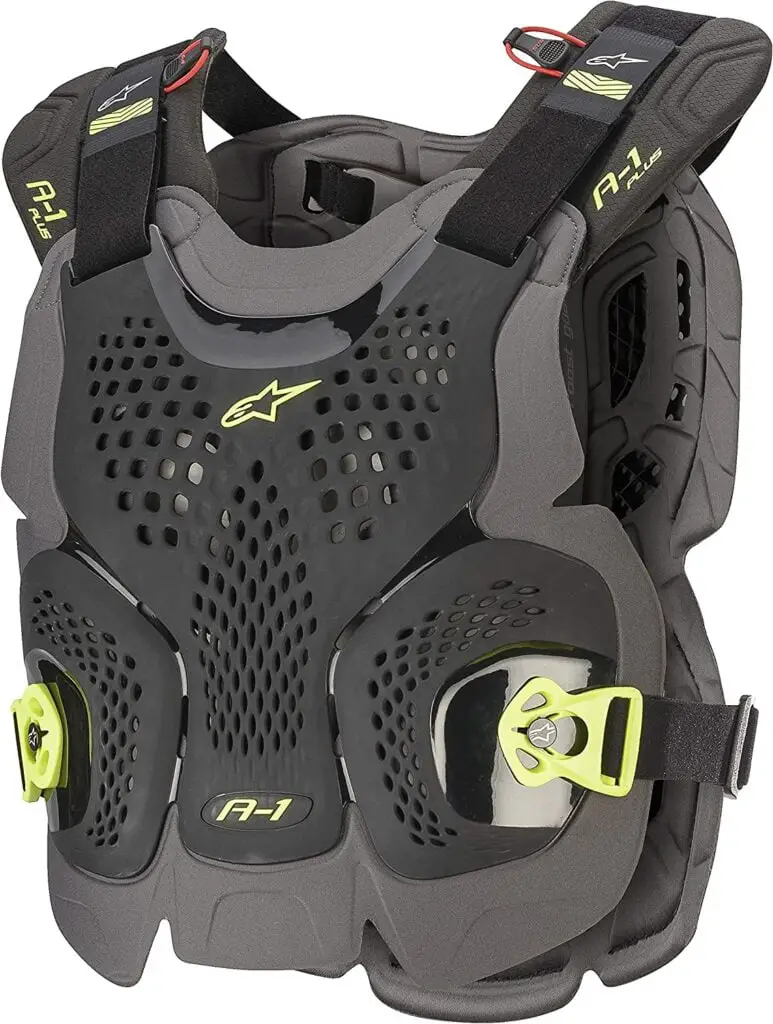 The Alpinestars A-1 Plus Chest Protector is ideal for beginner riders who want extra neck protection because it's compatible with Alpinestars Bionic Neck Supports and has silicon BNS pull tabs for safe and easy engagement.
The thermoformed padded chassis of the protector offers maximum comfort and a snug fit, with adjustable shoulder straps for customizing the fit to different body types.
The shoulder pads and back protector are also removable for customization.
The roost guard meets En 14021:2003 Stone Shield standards and has extended padding to protect against tire roost without obstructing arm movement.
Plus, it has an updated CE-certified back protector for extra impact protection.
The plastic shells are also perforated for maximum breathability and cooling ventilation. 
While some riders report inconsistent sizing and tight or loose straps, the Alpinestars A-1 Plus Chest Protector is an excellent choice for anyone seeking customizable and comfortable upper-body protection against impacts and roost.
3. Fly Racing Revel Race Roost Guard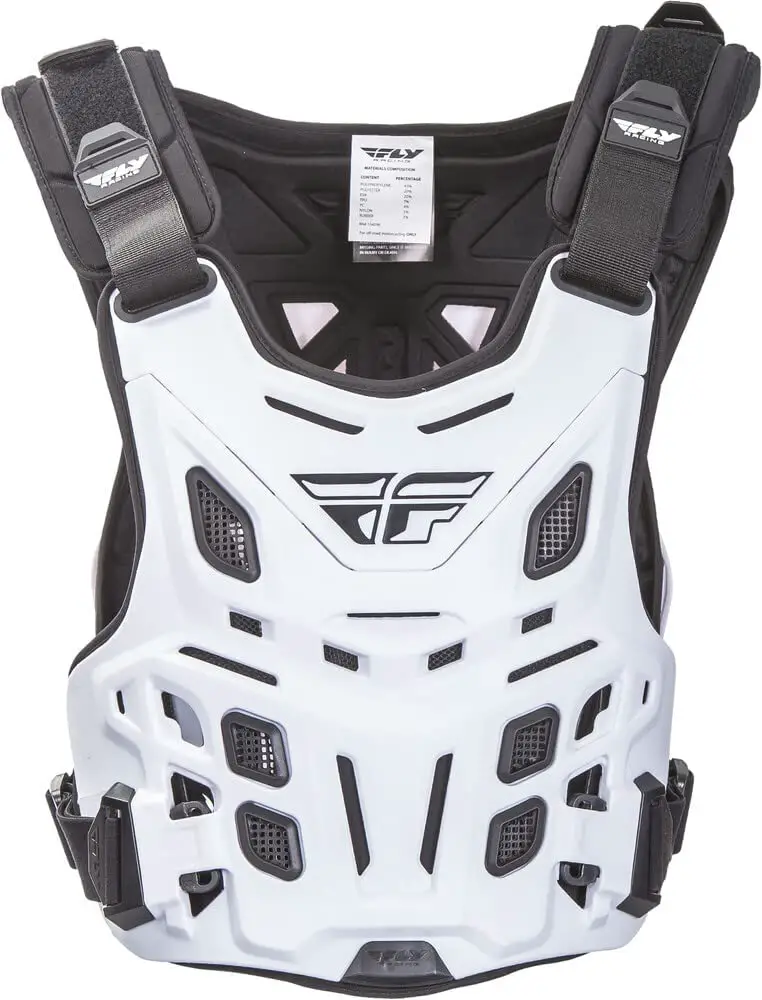 The Fly Racing Revel Race Roost Guard is another fantastic option that offers excellent protection and comfort for beginner dirt bike riders like you.
This roost guard has a BioFoam® system that uses soft plastics and TPR rubbers instead of hard plastic rivets, making it much safer.
The air channels on the roost guard are molded into the BioFoam® to give you proper ventilation during rides.
The roost guard also has a full upper torso plastic roost deflector tested and certified for impact protection: EN1621-2 Level 2, EN14021 & Me-int 097.
It's also neck brace compatible, so you can wear it underneath the plastic or remove the plastic panels on the chest and back.
Adjustable shoulder straps of the roost guard allow for a custom, comfortable fit.
It also has a removable thermoformed soft BioFoam chassis for increased comfort and easy washing.
The waist belt buckles are integrated into the chest plastic, making it easy to put on and take off.
The sizing can be tricky since the Revel Race Roost Guard only comes in one size.
Some riders also reported that the shoulder straps dug into their shoulders or rubbed against their skin, but you can easily adjust the straps for a better fit.
4. Leatt Chest Protector GPX 4.5 Hydra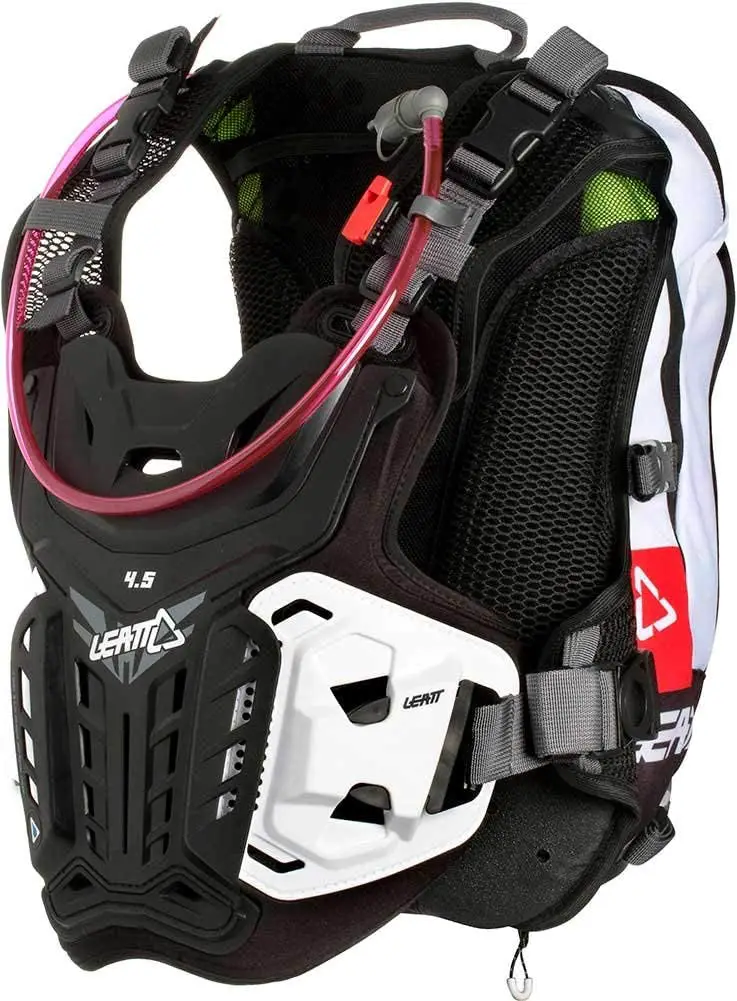 Looking for premium dirt bike armor with hydration features?
The Leatt Chest Protector GPX 4.5 Hydra is definitely worth a look.
It offers comfort, protection, and hydration while you ride, making it suitable for trail rides.
One of the standout features of the GPX 4.5 Hydra is its two-liter bladder and ten-liter backpack capacity.
This allows you to carry all your essential tools and belongings while staying hydrated on the go.
You can easily access water through the left and right hydration tube channels.
The GPX 4.5 Hydra has EN1621-3 Level 2 certification, and its back protector has EN1621-2 Level 2 certification.
The Hydra 4.5 also works well with neck braces and can be customized to fit with side and shoulder adjustments.
The AirLine mesh in the back area keeps you cool while you ride, and the articulating rib panels make it suitable for different body sizes.
The armor has dedicated tools and hydration compartments, including a waterproof mobile phone pouch. 
The two-liter bladder may not be sufficient, especially if you ride hard.
I recommend saving the water from the bladder when you can't stop and need to hydrate.
Otherwise, drink from your bottle when you can take a break.
The Hydra 4.5 may be a bit pricey for some riders, but you're paying for high-quality protection, an integrated hydration system, and Level Two chest and back protection.
5. O'Neal 2022 Holeshot Protector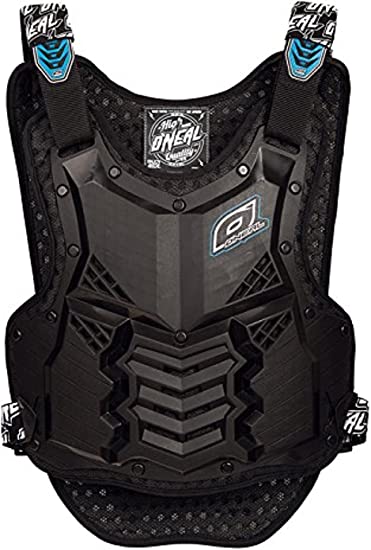 If you're a newbie dirt biker and want to stay safe and comfortable, I highly recommend the O'Neal 2022 Holeshot Protector. 
This armor is designed to protect you without limiting your movement.
It's also compatible with neck braces.
The Holeshot Protector's articulated back protector increases mobility and flexibility while riding, making it suitable for those still developing their riding skills.
The neoprene shoulder padding also adds comfort during longer rides, and the integrated waist closure system ensures a secure and snug fit for safety.
The armor has vented foam padding to keep you cool while riding.
However, some riders still find it sweaty in hot and humid conditions.
Additionally, some dirt bikers with broader shoulders may find the shoulder pads uncomfortable, but you can wear a thin undershirt or adjust the positioning of the pads to alleviate this issue.
Conclusion
Having reliable dirt bike armor is essential not just for your safety but also for your peace of mind.
So, make sure to pick the armor that suits your needs and the type of riding you'll be doing.
Out of these five options, my favorite is the Alpinestars A-1 Plus Chest Protector.
It's reasonably priced and provides maximum protection for the critical areas of your body.
However, if you have extra budget, the Leatt Chest Protector GPX 4.5 Hydra is also a solid choice, especially with its hydration feature.
When choosing one of these top five dirt bike armor for beginners, remember the qualities I mentioned earlier.
Have fun riding, and always stay safe out there!