Dirt bikes are a great way to enjoy the outdoors and have adrenaline-pumping fun.
They are fast, fun, and suspenseful because every trail you tackle is a challenge waiting on its own.
And if you've been satisfied with what it can do off-road, I bet you've also wondered what it can do on smooth roads and streets.
Which brings us to the real question: are dirt bikes street legal?
The answer to this is a bit more complex than it sounds.
Dirt bikes are not street-legal because they are not designed for on-road use and don't meet the safety standards required for street-legal vehicles. But that doesn't mean you can't ride your dirt bike on the road anymore. There is a way to make your dirt bike street-legal, which I will share with you today.
If you are interested in taking your dirt bike both on and off-road without getting in trouble with the law, join me till the end of this post.
I'll explain what it means for a dirt bike to be street-legal, how different states in the US regulate dirt bikes on the road, and finally, how you can make your dirt bike street-legal.
Understanding Dirt Bikes
Dirt bikes are like the rebels of the motorcycle world – built for rough, wild off-road adventures.
These beasts are tailor-made to handle every terrain imaginable.
They pack unique features like a better suspension system, high ground clearance, knobby tires, sturdy frames, and engines that give power and torque even at slow speeds.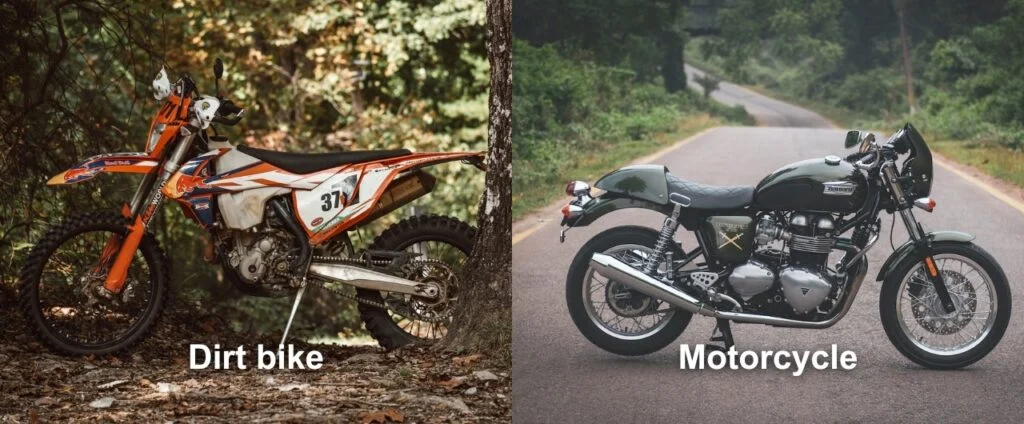 Just by the pictures, you can already tell that dirt bikes are different from your regular street motorcycles in several ways:
Terrain environment – Dirt bikes are more for rough trails, forests, and mountains, while motorcycles stick to smooth roads
Tires – Dirt bike tires are rougher around the edges to grip the ground better. Regular motorcycle tires are smooth for road stability.
Ergonomics – Dirt bikes are designed so you can sit tall and upright while you do the proper riding stance. Motorcycles are designed so you can for a lean-forward speed stance.
Licensing and regulation – Riding a dirt bike might need special licenses and rules depending on your location. Regular motorcycles follow the same rules as cars and have an easier licensing and registration process.
Are dirt bikes allowed in the USA?
If you're itching to take your dirt bike for a spin, you're probably wondering where you can ride legally in the US.
Well, I've got some good news for you – you have plenty of spots to rev those engines as long as you play by the rules.
Here are the best places in the US to ride your dirt bike legally:
Motocross Tracks – Race-ready playgrounds with jumps, turns, and twists. They usually charge an entry fee, but they're a blast for testing your skills and battling fellow riders.
Off-Road Trails – Nature's roller coasters through forests, fields, and more. Look out for trail signs, and remember, some trails need a permit.
Private Property -Private spots like farms and ranches can become your dirt playgrounds as long as you've got permission from the landowner.
OHV Parks – The amusement parks for off-road vehicles, managed by states or local folks. Great if you're looking for new terrain and meeting like-minded riders.
Desert Riding Areas – If you're out west, desert areas with dunes and rocks offer a new challenge. This is one of the recommended spots if you want to train for a dirt bike race.
Public Lands Managed by Bureau of Land Management (BLM) – If you find public land under the BLM, you're in luck. Just remember to follow the rules set by the BLM for off-road vehicles. You can check for OHV open areas by checking out the BLM website.
Some National Forests Areas – Check out National Forest areas designated for OHV use by the US Forest Service, like the Willamette National Forest in Oregon, the Stanislaus National Forest in California, and the Coconino National Forest in Arizona. 
Are dirt bikes street legal in USA?
Ever thought about hitting the streets on your dirt bike? I get it – the idea's interesting.
But the question is- are dirt bikes street-legal in the USA?
For a ride to be street-legal, it must meet some requirements, such as safety equipment, clean emissions, a license, insurance, and road-safe tires and wheels.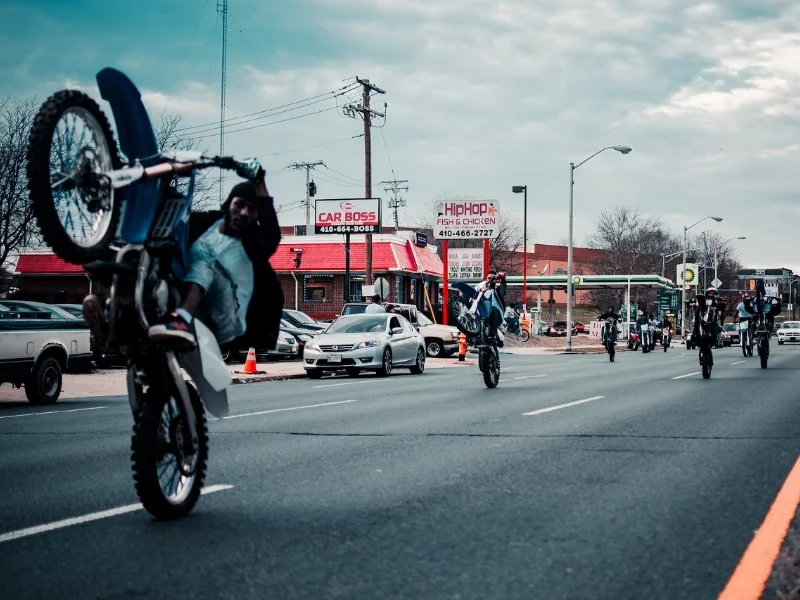 Here's the truth: Most stock dirt bikes aren't street-legal.
They're meant for off-road where road rules do not apply, not on road trips.
But all hope is not lost.
If you can meet the standards set by the law for a vehicle to be street-legal, you can still take it out on public roads.
To learn about the requirements to make your dirt bike street-legal, visit or contact your local Department of Motor Vehicles (DMV) office.
Are dirt bikes legal in US?
Why are dirt bikes illegal in USA?
Let's chat about dirt bikes on the USA roads – or lack thereof.
As I've mentioned earlier, dirt bikes aren't street-legal here. But why?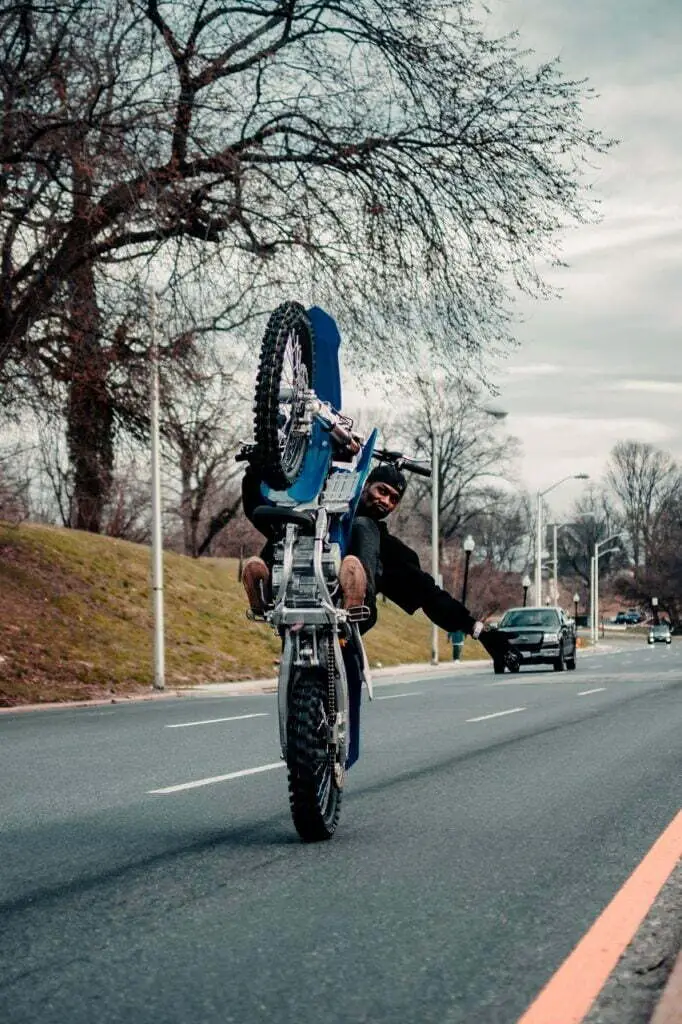 Most dirt bikes lack the gear needed for street cred.
No headlights, taillights, brake lights, mirrors, horns, or even license plates. These things are road essentials for safety and ID.
Most dirt bikes do not pass the emission standards.
They belch more exhaust than street bikes, thanks to their less-efficient engines.
It's an air pollution no-no.
Not to mention dirt bikes rev noisily with loud pipes that can disturb the peace of nearby neighborhoods.
But don't hang your helmet yet.
In most states, you can still ride your dirt bike on the streets if you modify it to be safe for the road.
Are dirt bikes street legal in California?
If you're itching to hit the California streets, listen up.
Unmodded dirt bikes aren't street-legal in California, but there are some ways you can try to convert your dirt bike into a road-safe vehicle.
For a dirt bike to be considered street-legal in the Golden State, it must be:
Built after 1978
Has at least a 50cc engine
Passed the California Air Resources Board (CARB) test for clean emissions
Certified by the manufacturer for on-road use
Of course, meeting these criteria is just the start to make your dirt bike street-legal in California.
You must also equip your dirt bike with some essential features required for on-highway vehicles.
Why are dirt bikes illegal in California?
Owning and riding dirt bikes in California is legal if you play by the rules.
Of course, you can't hit the public road with your dirt bike, but there are OHV roads and nearby trails you can find to enjoy your dirt bike.
Did California ban dirt bikes?
You might have caught wind of some buzz about dirt bikes getting the boot in California.
Here's the scoop: it's not exactly a ban, but a new rule is throwing a wrench into the gears for our Cali riders.
It's all about the Green Sticker Rule by the California Air Resources Board.
They want new dirt bikes to be cleaner and greener, which sounds cool, but it's making life trickier for bike makers to whip up affordable and powerful rides.
The thing is, most dirt bikes don't meet these fancy new standards.
So now, these bikes can't legally hit public lands in California, like state parks or national forests.
And if you do ride your bike there, you could end up shelling out cash in fines or saying goodbye to your bike.
The safest option for now if you're in California is to either ride on private land with permission or find models that pass the standards of CARB.
Which isn't much, to be honest.
Are dirt bikes street legal in Texas?
Got a dirt bike and dreams of hitting the road in Texas? Well, not so fast.
If your bike is what it was when you first bought it – unmodded, with no safety accessories, then your dirt bike isn't street-legal in Texas.
But the Lone Star State gives the green light to dirt bikes on public roads for those who gave their bikes a road-ready makeover. 
Getting caught on a non-street-legal ride on the road could cost you fines or impounding your bike.
Plus, it's not the safest way to enjoy your dirt bike.
Are dirt bikes street legal in Florida?
Thinking of taking your dirt bike for a spin on the streets of Florida? Here's the scoop:
By default, dirt bikes aren't street-legal in Florida.
You can only hit the pavement if you comply with the requirements of the DOV for street-legal, road-safe vehicles.
How do I make my dirt bike street legal?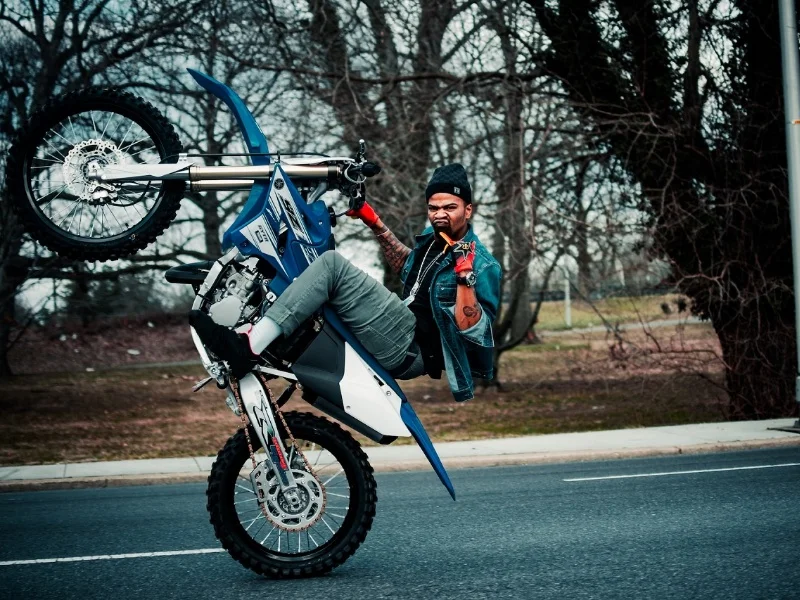 I've mentioned a few times already that it is possible to make dirt bikes street-legal.
If you're interested in converting your dirt bike into something you can ride on and off-road, follow these steps:
1. Visit your local DMV office to see if street-legal dirt bikes are possible in your area.
Each state has different rules for dirt bikes on the street, so make sure to drop by or contact your local DMV authorities first! You can also verify what you need to install, tweak, or add to your dirt bike first, so you won't have to waste money on stuff you don't need to do or add.
2. Complete the Federal Minimum Requirement for on-road motorcycles by installing these on your dirt bike:
DOT-approved headlight bright enough for night rides, with an indicator light to show when it's on
DOT-approved tail and brake lights that shine bright and are battery-powered
DOT-approved turn signals that let other drivers know where you're headed
A rearview mirror for smart rear-checks
A horn loud enough to alert others of your presence
DOT-approved tires for solid grip on the road
Speedometer and odometer (depends on the state)
A plate bracket for your license
EPA-approved mufflers
Kickstand to easily park your bike 
A DOT-approved helmet for riding
3. Get your dirt bike insured
Your dirt bike insurance needs a liability policy that meets your state's minimum requirements.
This covers others' medical costs and property damage if you're at fault in an accident.
Bonus read: How To Insure Your Dirt Bike
4. Gather the necessary documents for registration of your dirt bike
Prepare your docs in order before the day of your registration.
Here's what you'll need:
Manufacturer's certificate of origin (MCO) to prove where your dirt bike was made and who made it
Certification of equipment compliance to confirm the equipment installed passed safety and emission tests
Certified VIN inspection to verify your dirt bike is not stolen
Statement of odometer that states how many miles your bike has traveled
Application for title and registration for applying for a title and license plate
Valid driver's license with a motorcycle endorsement for proof that you're legally allowed to operate a dirt bike on public roads
Proof of insurance to prove you have liability coverage for your bike
Proof of ownership to prove you own the dirt bike
5. Get your dirt bike inspected and approved for public road use
Here's the final move to get your dirt bike road-ready.
Head to your local DMV office or an authorized inspection station with all the documents you gathered in step #4 for inspection.
An officer will evaluate if your bike meets all safety, noise, and emission standards.
You'll also need to pay a fee and pass a visual and mechanical inspection.
If your dirt bike passes the inspection, you'll receive a certificate of approval and a license plate for your dirt bike, which you should attach to the rear of your dirt bike.
Conclusion
To sum up, dirt bikes are not street-legal by default, but you can make it street-legal if you follow the rules discussed in this post.
Get the right gear, insure your bike, get the papers ready, and take your bike to the DMV for inspection and approval, and you're good to go.
Don't worry if you fail to pass the inspection on the first try.
Some riders had a few attempts before they got their dirt bikes street-legal. That's normal and part of the journey.
Just listen to the feedback from the inspector and try again until you nail it!
P.S. Just a note that this guide is for general knowledge and is not intended as legal advice.
Please contact your local council for up to date information and advice before making any decisions.