As a beginner rider, one essential gear you shouldn't miss is quality dirt bike goggles.
They keep your eyes safe from debris and help keep your vision clear.
But with so many options in the market, how do you choose the right one for you?
When buying dirt bike goggles, it's necessary to consider the key qualities that make them effective.
Comfort is essential, so look for goggles with soft foam padding to keep sweat out of your eyes.
High visibility is also crucial, so go for anti-fog and anti-scratch coatings with a wide field of view. 
Durability is also a requirement, with a sturdy frame and lenses that can withstand impacts.
The goggles should also fit well in your helmet, leaving no gaps.
And while style is significant, safety and functionality should always be the priority.
I've been around the dirt bike scene for a while, and I know how tough it is to find the perfect pair of goggles.
So, I've done the hard work for you and compiled my top five picks for the best dirt bike goggles for beginner riders.
No need for trial and error – just sit back and let me help you choose the right pair. 
This website uses affiliate links that may earn a commission for purchases at no extra cost to you.
1. 100% STRATA 2 Goggles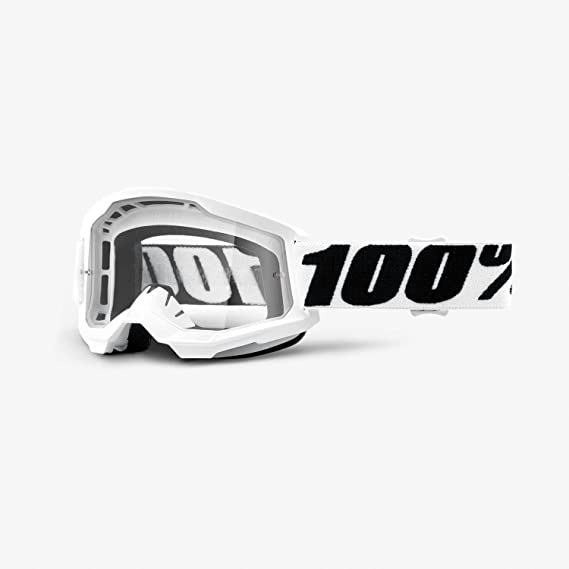 The 100% Strata 2 goggles are a highly-rated and affordable option for dirt bike riders who want premium performance without breaking the bank.
With improved fitment and seal, these goggles provide a wider field of view and an unobstructed view of the trail ahead. 
The anti-fog polycarbonate lens technology ensures that your vision remains clear no matter how hard you breathe inside your helmet.
The double-layer face foam is sweat-absorbent, ensuring a comfortable ride.
You can also swap out the lenses and tear-offs of your Strata 2 goggles for other 100% goggles like the Racecraft 2 or Accuri 2 because they all use the same lens system.
The Strata 2 Goggles come with a 40mm-wide silicone-coated strap that keeps them securely in place throughout your ride.
With a 9-point lens retention system, the lens stays even on rough rides. 
While some riders found the Strata 2 goggles uncomfortable or not long-lasting enough, plenty of riders were satisfied with their purchase.
As a result, the Strata 2 is still considered one of the top dirt bike goggles for beginners, recommended by many riders worldwide.
2. Fox Racing Main Stray Mirrored Lens Goggles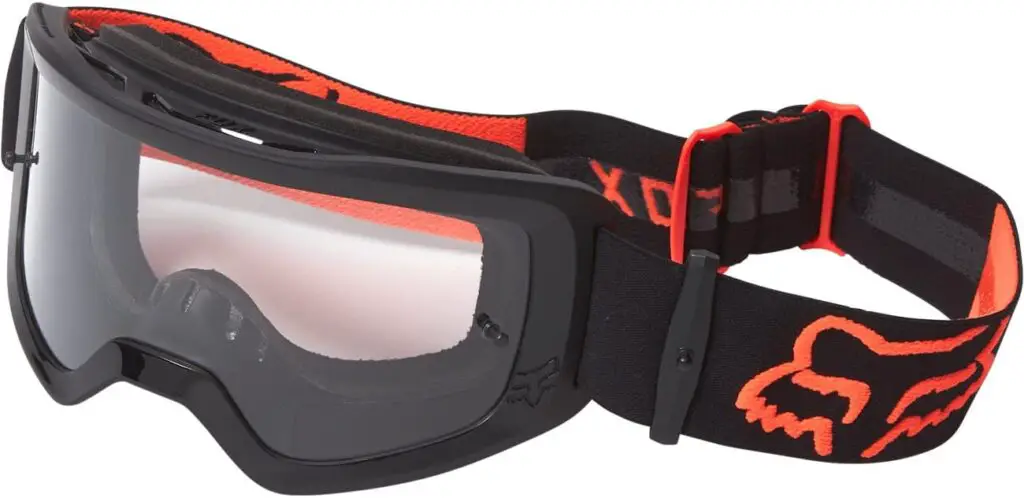 Fox Racing is a well-known name in dirt bike gear, and their Main Stray Mirrored Lens Goggles are an excellent choice for riders looking for unparalleled peripheral vision.
With a best-in-class viewport, these goggles give you a wide field of view, essential for spotting obstacles and tracking your lines. 
Plus, the Variable Lens System (VLS) allows you to swap out lenses easily depending on weather and light conditions.
These goggles are especially perfect if you're learning to pursue motocross racing in the future.
The Main Stray goggles have a three-layer face foam with a fleece liner that provides a soft and snug cushion around your face, absorbs sweat and moisture, and a non-silicone strap that keeps them securely in place.
They also have a post on the strap to quickly change out the tear-offs while riding and come with a microfiber bag for storage. 
The Lexan™ lenses protect your eyes from UV rays, while the mirrored lenses reduce sun glare.
Some riders report that the Fox Racing Main Stray Goggles fog up quickly in cold or wet weather and feel tight around the nose, but these are minor issues. 
Overall, if you want the finest eye protection for your rides, you can never go wrong with the Main Stray Goggles by Fox Racing.
3. 100% Armega Goggles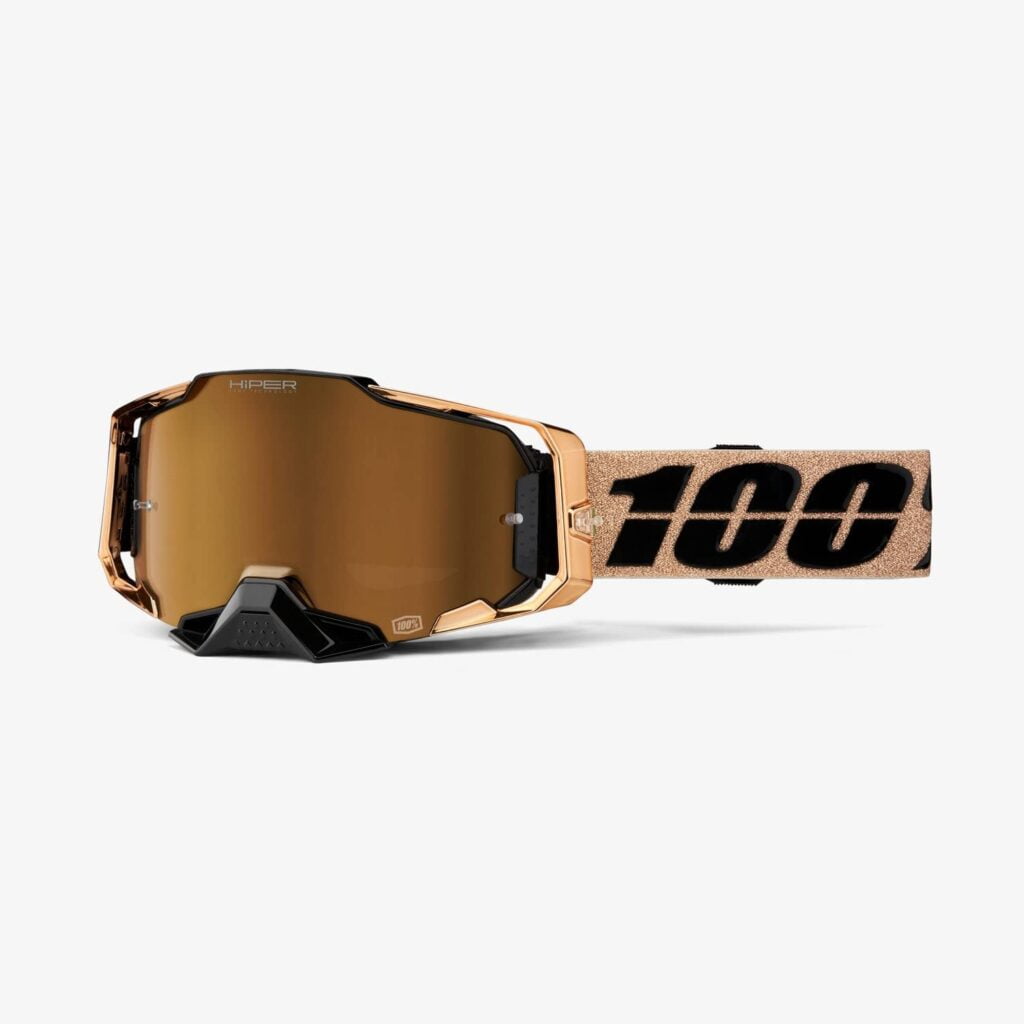 Looking for top-notch goggles that give exceptional performance?
Look no further than the 100% Armega Goggles!
These goggles are packed with premium features to ensure a safe and successful ride.
One of its most impressive features is its Ultra HD, high-impact resistant lens that provides clear and accurate vision on the track.
The 100% Armega Goggles feature a polycarbonate lens, a well-known durable material used in dirt bike helmets, and are specially molded to prevent distortion.
The 100% Armega Goggles have a HiPER® Lens technology that enhances contrast and makes colors brighter, making it easier to see details on the track, even in low-light conditions.
It also features a 6-point locking system and three layers of foam that absorb sweat and moisture for a comfortable and secure ride.
Riders rave about the 100% Armega Goggles, but a few note that they may fog up in humid conditions.
However, this is not uncommon with these goggles. 
So if you want top-quality goggles that offer maximum protection, comfort, and durability, then the 100% Armega Goggles are an excellent choice for beginners.
4. 100% Racecraft 2 Goggles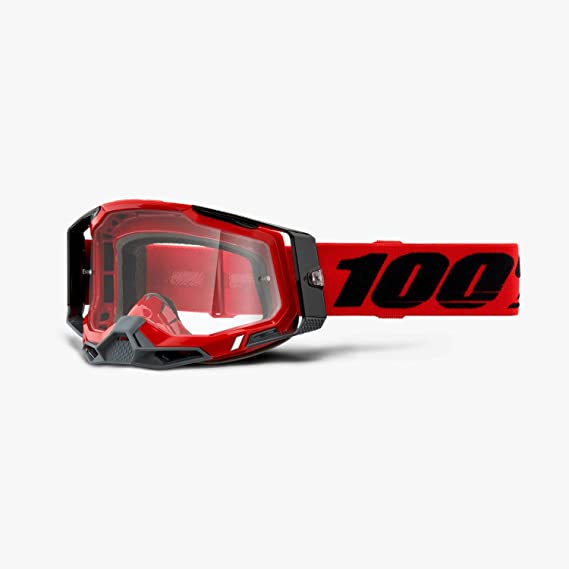 The 100% Racecraft 2 Goggles are a must-have for serious dirt bike riders who want top-notch performance and comfort. 
They have excellent fit and seal, so you can focus on the track instead of your goggles slipping off.
The face foam is thick and soaks up sweat like nobody's business.
And to keep things looking cool, the strap is made without seams. Plus, you'll never have to worry about fogging up, thanks to its anti-fog coating.
Note that some riders have difficulty cleaning the Racetrack 2, and the foam quality may not hold up after repeated use. 
But don't let those complaints discourage you because they're just a small percentage of the riders who use these goggles.
So if you're impressed by the Racetrack 2 Goggles, I'd definitely recommend giving them a try.
5. Havoc Racing Magnetic Frameless Goggles
Our last pick for the best dirt bike goggles for beginners is the Havoc Racing Magnetic Goggles.
The one-piece infinity lens is wide and scratch-resistant, with comfy foam to keep out sweat and dirt.
These goggles fit most helmets and can even accommodate glasses.
You don't have to worry about the sturdy frame getting damaged on rough rides.
Plus, they're customizable with magnetic lenses and straps that come in different colors and styles.
And with options for men's and women's fits, the Havoc Racing Magnetic Goggles are ideal for any rider who wants a cool and stylish look.
Some riders mentioned that the Havoc Racing Magnetic Goggles could be heavy and too big, with limited air vents and lenses that are too dark for some.
But still, if you like the idea of magnetic lenses and customizable goggles, Havoc Racing won't disappoint.
Conclusion
Choosing the best dirt bike goggles for beginners ultimately comes down to personal preference, budget, and needs.
But if I were to make a personal recommendation, the 100% Armega Goggles are my top choice. 
Just don't forget to consider the qualities I mentioned when looking for a pair of goggles, such as comfort, visibility, durability, fit, and style.
And remember to always read reviews before making a purchase!
Use this blog post as an additional resource to help you decide on the dirt bike goggles that work best for you. 
Happy riding!